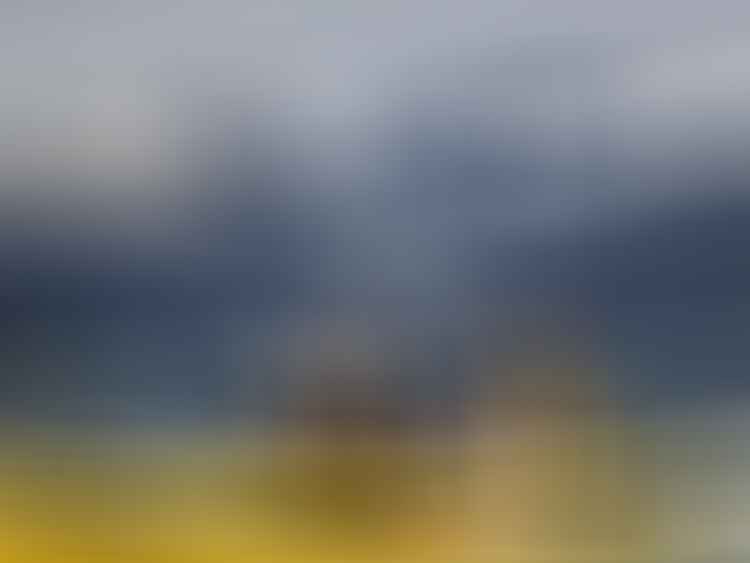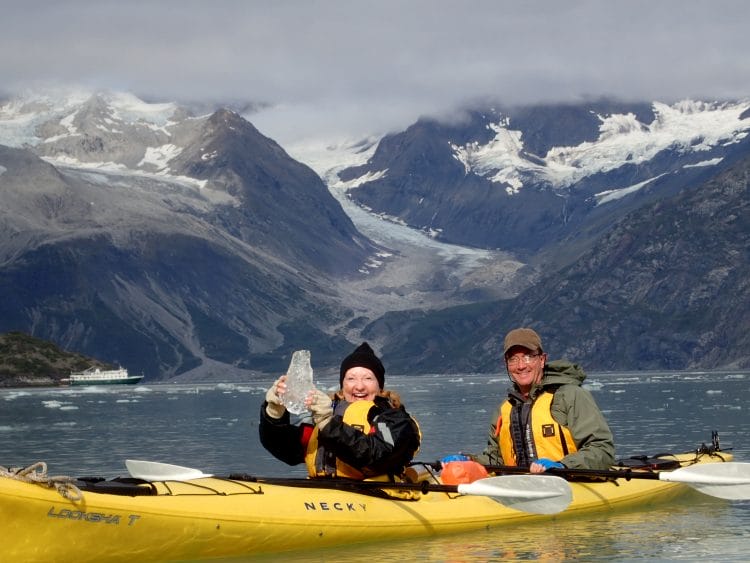 Imagine being so close to a humpbacked whale you could literally touch him, but don't…
Imagine being in your kayak within feet of an iceberg when it breaches…
Then, imagine having a world renowned National Geographic photographer giving you photography lessons in the Antarctic…
If you've ever thought about going on a cruise, but were scared off by being on board with 3,000 fellow passengers, don't despair. There is a great alternative that you seriously need to consider…Small Ship Cruises. It could easily become one of your most favorite ways to vacation. The people, the ease, and the adventures will surprise you.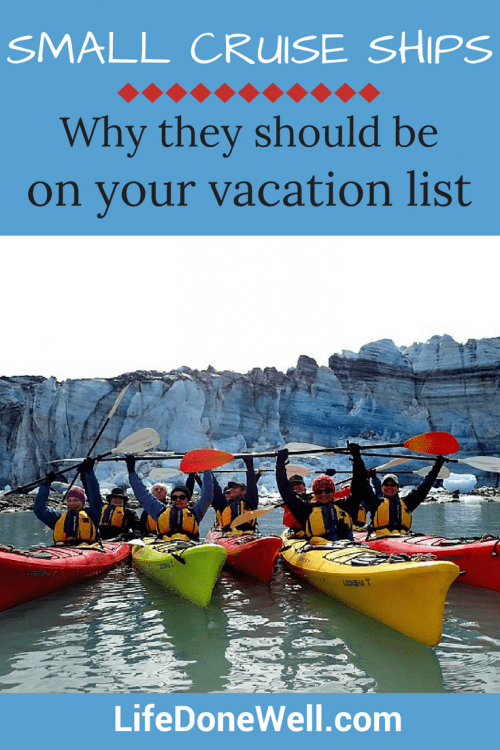 Many years ago I took a cruise on one of those "party" ships to the Caribbean. I won't name names. At the time, it was very affordable, I would get to see a lot of ports, and it really sounded fun. Well, after spending time with thousands of other passengers, waiting in lines, having a room where I could barely turn around in, and having to walk forever to get anywhere…I swore I'd never set foot on any cruise ship again. Then many years later I discovered an alternative – small ship cruises.
I have since been on three – I'm talking under 100 passengers –  and will gladly go again. If you're ready to give the open seas a go, it just might be time to take yourself out of the "I hate cruises" camp and discover the many reasons to love small ship cruises.
My first experience on a small ship was with Lindblad Expeditions to Antartica, Truly a trip of a lifetime that I happily share with anyone who will listen. If you've never been, GO! This was followed by trips with a company called UnCruise Adventures traveling through the wilderness of Alaska and Costa Rica.
After you've been on both types of cruises, it's not hard to see the huge differences and why for me, there's no comparison. Besides, it's not only great for adults, but for kids, too. If you're seeking tons of unique activities, individual attention, and amazing educational opportunities in your next vacation, keep reading…
Life on Board Small Ship Cruises
Few decisions to be made…Everything is pretty much taken care for you. Your only decisions might be which activity to partake in and which entree you want for dinner. On my last trip, it was whether we wanted to kayak, bushwhack, do a shoreline hike, or do a polar plunge off the back of the boat.
Dining is simple…Everyone goes to one dining room at the same time and while choices are limited, they are accommodating to dietary restrictions. There's no decision on what you are going to do or reservations to be made. The food is also excellent.
Everthing's close…There's no long walk to get to the dining room or any other space. It literally takes you a minute or two to get anywhere on board.
Intimate spaces for alone time…I love the fact that if I want to read a book or take a few moments for myself, there are cozy spaces I can go to be alone.
There's no waiting in lines…You don't need reservations and you won't be told some activity is fully booked. A big plus is that you can embark and disembark quickly. We literally waited 5 minutes to disembark on our last trip.
Casual is the keyword…The cruises I have been on were all super casual. There was no glamour involved at all. This certainly made it very easy to pack and left more time for fun and socializing. You don't spend time worrying about getting dressed up, putting on make-up, or worrying about your hair. You're too afraid you're going to miss out on something spectacular. Plus, the captain even encourages everyone to hang out on the bridge with the crew.
No worry about weight gain...There's not an endless buffet or tons of snacks available and you actually get in a bunch of exercise with all the available adventures/activities. This is really a good thing. If you're on the trip to gorge yourself on all the food you can eat, this type of trip is not for you.
You're easier to rescue…Okay, I hate to go there, but it has happened. In the very unlikely even that something would happen to the ship out on the open seas, you'd be much easier to rescue than in an ocean liner.
The People You Meet
Traveling with like-minded people…First of all, your fellow passengers chose this trip for its itinerary and activities, so you start off with something in common. Combine that with the fact that most activities including meals are done together and you have the potential for making life-long friends. People really don't go on a small cruise if they are anti-social, making camaraderie and socialization easy. And, since most times these cruises have passengers from around the world, the chance to make a new friend from New Zealand just got easier.
Personal touch…The crew actually get to know who you are and call you by your name. They ask about you and don't just carry on small talk. You fill out a questionnaire ahead of time, so the crew knows all about your preferences, allergies, and dietary restrictions. It's obvious through your interactions that they've actually read it and paid attention! Hugs and kisses are handed out from all the crew as you disembark.
Unique Adventures and Experiences
Access to smaller ports…Small ship cruises allow you to get in and out of places that you just can't do with a large ship. So, you see much more up close and personal. This also means there are not swarms of tourists in the ports, which to me is heaven.
Local culture experience…With access to smaller ports, comes access to more authentic experiences with the local culture and its people. This is probably one of the most important reasons that I love small ship cruises. Traveling to me means interacting with the locals and soaking it all in and a small ship affords me this opportunity.
Private events…Being so small, the ship's crew can arrange private events and unique excursions in the ports for the passengers. On one trip, we were treated to dancing and music from the local people accompanied by a meal prepared with all local foods.
Flexible schedule...If the captain finds something amazing, they can cruise on over or stay longer in one place. This happened to us multiple times. As a result, we got to encounter "whale soup," a stunning sunset, and a mamma grizzly and her cubs fishing for food!
More time for the adventures…You can swim, kayak, and paddle board right off the boat. This means more time adventuring and less time waiting to adventure.  On cruises I took, we had penguins jump over our kayak and saw icebergs calving before our eyes. I turned around and a big cruise ship was far away seeing it all through binoculars.
Focus on education…The focus of the trip is on adventure and education, so you can be active and learn something at the same time. This is great for the kids. Very little shopping is involved, because that's not the focus. There are few, if any, stops at tourist traps for you to shop for souvenirs.
You have experts on board such as photographers, naturalists, and oceanographers that are there to impart their knowledge. After a day of adventure, you all get together and review what you've seen and learned with the on-board specialists. You'll also find books on board about the places you'll visit and the wildlife.
Up close…Nothing is more amazing then being so close to an iceberg you can almost touch it, while being on your ship. If the captain sees something, they announce it over the loud speaker and you can literally get there quickly and not miss out on any spectacular siting. There's just no opportunity to do this on a large ship. Period.
Better for the environment…Last, but not least, small ship cruises are also better for the environment. This is very important to me when I travel and something I do worry about. You're not bombarding a town with hordes of people impacting the natural environment. Besides, the crew are very attuned to this and let you know what you can and can't do in this regard.
I honestly can't think of any negatives about small ship cruises. If you simply hate being on boats then I doubt I've convinced you to give it a try. But, if becoming life long friends with fellow passengers, being able to relax and just enjoy the journey, and being open to new experiences sound like your kind of vacation, then it might be time for you to think about small ship cruises.
Do you have a preference for large or small ship cruises?

Sherry is one of the TriWivesClub and LifeDoneWell co-founders and contributes to multiple blogs. She is a former co-owner of the California Apparel News and had a career in the healthcare industry. Her passions include traveling, real food, the environment, and animal rescue/welfare. She lives a healthy lifestyle and has been a vegetarian since 1987. She and her husband are parents to two rescue pups and reside in Connecticut.