I am always looking for good books to read right now. While I don't have tons of extra time on my hands for reading, I always carve out some time to pick up a book. I love how they teach me things and how they transport me to new places. But, the best books are the ones that make me see the world, other people, or even myself in a new way. In these Covid-19 times, an interesting book is worth more than gold!
Check out 7 relevant books you should be reading right now. They won't disappoint!
Disclosure: This article includes affiliate links.
7 Relevant Books to Read Right Now
1. Here For It – R Eric Thomas
"Pop culture–obsessed, Sedaris-level laugh-out-loud funny . . . [R. Eric Thomas] is one of my favorite writers."—Lin-Manuel Miranda, Entertainment Weekly
Oh, my goodness, this book is SO good! It is a national bestseller and was a pick for the Read With Jenna Book Club. It is funny, inspiring, and eye-opening all at once. Author R. Eric Thomas penned essays about being an outsider looking in for most of his life and how it has shaped him. His writing is hilarious and convenes an awkwardness almost everyone can relate to.
If you have ever felt like an outcast, like someone who doesn't quite fit in, you will find hope in this book. For those who constantly dim their light as to not make others uncomfortable, you may find the ability to accept yourself and shine on after reading this book.
2. Transcendent Kingdom – Yaa Gyasi
I just started reading Transcendent Kingdom and found it just had to be one of the books to read right now. While you don't want to put down, you don't want to keep reading either because then it will end. It offers me such an intriguing point of view that I would have never seen for myself.
Set in Alabama, this unflinching novel is about a Ghanaian family living in the deep south. It's no wonder Jenna Bush chose it to be highlighted on the TODAY SHOW for her Read With Jenna book club.
This book is a follow-up to Gyasi's national best seller debut novel, Homegoing. It doesn't shy away from some of life's toughest subjects, including immigration, suicide and addiction. There's a raw emotional clarity to this book that is not often found. Though the characters are dealing with incredible trauma, hope springs eternal. The words in these powerful chapters will change you.
3. Red at the Bone – Jacqueline Woodson
"In less than 200 sparsely filled pages, this book manages to encompass issues of class, education, ambition, racial prejudice, sexual desire and orientation, identity, mother-daughter relationships, parenthood and loss….With Red at the Bone, Jacqueline Woodson has indeed risen — even further into the ranks of great literature." – NPR
For those looking for a quick read that packs a powerful punch, you need to pick up Red at the Bone. Jacqueline Woodson doesn't disappoint with her newest novel that weaves in and out of time periods and gives voice to family bonds through the generations. This is one of the relevant books to read right now, because it shows a different side to the Black experience that is not typically showcased.
The novel delves into class, race and identity and uncovers the place that one's community and personal history can have on generations. This novel offers insight into how ambition, gentrification, education, sexuality and social status can influence the trajectory of life for generations.
4. Just Us – An American Conversation – Claudia Rankine
I have to be honest. This is a book I didn't want to read, but I think I need to. If 2020 has taught me anything, it is that there is a lot I don't know about others, but even more that I didn't know about myself.
Just Us – An American Conversation delves into the conversation about race that is uniquely American. Claudia Rankine doesn't tell the readers what to think or do. Rather, she encourages readers to initiate the conversation and to figure out a way to stay in the room together to continue the dialogue. This book is a call to disrupt the false security of our privileged lives.
This book does not have all the answers to what is ailing our society. It goes beneath the shiny veneer of politeness and gets at the prejudices, disjointed beliefs, and discrimination underlying our behaviors. This book feels intimate and vulnerable and seems exactly the kind of conversation we need right now.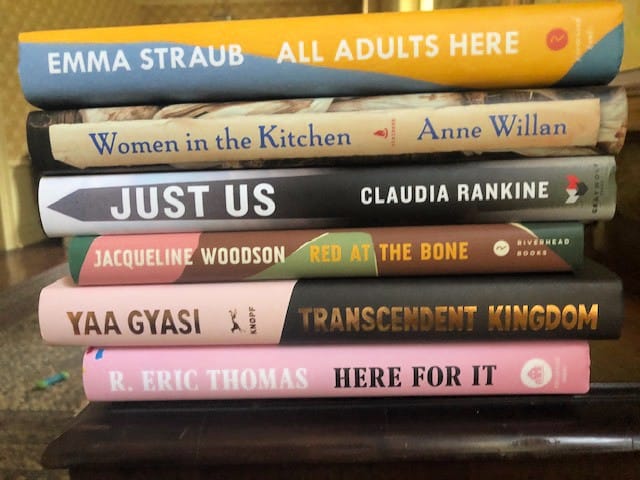 5. All Adults Here – Emma Straub
"Brimming with kindness, forgiveness, humor and love and yet (magically) also a page turner that held me captive until it was finished. This is Emma Straub's absolute best and the world will love it. I love it." —Ann Patchett
Funny and heartfelt, Emma Straub's newest novel captures one family as they cycle from children to parents to grandparents and all that entails. Whether it's looking at the legacy of mistakes made in youth or confronting the effects of all the drama that follows you into adulthood, you will find both wisdom and humor in All Adults Here. Maybe it will show you a small piece of yourself, no matter which generation you belong to at the moment.
6. Women in the Kitchen: 12 Essential Cookbook Writers Who Defined The Way We Eat, from 1661- Today – Anne Willan
If you know me at all, you know that I love cookbooks. I often read them like novels. So, when I saw my friend suggest this book about cookbooks, I knew I had to check it out. I adore this one. The book starts with someone who is perhaps not as well known, Hannah Wooley, who published the first cookbook in 1661. It also delves into more famous cookbook authors like Julia Child.
Women in the Kitchen profiles twelve amazing female cookbook authors. You may not have heard about them or know their stories, but you should! If you love cookbooks and are looking for a new way to enjoy a good cookbook this is one of the books to read right now. So, run to the bookstore and pick this one up.
7. American Dirt – Jeanine Cummins
"This book is not simply the great American novel; it's the great novel of las Americas. It's the great world novel! This is the international story of our times. Masterful."
—Sandra Cisneros
This book will shake you to your core. I dare you to read it and not look differently at immigrants, specifically the immigration system in general. It humanizes the immigrants so often looked at simply as problems to solve.
American Dirt follows Lydia Perez and her son as she is forced to flee her Mexican town after barely surviving a murderous attack that kills her entire family. The journey she takes is grueling, and is detailed in an unflinching, unvarnished way. Set aside what you thought you knew about Mexican immigrants and their trials to get to the United States. Filled with empathy, hope and faith, you will be a better person after reading this book.
The good books to read right now are the ones that take you out of whatever emotions are filling you right now. They help you explore other worlds and give you a bit of escapism that everyone needs right now.
Which book are you reading right now that should be on our list?
I am a home cook that does things my way. In my kitchen, I make breakfast, pack lunches, prepare snacks, and cook dinner. During the week, we eat real food that is homemade, organic, and local. On the weekends we do explore more of our local restaurants. I bake my own bread, juice fresh oranges every other day, and make my own kombucha and other weekly favorites.