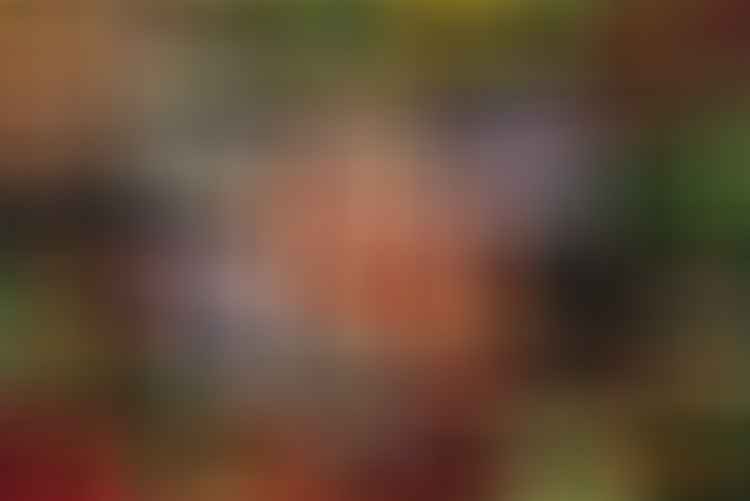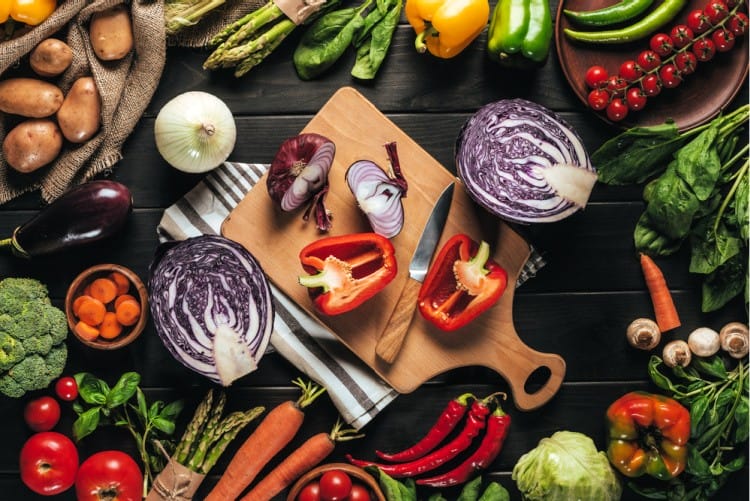 I am in no way a vegetarian, but I love my veggies and legumes, especially now that I grow my own on the farm. I also love my must have vegetable cookbooks for so many reasons. First of all, they have a completely different outlook on cooking with vegetables than most cookbooks. They have vegetables as center stage not as a side or ingredient.
Second, they go a step further. They test the limit with vegetables and create recipes that you would not think about preparing yourself. And finally, they create a full, well-balanced dish from the freshness of the season without making you think you are missing something. Basically, vegetarian cookbooks are my go to for all vegetable dishes.
For not being a vegetarian, I have collected quite a few vegetarian and vegan cookbooks. But there are a few classics that are my basics and go-tos. I will admit, not all of them are classified as strictly vegetarian but as vegetable cookbooks.
Disclosure: This article includes affiliate links.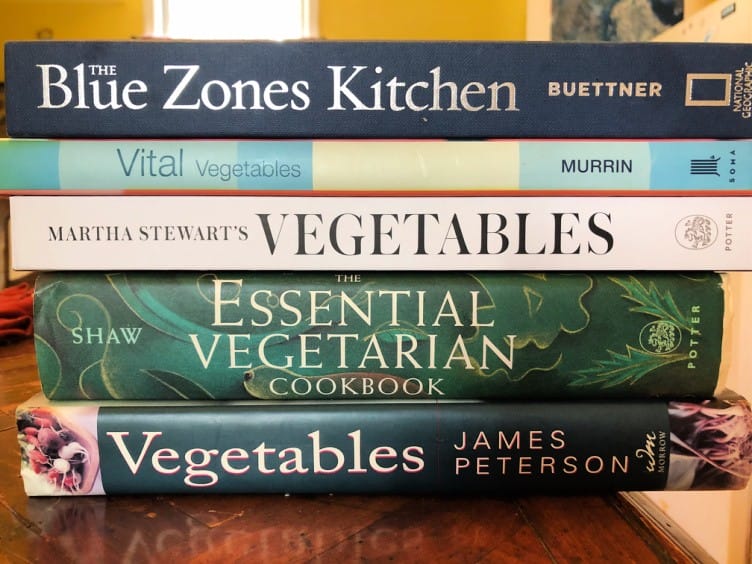 5 Classic Must Have Vegetable Cookbooks
Vegetables by James Peterson
As with all of James Peterson's cookbooks, this one sits on my counter as a guide and resource. Besides the wonderful recipes, Peterson is an amazing teacher for everything from buying the perfect vegetable to preparing and cooking your purchases. Each vegetable is given its own section that describes it through Peterson's eyes. There are amazing photos that walk you through preparing vegetables, like an artichoke.
Then, there are the recipes. I have never been disappointed and always inspired by the recipes. My favorite section in Vegetables is the party and meal section. I have used many of these for family meals as well as get togethers.
The Essential Vegetarian Cookbook by Diana Shaw
Here's another classic for many vegetarians and a must have for all. What sets Shaw's book apart is the information she shares. It is one of those cookbooks I read and learned a lot about vegetarianism (did not convince me to go vegetarian, but inspires me). The cookbook provides me with so many options for preparing our garden's bounty as well as vegetables I would not normally prepare.
The most important part of this cookbook to me is the "make it your own" section. Shaw provides this in each section with explanations on how to switch it up to make it the way you like it or to try something new. I have to say the Moo-Shu Mushrooms are a favorite and I have added proteins to this one and it is delicious!
Vital Vegetables by Orlando Murrin
This is another cookbook that sits on my counter for the simple reason that the recipes are classic, but I can never remember how to make many of them. So, this is my guide. The book starts with soups and sauces and ends in party foods. What I love most is that the recipes are easy to follow, have limited ingredients and so, do not take too much time. Most recipes take less than 45 minutes.
There are a few recipes in Vital Vegetables with meats, but they can easily be left out if you choose. The lasagne in here is the one I get the most compliments on. This cookbook is a collection of recipes that are from and inspired by many.
Martha Stewart's Vegetables by Martha Stewart
I have to admit the cover on this book got me. Peas and Pea shoots – two of my favorites each spring and fall. In fact, I just planted my fall crop. This is a cookbook that you can make the food look as good as the pictures simply by using fresh ingredients.
I love how this book it divided into sections based on the part of the plant. I also love how every part of the plant can be used by preparing a variety of recipes. I have used many of these for appetizers for company. But the most important part of this book is The Basics section. These tips are the key to the start of any delicious dish. My favorite recipe in the book is the simple Radish Tartine.
The Blue Zones Kitchen by Dan Buettner
The almost vegetable cookbook…
I am adding in The Blue Zones Kitchen for the simple reason it is vegetable heavy. This is another cookbook that sits on my counter simply because I love the regions and ideas. I highly suggest buying and reading this book for your health. It is a cookbook that is a collection of ideas about eating and recipes from where people live the longest. I want to add Sugar Water Manor to this list.
As with anything, I think there is a balance and Buettner helped me better understand my balance. I have integrated many of his thoughts and recipes into my everyday cooking. I have to admit two of my favorite recipes are Quick Greens and Onions and Honey Cookies. I could eat both all day, every day. The Blue Zones Kitchen is more than just great vegetable recipes. It is reflects a mindset about what we put in our bodies.
Watch soon for a review of our favorite new vegetable and vegetarian cookbooks.
I am a home cook that does things my way. In my kitchen, I make breakfast, pack lunches, prepare snacks, and cook dinner. During the week, we eat real food that is homemade, organic, and local. On the weekends we do explore more of our local restaurants. I bake my own bread, juice fresh oranges every other day, and make my own kombucha and other weekly favorites.