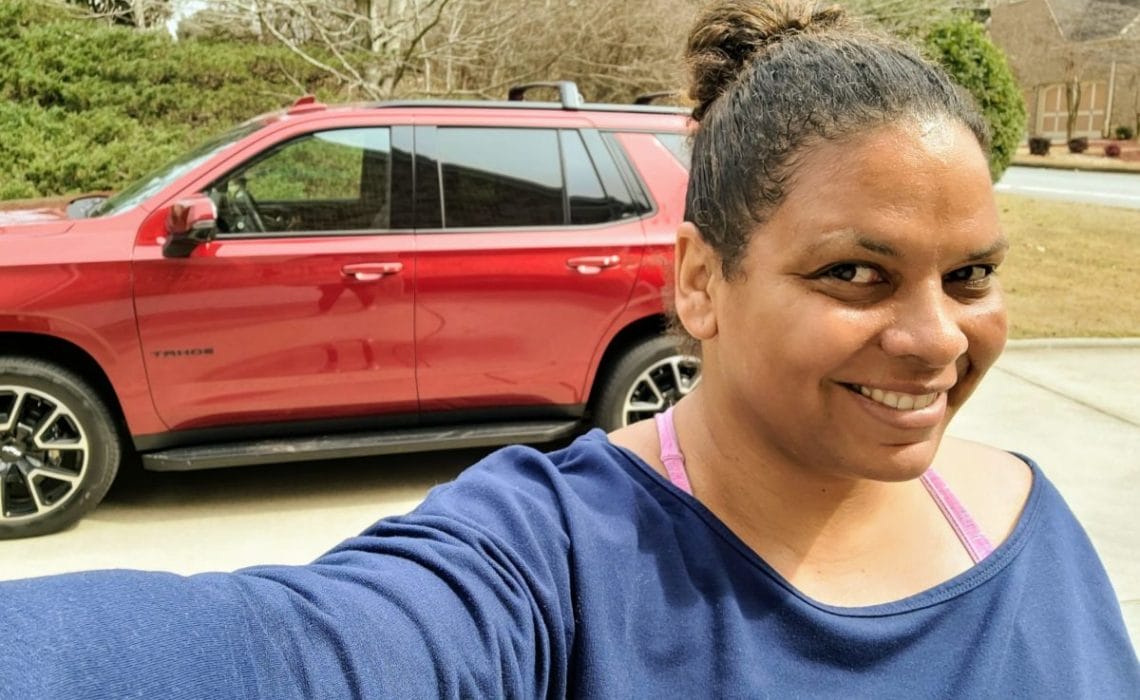 We all have our road trip essentials to make sure our trips are safe, fun and easy. But what do we need in our vehicle to make sure we are ready for the summer road trips we can now take. With Covid-19 restrictions lifting, vaccinations for Americans aged 12 and older available everywhere, and a pent-up desire to see something new summer travel is back on the table!
Whether you are thinking about hitting the road in a rental or buying a brand new vehicle for your adventures, you may want to consider the 2021 Chevrolet Tahoe. I had a chance to take a road trip to Orlando in March in this luxe SUV and immediately wanted one for myself. Check out why the Tahoe is packed with road trip essentials that will make your family exploits awesome.
9 Road Trip Essentials In The 2021 Chevy Tahoe
1. Roomy
The 2021 Chevy Tahoe is a full-size SUV with three super spacious rows of seating. It is 6.7 inches longer than the previous model which may not seem like much but it feels huge! It can even seat 7 to 9 people comfortably. Did you even know there was a vehicle that fit 9 people?? I didn't. The 2021 model has a bigger and more spacious cabin than previous models and really lets you spread out.
2. Smooth ride
Along with larger dimensions, the all-new 2021 Tahoe offers a smoother ride that makes even the worst roads comfortable to drive. The independent rear suspension improves the ride and makes sure there is less bounce to the ounce in the 3rd row. No more Cheetos flying out of the bag when you hit a pothole.
3. Easy handling
I have always been scared of SUVs because they seemed so big and hard to maneuver. That is not the case with the 2021 Chevy Tahoe thanks to nicely tuned steering. One of my top road trip essentials in a vehicle is being able to park it easily and get into whatever out-of-the-way nook my family wants to discover.
4. Quiet
When you are a parent on a road trip, reducing the decibels of sound around you can have a big effect on your stress level. I found the Tahoe to be excellent at muffling the outdoor sounds. It was actually quiet, even when I was driving on the interstate.
5. Comfortable
This massive SUV is just so comfortable. Yes, it's spacious but the captain's seats in the 2nd row were soft and the leather so supple. The driver's seat molded to my body and I didn't feel so stiff after hours on the road.
6. Easy to get in and out of
I love that the second-row seats fold flat if you need extra storage. They also slide forward and backward as well as tip for simple access to the third row. You don't want to have to deal with asking people to contort their bodies to get into the rear seats! In addition, the adjustable ride height and power running boards help the driver get into and out of this full-size SUV.
7. Family-friendly extras
There are lots of cool things about the 2021 Chevy Tahoe that are geared toward families. Do you need a giant panoramic sunroof? No. But it is awesome to have. The kids liked having the extra light during the day and being able to see the stars as we drove at night. Another favorite feature is the motorized storage bin. While it lives in the center console between the driver and front-seat passenger, it can slide back so second-row passengers can easily access it. When your kids ask for gum or tissues or whatever, they can get them themselves! Also, the individual media players in the 2nd row are everything!
8. Upgraded safety
GM has consistently set the standard for safety in the cars they produce. And of course, of all the road trip essentials to look for in a vehicle, safety should be number one. I really appreciated the vibrating safety alerts in the seats. If there is an obstacle in the road or a car veering into your lane, you are notified by vibration in the seat and side cushions instead of a loud beep or annoying flashing lights. It may seem weird but quickly becomes a comfortable and really useful addition.
Bottom line: This is the full-size SUV families have been looking for.
The 2021 Chevy Tahoe has all the road trip essentials you need to travel to your summer adventure. With extra space, extreme comfort and a crazy cool exterior, the Tahoe earned my vote as a favorite SUV.
Maria is a mom of 4 in Atlanta, GA. When she's not writing, she is playing tennis, coaching basketball or honing her newfound love of gardening.