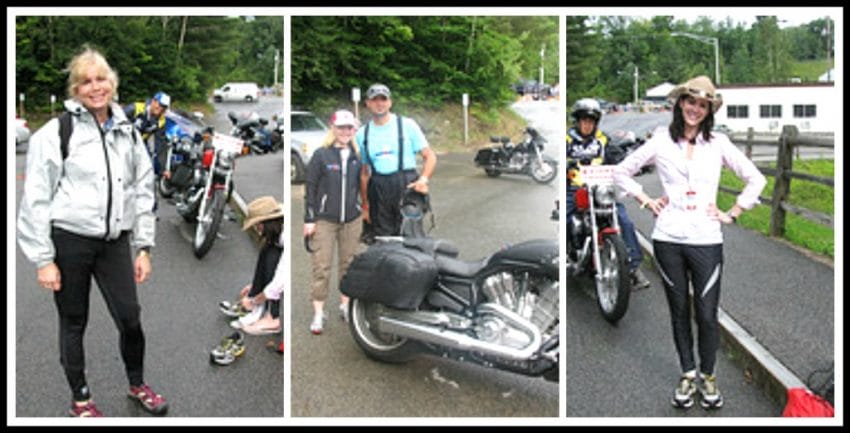 Since we've dressed as spectators for so many triathlons over the years and under almost every weather condition you can imagine, we decided to put together for you, the perfect spectator's outfit. It has to not only be functional and work from early morning, when it's often cool, to mid-afternoon's high heat, but hey, should also look good, too.
1. Sunglasses – Make them big and of good quality. We like wrap-arounds, as they seem to offer the most coverage. You will be in direct sunlight much of the day, so you seriously need to protect your eyes. Don't skimp here. Jodi loves Rudy Project.
2. Hat/visor – Whichever you prefer, you need one or the other. We like wide-brimmed hats, as your scalp can really get burned and it's hard to put sunscreen lotion on your scalp. As above, the sun can get brutal and you need to protect your face. Trust me, no matter what age you are, PROTECT YOUR FACE FROM THE SUN.
3. Long-sleeve shirt or jacket with tank layered underneath – The early morning seems to be universally chilly at triathlons and mandates long sleeves of some sort. But, as the day wears on and the heat sets in, the layers may need to come off. However, you still need sun protection, so think about getting that protection from your clothing. Clothing with built in sunscreen protection is now readily available and makes sense when you're outside for much of the day.
Coolibar is one company that offers a whole line of UPF 50+ clothing and really cute pieces, too. You can get shirts, hats, and pants. Many other companies these days offer clothing with sun protection, such as REI, Athleta, Columbia, and Sierra Trading Post, but that's pretty much all Coolibar does – their motto is Sun Protection You Wear! Just make sure that whatever shirt you choose, it's bright-colored so your triathlete can spot you!
4. Bottoms – We go with shorts, sport skirts, pants that can be rolled up, or cargo anything; again, depending on the weather. In any case, pockets are a must. Skirtsports makes super cute skirts with hidden pockets that you can really run around in.
5. Comfortable Shoes – You will either be on your feet or walking for a large percentage of the day and your feet need to be comfortable. No need to get blisters. We go with Keens, flip-flops (not great if you have to run), Newtons, or K-Swiss slip-ons, depending on if we think we'll have to run around or not during the race. Keens are great in all-weather conditions and activity level. The K-Swiss Blade Light Recover slip-ons are the best, but very hard to find these days.
6. Watch – As you may be asked to keep track of your triathlete's times or at least, you have to know when to be at certain spectator stations, a watch is vital. You can certainly go with a sports watch, but anything with a second-hand will do. Just be sure it's waterproof in case of rain.
So, there you have it. An easy to put together race day outfit that will not only look good, but more importantly, keep you protected and work well for different times of the day. HAPPY SPECTATING!!!!!
DID WE MISS AN ITEM IN YOUR PERFECT RACE DAY OUTFIT?

Sherry is one of the TriWivesClub and LifeDoneWell co-founders and contributes to multiple blogs. She is a former co-owner of the California Apparel News and had a career in the healthcare industry. Her passions include traveling, real food, the environment, and animal rescue/welfare. She lives a healthy lifestyle and has been a vegetarian since 1987. She and her husband are parents to two rescue pups and reside in Connecticut.