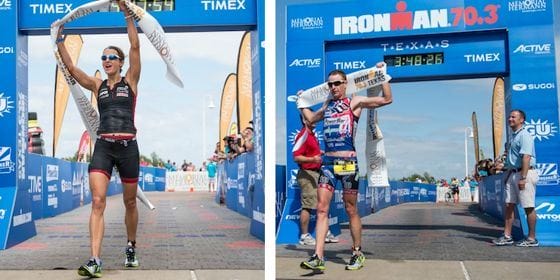 Update 2017: This post has been updated to the current schedule provided by Ironman. There isn't a Spectator's Guide for this race.
It's Ironman 70.3 Texas Galveston time!!! If you're not from Texas, I'm sure you're SO ready for some fun in the sun. Hopefully, you have read our Food & Fun Things To Do and Places To Eat, so you know what to do and where to eat while you're in the area. We've given you some great ideas for both activities. But, now it's on to why we're going in the first place – watching our triathlete have a great race. As always, we recommend you check the Ironman site for any course changes prior to the race.
Moody Gardens' Palm Beach Hotel at the race site, knows how to do it right – hot coffee and breakfast tacos will be available at the Discovery Pyramid snack bar starting at 6am. One year when it was a bit cold, they even opened one of the pyramids for us just to hang out in and stay warm.
Here are the TriWivesClub's tips for making the most of your spectating experience:
SWIM
The swim starts in waves at 7am with the Men's Pros and goes until the last wave at 8:20am. It is a one loop swim in Offats Bayou, located at Moody Gardens' Palm Beach Hotel. The start goes out in waves, so make sure you know what time your triathlete goes off and what color cap they are wearing. There are many great spots for viewing. Pick a spot near the Herb Garden initially and then head to Palm Beach or the chute to catch your triathlete running into T1. It is doable to catch them on the bike-out, as long as you don't have a stroller or wagon.
BIKE
The 56-mile bike course takes cyclists on a one loop ride along the Texas Gulf Coast, known for its gusty winds. It starts out of the West Parking lot, so your best viewing spot to see them leave and return would be the corner of Hope Blvd. and Lockheed, around the corner from transition. Since it is one loop, you will have plenty of downtime. Time for breakfast, a shower, or very quick nap if staying close by. I like to head back to the Moody Garden Hotel, get the kids up (as they get older, they sleep in for the swim – growing teens you know need their sleep), and head down for breakfast.
Then, either it is time for a run myself or hanging out with the kids or friends. Don't forget to stop by the Ironman Expo for a few goodies, if you haven't shopped already. You do have the option of getting in your car and heading out to watch the cyclists as 2 of the 4 lanes are usually open for cars, but it's probably going to be difficult to find your triathlete and then you have to deal with parking again. Again, if you choose this option, please verify road closures before you head out.
Make sure you know your athletes anticipated bike time and set your watch for 30 minutes prior, so you have time to reach the bike-in area near Hope Blvd. Once you arrive back at bike-in, stay on the run-out side so you can catch your athlete coming in AND going out.
RUN
The run course gives you multiple opportunities to see your athlete. It is a three loop course and fun. Once you cheer your athlete at the run-out, make your way back to the inside of the loops, making it easy for you to see your athlete multiple times. The 13.1-mile course is fast and flat, taking athletes through Moody Gardens and along Offats Bayou. The finish is next to the majestic Colonel Paddlewheel Boat.
My favorite spots are at Mile Markers 2, 5, 7, 8, and 11. Make sure you have the Ironman Athlete Guide with you to match mile markers. Please remember you can see them multiple times at each of these mile markers; I am just using them as a point of reference.
FINISH LINE
Once you see your athlete pass mile marker 11 for the third time, make your way to the finish line for big congratulations. Race season has officially started for you……
TIPS
To track your athlete, go to the Ironman website on race day and click on the race coverage box or download the apps for IMTrackr and/or IronMobile. Both offer great tracking capabilities and we use them and have been quite pleased.
Parking – If you are not staying on site, be prepared for long parking lines. It is a very condensed area, being a narrow island and we highly recommend driving on with your athlete, if you want to see the swim start. Parking is available at the Moody Gardens Convention Center parking deck and the main parking lot. Once full, additional parking will be available at Schlitterbahn Waterpark's parking lots on Airport Blvd. and Lockheed Rd.
The Awards Ceremony and championship slots roll down will be at 4pm outside transition, if you have a qualifying athlete or you are interested in being a part of the ceremony.
One of the best parts of a half-distance Ironman is that by early afternoon, it is time for a late lunch and hanging out! Your triathlete usually isn't too spent, so you get some good together time. Enjoy it….And, happy spectating and best wishes for a fun and safe race for all!
Do you have any tips for spectating Ironman 70.3 Texas?

Sherry is one of the TriWivesClub and LifeDoneWell co-founders and contributes to multiple blogs. She is a former co-owner of the California Apparel News and had a career in the healthcare industry. Her passions include traveling, real food, the environment, and animal rescue/welfare. She lives a healthy lifestyle and has been a vegetarian since 1987. She and her husband are parents to two rescue pups and reside in Connecticut.