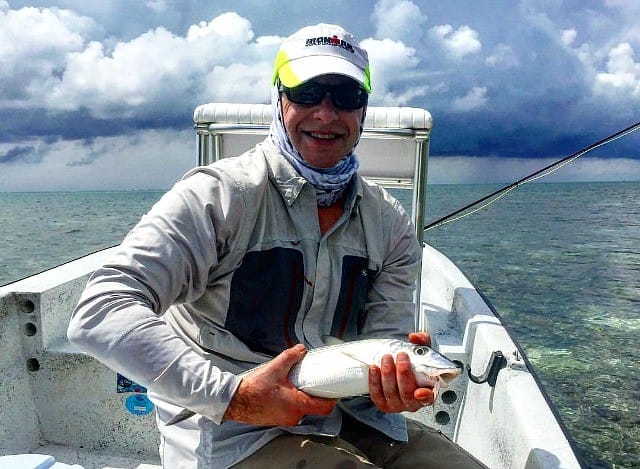 So, we went on vacation and I sort of felt like I was at a triathlon, but oh, it was so much better….
For ten years, my triathlete hubby and myself traveled mostly to triathlon destinations around the world. I mean we got to see some amazing places and I was thrilled and never complained about the travel. But, then came David's accident in 2014, if you can call it that, and what followed was about a year without triathlons and then a 70.3 and one full-distance in 2015.
Now, it's 2016 and what I'm calling "the year of accessing how triathlons will once again fit into our life", and I'm guessing it's going to be in a different way. So, to sort things out, we found ourselves at Belcampo Belize for a very different sport, fly fishing, my husband's second hobby – yes, he really does have not ONE, but TWO hobbies – and surprise, I found fly fishing to be so similar to the sport of triathlon.
The Location
Just like triathlons, you can fish around the world. You need a body of water, a great place to stay, and someone who knows the area. For our first big fly fishing trip since triathlons took over our world, my hubby picked a location where we could both have amazing activities to keep us occupied or relaxed. He wanted the challenge of the Belize Grand Slam (Bonefish, Tarpon, and Permit) and he wanted me to have a spa and other things I loved to do while he was gone all day. Much like triathlons, I like a little fly fishing, but one day will last me for a long time.

The Gear
There is SO MUCH gear. Granted, you do not have to lug a bike with you, but you still have to lug the rods – not just one rod mind you, but many. You certainly can't rent the rods, they have to be your own. So, the rod is much like a bike. You buy the specialized rod you want and then the reel and then the…. The flies alone had their own suitcase. Then, you have the clothes; not spandex, but still specialized – UV protected with bug guard, quick dry, breathable, and unzippable. And the shoes; wading boots and deck shoes. The leads, the tips, and oh, so much more.

The Coach and Training
Yes, fly fishing still has a coach in a sense, but it's now a guide with a boat. He meets you the day before you start with him to go over the "race day" plan. He tells you want to bring and what to expect, but instead of carb loading, you toast with a cocktail. The training is intense. There is fly tying for crazy fly fishermen like mine; sort of like the "I'm going for a short bike ride" and you see them six hours later. Yea, same for fly tying…Then, there's the practice rod in the house; single haul and double haul practice.
The actual fly fishing day starts the same, just a little later than a triathlon and ends a little sooner. I am able to have tea while he sits and has a real breakfast. With a 6:45 departure, I grab breakfast once he leaves. Then while he is out on the water, I play all day long, but always make sure I am there at the finish line. I head down from the lodge to the marina to cheer on the finish, but it is only about 4PM, so we have time for a drink, a shower, and get to enjoy a regular evening. No ice baths needed and no need to head back to the finish line for others. But, the equivalent is the mandatory meeting with the fellow fly fishers in the bar that night to share stories and prepare for the next day.
The Self-Driven Personality
Much like triathlons, fly fishing is a solitary sport. There are others involved, but each have their own spot in the water and cast on their own. It takes patience and like much of a triathlon, the fisherman is out there facing the elements on their own.
The Reward
The reward comes just like a triathlon, with what you left out there on the course. The stories of the goal just missed, the stories from your guide, and the fish you caught and the ones you left behind. Also, much like triathlon conversations, the fly fishing stories are shared with fellow fisherman and at dinner parties and with the family and with co-workers and with the spouse and with the spouse and with the spouse…
I know there will be many more triathlons coming soon, but I also know that this break was much needed for both of us and so happy that we had the opportunity.

Sherry is one of the TriWivesClub and LifeDoneWell co-founders and contributes to multiple blogs. She is a former co-owner of the California Apparel News and had a career in the healthcare industry. Her passions include traveling, real food, the environment, and animal rescue/welfare. She lives a healthy lifestyle and has been a vegetarian since 1987. She and her husband are parents to two rescue pups and reside in Connecticut.