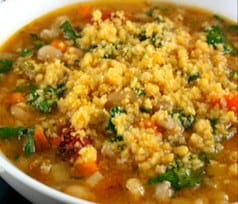 Fall has arrived, at least on the east coast.  The air is crisp, the sky is bright blue, and the blankets are on the bed.  In our house, it also means it's the time of the year for hearty, healthy soups. We think this white bean vegetable and farro fits the bill.  You can certainly substitute other grains for the farro such as rice, barley, or even pasta or egg noodles.  While chopping can get time consuming, you can readily buy pre-chopped in most grocery stores these days.
INGREDIENTS:
¼ cup olive oil
1 cup diced carrots
½ cup diced celery
½ chopped medium onion
2 minced garlic cloves
2 cups chopped kale
1 cup diced sweet potatoes
1 cup diced zucchini
½ cup chopped red sweet pepper (optional)
2 tbsp. chopped fresh parsley
1 cup farro
8 cups vegetable stock
1-15 oz. can white beans, rinsed and drained
2 tbsp. chopped fresh rosemary
DIRECTIONS:
In a large pot, heat the oil over medium heat.
Add the carrots, celery, onion, and garlic; cook until tender.
Add the kale, sweet potatoes, zucchini, and red pepper; cook for several minutes more.
Add the parsley, faro, stock, beans, rosemary, and ¼ cup water as needed to thin.
Bring to a boil, reduce heat and simmer, covered, for 30 minutes or until the farro is tender.
Season to taste with salt and pepper.
Optional:  sprinkle a little parmesean on top.
Serve with a salad of your choosing, rustic bread if you like, and you're good to go for dinner – if you make enough, lunch the next day, too.
Enjoy!
 – THE TRIWIVES

Sherry is one of the TriWivesClub and LifeDoneWell co-founders and contributes to multiple blogs. She is a former co-owner of the California Apparel News and had a career in the healthcare industry. Her passions include traveling, real food, the environment, and animal rescue/welfare. She lives a healthy lifestyle and has been a vegetarian since 1987. She and her husband are parents to two rescue pups and reside in Connecticut.