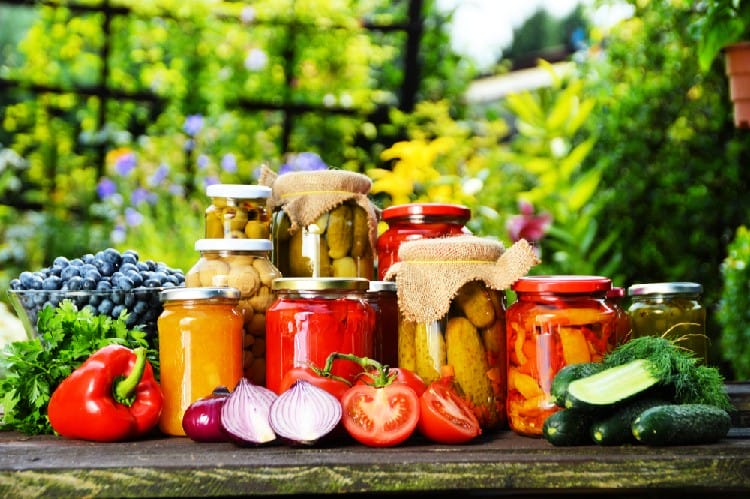 Summertime is here and that means there is so much wonderful fresh produce available! But, what do you do with all the abundance?
Did you know you could pickle just about anything? Pickling is a great way to preserve your garden's bounty all year long.
There's no need to be nervous if you've never pickled before. In fact, it's pretty easy and most will say fun! And don't worry – many do not require canning if you prefer to pickle and eat…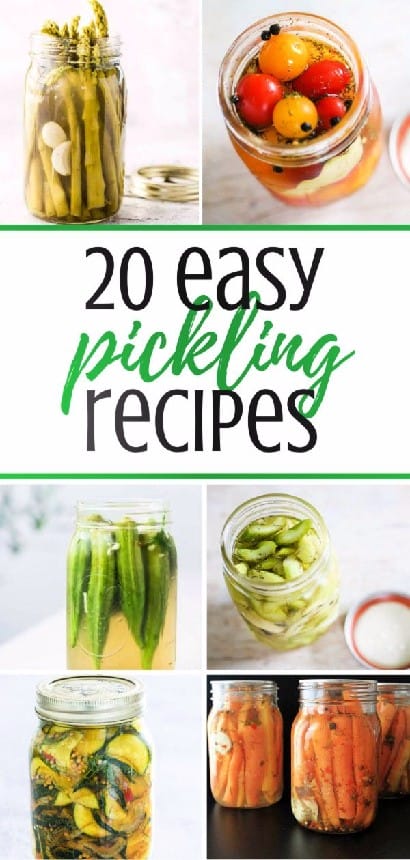 I've put together a list of some of my favorite easy pickling recipes for you to try! I hope you give pickling a chance.
20 Easy Pickling Recipes
Are you always wondering what else to do with okra? We got ya here – pickle it! No canning is needed to make this crunchy Pickled Okra recipe!
This recipe is perfect to top any salad, add to a sandwich, or serve as a side with chicken. These Pickled Red Onions are tangy and sweet thanks to the apple cider vinegar brine.
Who thought you could pickle blueberries? Well, guess what? Pickled Blackberries are delicious in a salad, on a charcuterie plate, or as a condiment! They're tart and sweet with a hint of pepper, rosemary, and thyme.
Dill Pickled Carrots are tender-crisp and quick and easy!
This is a true classic! Who doesn't love Dill Pickles? Preserve the cucumbers from your garden and make Dill Pickles!
How pretty are these Homemade Beet Pickled Eggs? Seriously they are gorgeous and taste as good as they look.
You can use this Pickled Celery recipe in soups, salads, Bloody Marys, and more!
Cherry Tomatoes can often be abundant in a garden. That's why it's great to pickle them. You can pop them in your mouth and savor all year long.
Pickled Sweet Peppers are so good on salads and sandwiches thanks to their sweet, salty, and tangy flavors!
Ramps or wild leeks are only found for a short time in the spring. That's why it's great to pickle them so you can enjoy Pickled Ramps year round.
Enjoy these Bloody Mary Pickles at your next brunch! Everyone will be so impressed.
These are an absolute favorite around my house! Pick up some kirby cucumbers at your local farmer's market to make Refrigerator Pickles.
Whether you decide to use this Pickled Asparagus as a snack or an accompaniment to a meal, you'll love the flavors of garlic, dill, and vinegar. These are also the perfect amount of acid to add to any dish.
Who else loves dilly beans aka Pickled Green Beans? They're spicy and garlicky and go perfect on hamburgers, hot dogs, and summer salads.
Pickled Jalapenos are so good on nachos, in chili, or even on a sandwich.
I am making these today! It doesn't get any easier to make Refrigerator Pickled Beets! Just roast, slice, and cover with vinegar, salt and sugar.
Banana Peppers are fun to grow and even more fun and tasty to pickle!
If you have ever grown zucchini, you know how easy it is and how abundant they are! Pickled Zucchini is sweet and tangy!
Aren't Watermelon Radishes just beautiful? Try them pickled!
Bread and Butter Pickles are perfect on burgers! Don't buy store bought when you can make them fresh at home.
What is your favorite vegetable to pickle?
I am a home cook that does things my way. In my kitchen, I make breakfast, pack lunches, prepare snacks, and cook dinner. During the week, we eat real food that is homemade, organic, and local. On the weekends we do explore more of our local restaurants. I bake my own bread, juice fresh oranges every other day, and make my own kombucha and other weekly favorites.