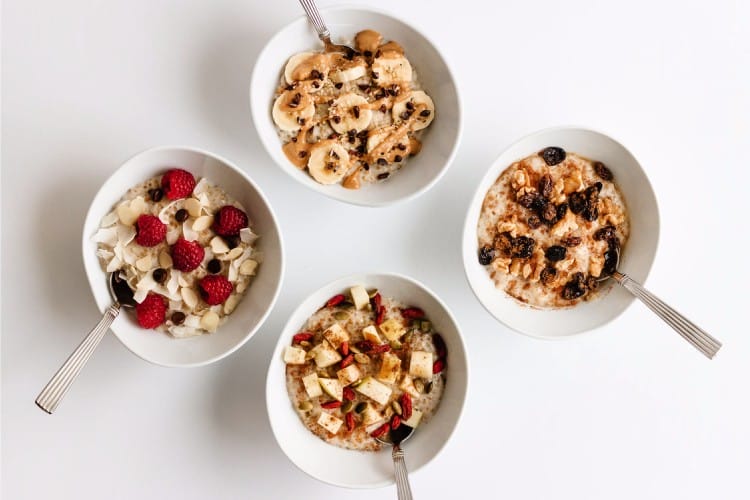 Since breakfast is the most important meal of the day, it's important to make sure it's a hearty and tasty. Fix any of these tasty oatmeal recipes and you're sure to start your day off just right!
Full of fiber, oatmeal is a great option to fuel you through the morning. It is super versatile, too! Add your favorite fruits, nuts, maple syrup, honey and more to your oats. You can even make your oatmeal in the slow cooker, instant pot or on the stove top.
We've rounded up 25 Amazing Oatmeal Recipes to Start Your Day With! Which one will you choose to make first?
25 Tasty Oatmeal Recipes to Start Your Day
Steel Cut Oats are a warm, healthy breakfast option that is easy to meal prep and so versatile! Steel Cut Oats are the staple of oatmeal so let;s start with this. Learn how to make them!
Pancakes! Make these Banana Oatmeal Pancakes in a blender with just a few ingredients, rolled oats and a ripe banana.
Brownies are an acceptable breakfast when they are loaded with oatmeal and yogurt! Yes, Brownie Baked Oatmeal!
Kick things up a notch by transforming your porridge into some Chocolate Almond Butter Oatmeal goodness!
The classic Almond Joy candy is recreated into something healthy in this Almond Joy Baked Oatmeal recipe.
Set and forget this recipe for Cherry Chocolate Overnight Oats and have a yummy healthy breakfast in the morning! We all need something to forget about!
It is always Pumpkin Spice time! Pumpkin Spice Oatmeal is the perfect fall breakfast!
Brown Sugar Oatmeal porridge can be so comforting in the morning before running out the door to go to work or to school.
Wait- did you say vegan and Cinnamon Crunch in the same sentence…This Cinnamon Crunch Oatmeal has a sweet crunch to it!
This Banana Oatmeal Smoothie makes a nutritious breakfast that will keep you full for longer. It's thick, rich, smooth, and delicious!
Try this recipe for delicious easy Oatmeal Bars your whole family will love! With no processed sugar, they're wholesome and delicious and amazing for breakfast or a midday snack!
This creamy and easy to make Peaches and Cream Instant Pot Steel Cut Oats will help you start your day off right!
These Carrot Cake Overnight Oats are made the night before and left to sit overnight so it's ready as soon as you get up!
Light, fluffy, and incredibly delicious, these healthy Oatmeal Waffles will make any breakfast or brunch complete!
This Apple Cinnamon Oatmeal is made on the stove top for a quick breakfast option.
These healthy and hearty Banana Maple Steel Cut Oats are the perfect way to start your day, made with just 5 simple ingredients!
Your whole family will love this great tasting, hearty morning meal of Slow Cooker Apple Cinnamon Oats.
Baked Oats with Walnuts is the perfect make ahead healthy breakfast recipe!
Deliciously nutty and sweet Peanut Butter Oatmeal Pancakes are the perfect quick breakfast that your family will love!
This Pumpkin Baked Oatmeal recipe makes a fantastic and tasty fall breakfast any day.
This delicious Cinnamon Roll Baked Oatmeal is like eating a warm soft cream cheese glazed cookie for breakfast.
These Chunky Monkey Overnight Oats are made with no cooking involved at all!
Get this Apple Cinnamon Steel Cut Oatmeal on the table quick thanks to the Instant Pot!
These Strawberry Oatmeal Bars are a quick, delicious snack loaded with fresh strawberries and heart healthy oats.
These Baked Berry Oatmeal Cups are the easiest make-ahead breakfast out there!
This recipe for Banana Steel Cut Oats tastes just like banana bread! Seriously!
Which of these tasty oatmeal recipes will you fix first?
I am a home cook that does things my way. In my kitchen, I make breakfast, pack lunches, prepare snacks, and cook dinner. During the week, we eat real food that is homemade, organic, and local. On the weekends we do explore more of our local restaurants. I bake my own bread, juice fresh oranges every other day, and make my own kombucha and other weekly favorites.