A stress-free vacation…aaah…isn't that what we all strive for. With so much daily stress in our lives, who doesn't want to leave all their cares behind on vacation. Some of the stress we can control or at least minimize and some we can't, like airport delays. I was shooting for the "what I can control goal" when I planned a recent Croatia coast vacation.
And I'm here to tell you it's possible!
Croatia has always been on my "must visit" list because my mom was Croatian. I wanted to visit long before it became one of the hot destinations and I mean hot with hoards of tourists. I just wasn't sure the best way to do it.
Plus, this time, we were traveling with friends from New Zealand, so there was more to consider. After opting for a Croatia coast vacation, the question I asked was…How could we visit with minimal pain and effort and avoid the crowds? There had to be a great option. And there was. I just had to go through the pros and cons of all my options first…
Rent a sailboat and go it alone or hire a crew…I love to sail. It's actually one of my favorite ways to vacation. In fact, I've always dreamed about sailing around the Greek Isles and then up the coast of Croatia. My most memorable sailing adventure was a near perfect trip around the British Virgin Islands.
But we weren't going with someone who knew how to sail and we certainly aren't proficient enough to take the helm, so that left hiring a crew up for consideration.
You know what ended up being the deciding factor here…I wanted a little more interaction with the people and a few guided tours thrown in for my first time to Croatia and I didn't see getting this on a private sailboat. Next…
Book a cruise on an ocean liner…Taking a cruise on a large ship was pretty much eliminated right off, although there are plenty of options available. This is where the hoards of people arriving in Dubrovnik come from.
While I have to admit I love adventure cruises and small boat cruises, please note I say small boat, you will never catch me on an ocean liner, no matter how nice. Sorry. Just not for me. It's in the same vain as my love of small, boutique hotels. Happily, our friends agreed. Next…
Rent a car and drive and hop on ferries to get to islands…I know for a lot of people this is the way to go. In fact, I'm usually one of them. Most of my trips have involved a rental car and google maps.
But for a Croatia coast vacation, this had little to no appeal and just sounded way too complicated, especially since I wanted to visit multiple islands. Besides, we only had 8 days and I didn't want to spend much of it packing and moving hotels and getting to ferries. Remember, I was looking for stress-free! Next…
Rent a private yacht…Now, I'd be remiss if I didn't include this option and I did think about it for like a nanosecond. There is only one reason why this wasn't a serious option for us and that's the cost. We're talking 10's of thousands of dollars for a week's rental.
In fact when we were in Split, we saw some yachts docked that went for $800,000 + for a week. To put this in perspective, Jon Bon Jovi and his family were on a private yacht while we were there. Alas, we are not rock stars!
Take a small cruise ship…Okay, this option was attractive from the start. It seemed to offer everything we were looking for. It was just which one to choose. Luckily, our friends discovered Sail Croatia and after doing a little research on my own, screamed "Count us in!"
I encourage you to do your own research and pick a cruise line that best meets your needs and wants.
There were so many things to love…the price, a boat that looked more like a private yacht, a maximum of 36 fellow passengers, being able to actually spend time on the islands, cruising from Dubrovnik to Split, flexibility in the itinerary, guided excursions, and a room you could actually move about freely in. The only downside was the trip was so far away…
A Stress-Free Croatia Coast Vacation
As it seems to be the case these days, time passed quickly and the trip was here before we knew it. We had decided to arrive a day early just in case there were flight delays having to go through Madrid. Luckily, it was not an issue.
Sail Croatia provided transportation to our hotel from the airport which was a nice perk. We did encounter a bad news/good news situation at our hotel, though. They had groups staying extra days and we were getting bumped to their five star sister hotel and getting a room upgrade. Too bad it was only an overnight stay.
Boarding in Dubrovnik took place the next morning. We were given welcome drinks, taken to our rooms, fed, and introduced to the crew. Then, we were off for a guided tour of the main city square and the Dubrovnik Walls, which afford amazing city views.
By design, we arrived well after the hordes of tourists off the huge cruise ships. And trust me, it was crowded enough in the late afternoon.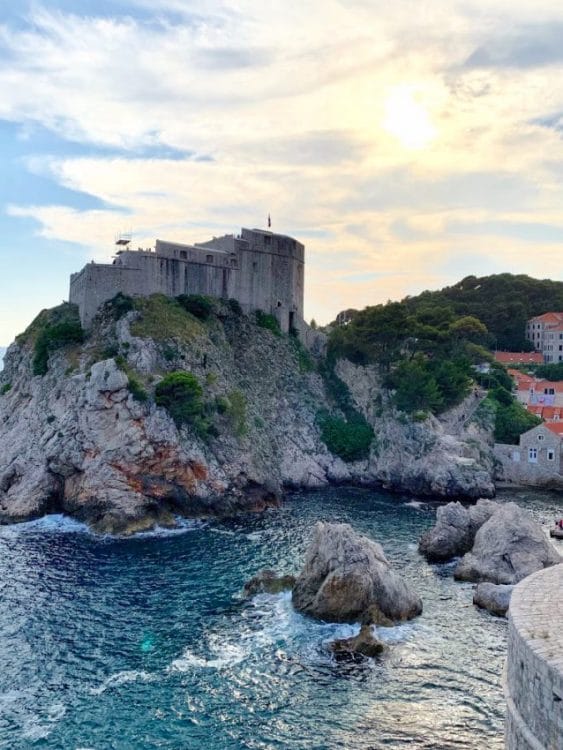 We left port the next morning for 7 glorious days on the Adriatic Sea and for the rest of the trip, Sail Croatia certainly did not disappoint. I honestly didn't have to plan anything as our days were all laid out for us. We just had to show up.
Even for food on the islands, we either just played it by ear or the Cruise Manager, Antonio, would call and book us reservations at his favorite restaurants. But of course, stumbling upon gems is always the most fun.
The only decision we had to make on several islands was which activity to partake of; hiking vs biking; kayaking vs motor biking; staying on the boat vs visiting the island.
Oh sure, the drinking water wasn't always ice cold and the cappuccinos not always super hot, but the people, the boat, the other guests, the swim stops, the island hops, the food, the drink, just wow…It was a combination of elegance and down to earth fun.
Oh, the only reason I say it was almost stress free is because our flight was cancelled on our way home and we had to stay overnight in London. Otherwise…
If you really want a vacation that requires little thinking and planning, but tons of pleasure, this could be the vacation for you. It certainly was for us.
Have you experienced a Croatia vacation?

Sherry is one of the TriWivesClub and LifeDoneWell co-founders and contributes to multiple blogs. She is a former co-owner of the California Apparel News and had a career in the healthcare industry. Her passions include traveling, real food, the environment, and animal rescue/welfare. She lives a healthy lifestyle and has been a vegetarian since 1987. She and her husband are parents to two rescue pups and reside in Connecticut.