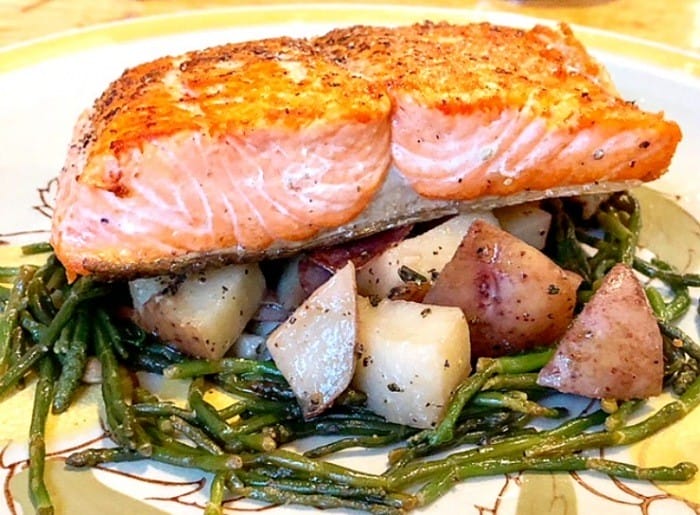 This Salmon Sheet Pan Dinner will make your dinner choice and clean up a breeze. And who wouldn't love that!
There are so many nights I really don't want to do the dishes, I mean who does? But, this is especially true for me in the summer when I'd much rather be outside. Plus, I have the twins home, so I'm trying to get as much "mom" time in as I can.
While I love to cook, I've always loathed doing dishes, especially emptying the dishwasher and I fill and empty both dishwashers everyday!
Believe me, I would ask for help, but I have a control issue in the kitchen and am the first to admit it. I like to load my way and I like all my stuff in the right places. I know, crazy!
So, this summer I decided to start doing a few meals on sheet pans, which means it's a quick, easy, one pan dinner with little fuss and muss.
This first one, a salmon sheet pan dinner, was great with our starch, greens, and proteins literally on one pan. But did you know you can also make breakfast sheet pan meals? Who knew?
Salmon Sheet Pan Dinner with Potatoes and Green Beans
Yield: 4 servings
Need:
One large sheet pan with edges – I like the ones I use when making a tray of brownies
Foil or parchment paper for even easier clean up
INGREDIENTS
Olive oil
1 pound of salmon – more if you like, we use 4 oz/person
12 new potatoes, washed and sliced thin; store in ice water until ready to use for crisper potatoes when cooked – we use 3/person
1 pound green beans, washed and trimmed
1/2 pound small tomatoes, cut in half
Salt & pepper
Dill, chopped – fresh or dried
1/4 cup lemon juice
1 whole lemon cut in quarters to serve with dinner
What you do is so, so easy!
PREPARATION:
Warm oven to 375F
Lay parchment paper or foil on the tray and spread with olive oil
Sprinkle salt, pepper, and some dill on olive oil
Spread potatoes, green beans, and tomatoes on top
Sprinkle again with salt, pepper, and dill
Sprinkle 1/8 cup lemon juice on top and gently toss with hands
Put tray in oven for 15-20 minutes
While baking, prep salmon by sprinkling with a little salt, pepper, and a generous amount of dill
Remove tray from oven and add salmon on top
Pour remaining lemon juice on salmon
Bake an additional 15 minutes
Remove from oven and let rest for 5 minutes before serving
You can serve this salmon sheet pan dinner with a salad or any appetizers of your choosing. Enjoy!
WHAT'S YOUR FAVORITE ONE DISH MEAL?

Sherry is one of the TriWivesClub and LifeDoneWell co-founders and contributes to multiple blogs. She is a former co-owner of the California Apparel News and had a career in the healthcare industry. Her passions include traveling, real food, the environment, and animal rescue/welfare. She lives a healthy lifestyle and has been a vegetarian since 1987. She and her husband are parents to two rescue pups and reside in Connecticut.