It is party time – check out these home bar must haves! Here are four fabulous finds that will take your entertaining to a whole new level!
We will call this Fabulous Finds Happy Hour Edition – but honestly it can be anytime! Heading into the Fall and Winter it is entertaining season which means having all the right supplies is a must. Recently we discovered some more wonderful new find that you need to add to your entertainment area and in fact use more often.
Entertaining and Home Bar Must Haves
A Bar Above
We are so excited to have A Bar Above Boston Shaker Set. The set is the perfect bit of flash and so functional for your cocktails. It will both make your bar area beautiful and make even better cocktails. The set includes a two piece Boston shaker set, a cocktail strainer and a two sided jigger. For me a jigger is a must when making properly proportioned cocktails for the best taste. I love using fresh fruits and prepare no ice cocktails so the strainer helps with both.
A Boston shaker is a favorite of many of the best mixologists I know. It consists of usually a 16 ounce metal shaker with a smaller one that is designed to fit perfect for shaking.
This kits are a must for your bar and as the perfect gift.
The set comes in copper and stainless.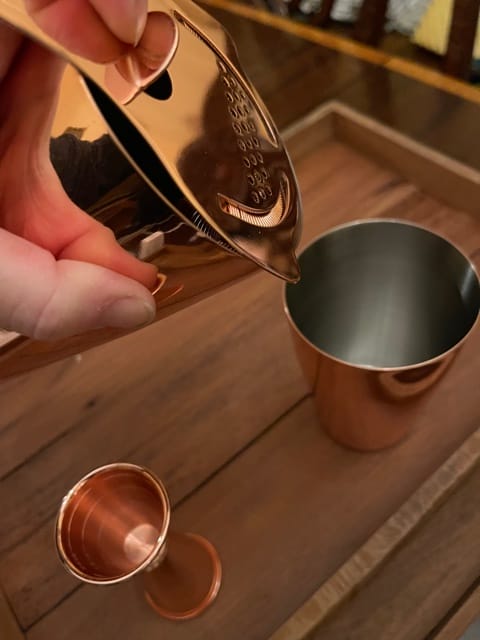 Wine dot Com Picked Program
I am super excited about this next Fabulous Find. It is the Wine dot Com new Picked program:
Picked | New subscribers get $50 OFF their first box with code PICK50
You know I am a big lover and customer of Wine dot Com- well not with the Picked program you can enjoy trying new wines at home curated just for you and get $50 off. When you join you have a personal sommelier who picks wine just for you. You simply take a quiz, are paired with a sommelier and your sommelier picks 6 wines just for you. Check out all the details by clicking our link and be sure to use the code PICK50.
If you are not sure buy in with some friends and enjoy a small gathering each month to enjoy taste together.
This is both wonderful to buy for yourself but also give as a gift.
Tovolo Ice Molds
If you have ever had a cocktail at our house you may have enjoyed one or our ice molds. I say may have because we didn't make them that often simply because they were so hard to make. Well Tovolo changed that. We are in love with these slow melting ice molds for many reasons but the top two are…First they are so stinking cute and awesome.
The rose mold is right up my alley and will be used most likely the most for pretty cocktails. And you should see the others cats, dogs, ornaments and so many more. Our second favorite thing about them is the ease of using them and that they take up so little freezer space. You simply fill them up and put the top on- that is it, no fuss at all.
InBooze
I love short cuts. I especially love delicious shortcuts, add a little cocktail to that short cut and done! We love InBooze so much we will be adding the kits to our shop on site at Sugar Water Manor for lodge guest to buy and enjoy so that is saying a lot!
There are InBooze kits for every season and truthfully you need no reason. We also appreciate that the ingredients include fruits, herbs and seasoning that are well sourced and organic where possible. These are not only delicious but a must to have on hand to enjoy yourself, when friends and family come over or when planning an event. We are using InBooze for a small holiday party and using as our custom cocktail for the evening.
I am a home cook that does things my way. In my kitchen, I make breakfast, pack lunches, prepare snacks, and cook dinner. During the week, we eat real food that is homemade, organic, and local. On the weekends we do explore more of our local restaurants. I bake my own bread, juice fresh oranges every other day, and make my own kombucha and other weekly favorites.