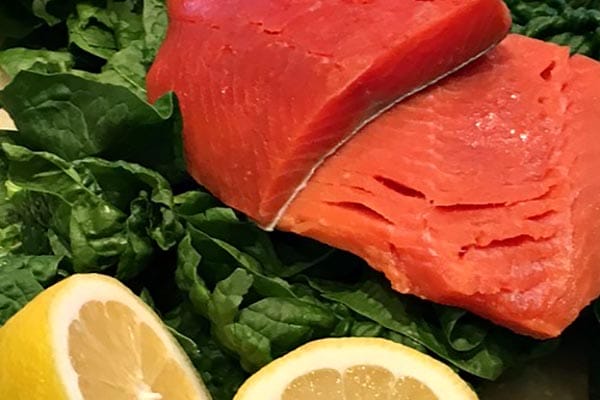 We love salmon in our house and have it a lot. So, I'm always trying out a new salmon recipe to shake things up rather than just the normal steaming or grilling. I did this recipe when we were headed out of town the next day and I wanted to use up what was in the frig. It ended up being fast, delicious, protein-filled, and healthy. Don't we all want to eat this way every night? Plus, it works out really well when David is training at night.
This recipe makes dinner for 2.

What you need
Sheet pan with a piece of parchment for easy cleaning
Bowl for tossing
Cutting board
Good knife
Ingredients
One medium onion
2 large potatoes
2 portions of salmon
1/2 pound of spinach
1 lemon
Olive Oil
Salt and Pepper
Directions
Pre-heat oven to 425 degrees.
Slice onion into rounds and peel and slice potatoes into rounds.
Place both together in a bowl, add about 2 1/2 tablespoons olive oil and salt and pepper, and toss together.
When onions and potatoes are coated, pour onto sheet pan and place in the oven.
Cook about 20-30 minutes until potatoes are getting soft.
While potatoes and onions are cooking, prep the spinach and salmon.
I used fresh leaf spinach, so I had to wash, remove the stem, and chop.
Remove the skin from the salmon and add salt and pepper.
When the potatoes are just getting soft, remove the sheet pan from the oven.
Place the spinach on the potatoes and salmon on top of the spinach.
Squeeze the lemon over the entire pan and a little extra heavy-handed on the salmon.
Sprinkle with salt and pepper.
Place pan back in the oven for 12-15 minutes until the salmon is just cooked through.
Enjoy!
Do you have a favorite salmon recipe?
I am a home cook that does things my way. In my kitchen, I make breakfast, pack lunches, prepare snacks, and cook dinner. During the week, we eat real food that is homemade, organic, and local. On the weekends we do explore more of our local restaurants. I bake my own bread, juice fresh oranges every other day, and make my own kombucha and other weekly favorites.