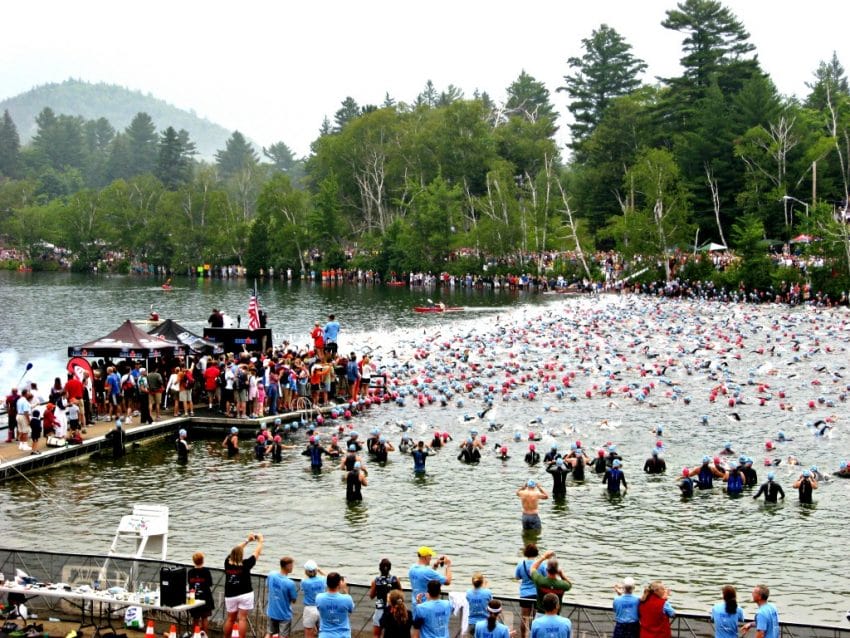 Heading to Lake Placid, NY? Check out our favorite things to do in this gorgeous town! There are so many activities to choose from!
Dana and I, plus so many of our friends have been to Lake Placid at least once, most of us multiple times. Lake Placid, NY is such a typical "summer vacation at the lake" type experience, how could you not love it. The Adirondack mountains and the smell of pine trees.
The town of Lake Placid is really easy to get around. There are two main streets, one literally called Main Street, which have all the shops and restaurants, and many of the hotels/motels.
There are tons of things to do in the area, most associated with outdoor activities. It was, after all, home to the Winter Olympics in 1932 and 1980. So, we're giving you some recommendations to keep you occupied and are very pleased to have the input of several locals, Anna and Jonathan, letting us in on their favorites. Plus, don't miss our recommendations of places to eat.
Here are our Favorite Things to do in Lake Placid, NY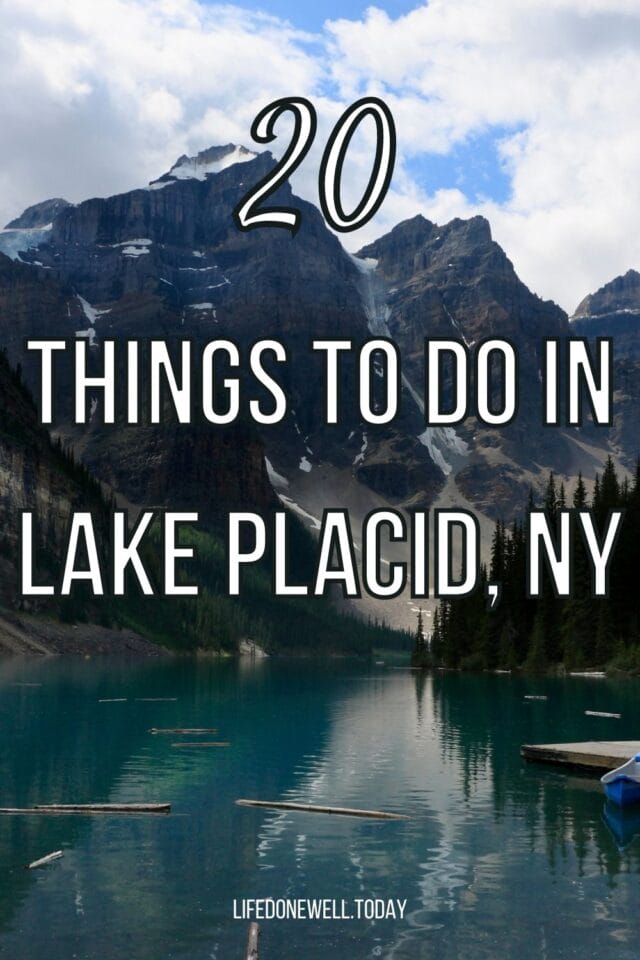 The first 5 activities listed below can be found through Whiteface Lake Placid. If you intend to do many of them, you may want to purchase an Olympic Sites Passport, which gives you access to all of the Olympic venues.
Bobsled and Luge Complex – Woohoo! Okay, there aren't many places where you get the opportunity to take a bobsled ride, so you better take advantage! Maybe this is one thing you can cross off your bucket list. Reservations are recommended. If bobsledding's not your forte, perhaps the luge is. You can take a clinic on the ins and outs of luge and get a run in on a paved track.
Olympic Sports Complex – Want to experience what it feels like to do a Biathlon? This is one of the few places you can actually learn about it and then give it a shot – literally.
Olympic Ski Jump Complex – Take the elevator up to the top of this complex and get a view of what it must be like to be a ski jumper. Then, know you'll never do this, EVER!!!! Better yet, on July 26 and 30, you can watch the best U.S. ski jumpers practicing their winter skills here.
Lake Placid Winter Olympic Center & Museum – Here's where you go to learn the history of how Lake Placid came to host the Olympics and afterwards, take a spin on the ice rink and make your own Olympic memories. Well, in your mind, anyway!
Cloudsplitter Gondola Ride – Want one of the best views in town? Then take the gondola up Whiteface Mountain for a magnificent view of Lake Placid. Easy way to relax and enjoy the scenery pre-race.
Boots and Birdies Miniature Golf – If you just have to get in a round of miniature golf while you're in town, need to relax, or need an activity for the kids, this might be your place. Besides, there's also an ice cream parlor, bungy jumping, and a new Ropes Adventure Challenge Course.
Pirate's Cove Adventure Golf – Play an 18 hole round of mini golf inside an authentic, sleepy 18th century village with pirates to boot, matey.
Adirondack Equine Center – A great place for a horseback ride, if that's your pleasure and you can't get it at home.
Mirror Lake Boat Rentals – Rent a kayak, SUP, sail boat, paddle board, etc. on Mirror Lake and enjoy a day on the lake.
Lake Placid Marina and Boat Tours – We've actually done this before. It is such a relaxing way to enjoy the beauty and serenity of Lake Placid. It's generally about an hour tour and most of all, it's a great way to relax.
Goose Watch Winery – This is one of New York's most unique wineries with wines from the Finger Lakes district. Stop into the tasting room on Main Street. We're going for the Pinot Noir Brut Rose…
Adirondack Scenic Flights – Enjoy a breathtaking aerial view of the Adirondack mountains, Olympic venues, and the lakes.
Bowlwinkles – We love to bowl and here you get to do it under black lights with music jamming, plus laser tag and an arcade.
Mirror Lake – Take a walk around the lake. It's just under 3 miles. Then, relax on the beach.
Shopping – Main Street offers many cute boutiques for browsing or spending some cash shopping. But, you may want to save this for race day as you will probably have time to occupy. There's also Palace Theater, if the weather's bad or you just can't wait to see the latest movie.
Spas – Perhaps you want to indulge in a spa treatment while you're in town? Most of the big hotels, Mirror Lake Inn, Whiteface Lodge, and High Peaks Resort have on-site spas, while Lake Placid Lodge provides in-room massage treatments. There's also Element Day Spa and Salon and Balanced Bodywork and Massage for just that, massages; both right on Main Street.
Hiking – You have multiple options for hikes. You can do 1-2 hours, 2-4 hours, or take a hike up Mount Jo and get a view of the High Peaks region. It's a steep, but not too difficult of climb and about 2.6 miles roundtrip.
In the past, the main parking lot across from the Post Office was set up for a free fall. Anyone could go up 3 stories and jump down into a huge inflatable air mattress, just like a stunt man.
So, you clearly should not get bored in Lake Placid. Get out and enjoy some of these activities that you won't find anyplace else. Most of all, just take in the beauty of the Adirondacks and the lakes. Lucky you!
WHAT'S YOUR FAVORITE THING TO DO IN LAKE PLACID?

Sherry is one of the TriWivesClub and LifeDoneWell co-founders and contributes to multiple blogs. She is a former co-owner of the California Apparel News and had a career in the healthcare industry. Her passions include traveling, real food, the environment, and animal rescue/welfare. She lives a healthy lifestyle and has been a vegetarian since 1987. She and her husband are parents to two rescue pups and reside in Connecticut.