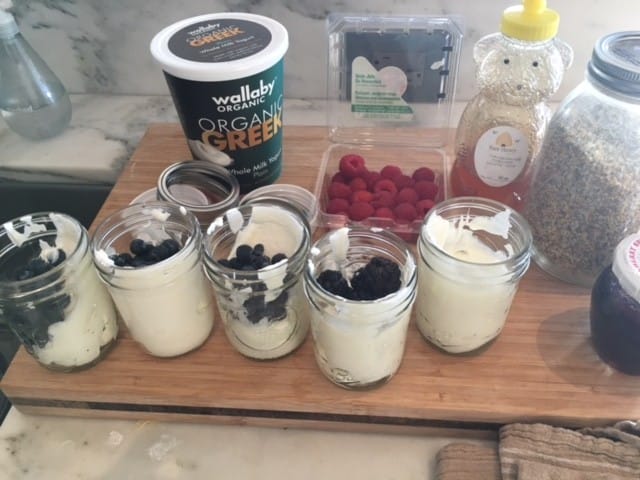 I know I know, you don't want to do anything on Sunday, because you know tomorrow is Monday. But I have to tell you, these five things make my week so much better and do not take up that much time. I either do them all at once or throughout the day, depending on what I have going on.
As I am making breakfast, which is very light on Sunday's and more like a snack since we love to go to brunch, I do the yogurt cups and eggs. The veggies and power balls I work on during the afternoon when I make a snack, since we really don't eat lunch. Then, I either prep two meals or make them before we go for dinner (all day happy hour at one of our many favorite restaurants).
Here's my Sunday prep:
Make yogurt cups – I use small ball jars and prepare 5 yogurt cups for the week for my husband. He takes one each day of the week for a post workout meal. We use whole milk greek yogurt for the health benefits and top it off with about 6-8 ounces of sour cherry jam, fresh berries, and a combination of flax, chia, and any other seed mix we make. Finally, I top it off with a little local honey. I have the same snack for my morning snack at home too.
Hard boil eggs – Hard boiled eggs are a great snack or addition to any salad or meal. I also use for snacks by making a little egg salad and serve with cucumbers or mix with sautéed and chopped green beans. For the two of us, I prep 6 -8 eggs each Sunday, depending on what my week looks like. If I am making udon or ramen with soft eggs for dinner, I make these eggs separately as we like them with a little runny center.
Make breads, power balls, and granola bars – Whether I need them now or will need them mid-week, I make them all on Sunday. When the kids are home, I also make a batch of cookies. I find getting my weekly baking done all at once saves me so much time. Everything comes out at once and gets cleaned up at once. And then it's all done!
Make your grains – Real brown rice takes 45 minutes to make for dinner, so when I am working in my kitchen doing the prep, I throw the rice on and cook 4-6 portions. I also prep 2 or 3 other grains to have like quinoa, couscous, or sorghum. I use all of these not only for dinners, but add to packed lunches, put on salads, and even throw on breakfast bowls.
Prep Veggies – I prep everything from my carrot sticks to chopping my kale and lettuce. BUT, I do not wash my lettuce or other leafy greens until I use them. I even chop 2 onions and put them in a ball jar for quick grab and use for meal prep. The final veggie prep I do is for breakfasts. I prepare a ball jar with chopped veggies for eggs in the morning that includes mushrooms, spinach, peppers, and anything else I feel like that week, such as asparagus or broccoli.
What prep tricks do you have?
I am a home cook that does things my way. In my kitchen, I make breakfast, pack lunches, prepare snacks, and cook dinner. During the week, we eat real food that is homemade, organic, and local. On the weekends we do explore more of our local restaurants. I bake my own bread, juice fresh oranges every other day, and make my own kombucha and other weekly favorites.