Disclosure:  Consideration was provided by a mentioned brand.  I was not paid for this article. All opinions are my own.
Recently,  I was invited to stay at the Hotel RL Baltimore while exploring the area.   It's a  new hotel just a few short blocks from the Inner Harbor.  I was really looking forward to my stay, as I have not been to Baltimore in years. Now, remember, this month alone, for work and pleasure I have stayed in 6 hotels and resorts and it is literally just May 16th as I write this.  Many of these have been awesome and the rooms fantastic, so my bar has been set pretty high for hotels.
But, the Hotel RL Baltimore is different.  The minute you step foot in the hotel, you feel so comfortable; you're ready to just drop your bags, fall into a chair, and put your feet up.  Don't get me wrong, I do love my pomp and circumstance, but this just has a different feel.  I quickly made my way to my room, which was great, but all I really wanted to do was get back to the lobby and here's why…
Walking into the lobby or community space of Hotel RL Baltimore is like walking into your home or a friend's home.  Open and inviting, the live/work space has a big table with lots of power outlets, games, and big bean bags.  If you want to chill out and watch TV, you can do this here, too.  It really feels like a playroom for kids and/or grown-ups.  There are a variety of seating areas that feel like family rooms and the restaurant and bar area have a modern industrial feel.  The lighting is fun and the entire lobby has big windows with great views.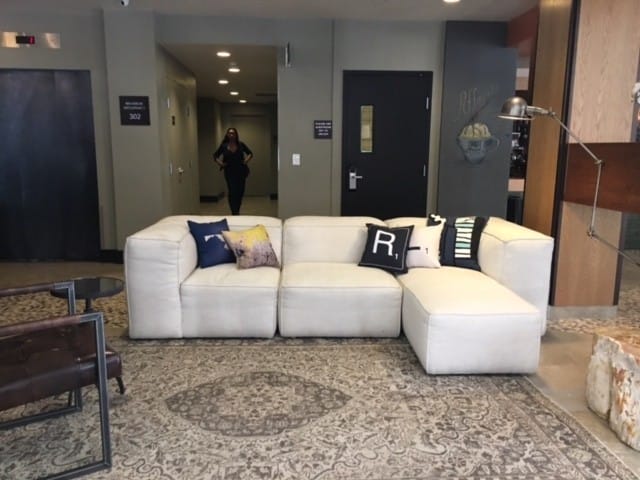 The Food
Chef Michelle and her staff do a fabulous job with the food.  From breakfast to dinner, there are choices for everyone.  Starting with their complimentary coffee or specialty coffee, breakfast is a traditional continental style with hard-boiled eggs, fresh fruit, breads and pastries, oatmeal, yogurt, and more.  The rest of the day is a fabulous menu.
From starters to dessert, the menu has something for everyone and Hotel RL Baltimore specialities.  A few of my favorites were the charcuterie plate, the deviled eggs, and my, oh my, the clam chowder.  When I asked Chef Michelle what was in the calm chowder, all I could get out of her was crab, clams, bacon and love.  Two other favorites were the crab cake sliders and Greg's Sloppy Joe named after Greg, the CEO of Red Lion Hotels, which include Hotel RL.
The Drinks
My new best friend is Shay at Hotel RL Baltimore.  She makes awesome drinks, but there is more than a great cocktail menu.  Let's start with the beer…With draft, can, and bottle options, you might have trouble deciding.  Hotel RL also carries a nice line of local brews.  The wines are just as expansive as the beer with a variety for any palate.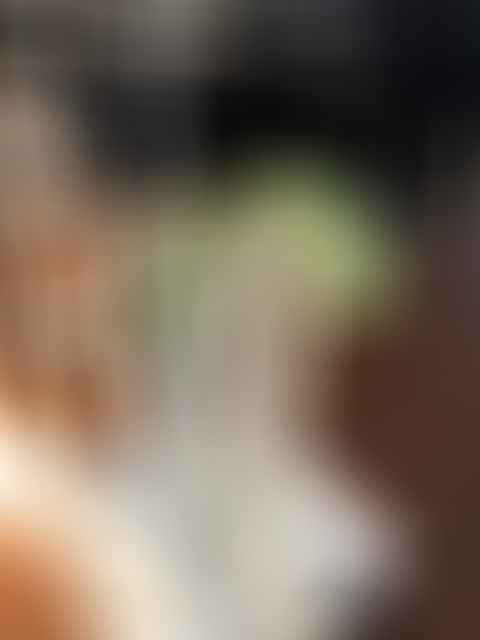 Then there are the cocktails.  I am a cocktail gal and cocktails they have, including their own unique collection.  I enjoyed the Cucumber Cooler and the RL Refresher, which had my two favs – bubbly and gin, and the most.  Next time, I will be trying their sangria for sure.
The Living Stage
The Living Stage is a Hotel RL exclusive that really brings the local community to the space.  With a designated stage and comfy stadium seating, the Living Stage comes to life with a variety of performances.  If you feel like staying tucked in bed, no worries as the performances can be streamed live on your TV on the hotel channel.  The Living Stage has a great variety of performances from acoustic guitar to local radio hosts to poetry, dance and coming this summer, local chefs will even be doing demonstrations.  I am excited to get back and see more on the living stage.
The People of Hotel RL Baltimore
The people at the Hotel RL Baltimore are like family.  From the minute you arrive, the warm welcome is kind and whole hearted.  It was just not me who felt treated like this.  I sat in the lobby and watched how guest after guest was welcomed, welcomed back, said good bye to and it rubbed off on the guests.  It is truly one of the first hotels I have stayed at where complete guests were engaging in conversation, toasting at the bar, and literally sharing a meal.
The staff also greeted each other and seemed to know each other well.  This communication made the space feel even more like home with them there.  They make you feel like each and every guest and RL member was special and always welcome.  Leaving the staff and new friends we met was a sweet good bye.
I hope you can tell there is so much more to explore and Hotel RL Baltimore provides that opportunity with their fleet of bikes, as well.  So, the next time you are headed to Baltimore, please do yourself a favor and check out Hotel RL!
I am a home cook that does things my way. In my kitchen, I make breakfast, pack lunches, prepare snacks, and cook dinner. During the week, we eat real food that is homemade, organic, and local. On the weekends we do explore more of our local restaurants. I bake my own bread, juice fresh oranges every other day, and make my own kombucha and other weekly favorites.