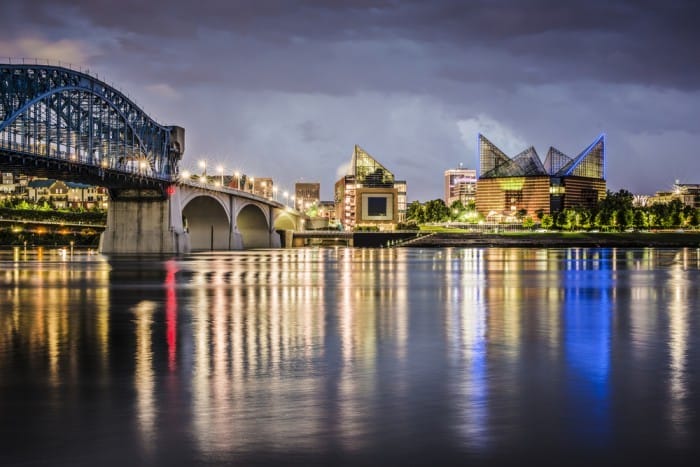 Visiting Chattanooga, Tennessee for the first time in May, I was pleasantly surprised at the wealth of indoor and outdoor activities the city offers. While I've traveled through much of the state and of course, to Nashville and Memphis, I had not made it to Chattanooga nor did I expect to. But, when my husband decided to race Ironman 70.3 Chattanooga, the city became not only our next destination, but a pleasant surprise.
With the Ironman 70.3 World Championships coming up on Sept. 9 & 10, I thought I'd share some of my experiences with you. I found a variety of ways to have fun in Chattanooga to keep your family and yourself occupied. Oh, and there are some amazing restaurants that you need to try to not only make you, the trisupporter, happy, but to fuel those triathlete bodies.
We were most fortunate to reconnect with friends we hadn't seen in 3 years, which included some locals who have lived in the city for years. They were more than happy to share with us their favorites for food and fun. Luckily, most activities are located in the downtown area, which is where the race starts and finishes.
The area is undergoing a renaissance, so it looks a little gritty in parts. But, it also means you don't have to leave to find amazing things to do with your family or as a couple. Armed with these locals' favorites, it will be so easy to have tons of fun in Chattanooga.
How To Have Tons Of Fun In Chattanooga
If you only have a few days, here are some favorite things to do…
Hunter Museum Of American Art
Sitting high atop stone cliffs overlooking the Tennessee River and the Walnut Street Bridge, the Hunter is a really pretty and unique museum. Housed in several buildings, there's an early twentieth-century mansion, a modern 1970's building, and a sleek contemporary structure of steel and glass. Plus, there's a gorgeous sculpture garden.
From the Colonial period to the present day, the Hunter Museum focuses on American art. Included in their collection are multiple mediums such as paintings, works on paper, sculpture, photography, mixed media, and video. In addition, the works cover a diverse range of styles and periods. Temporary exhibitions are offered, such as one called With Liberty and Justice for All focusing on art and politics.
You also need to walk around the Bluff View Art District, which is next to the museum. This historic neighborhood is filled with restaurants, a coffee house, and the River Gallery that showcases both local and national artists.
High Point Climbing and Fitness
Full disclosure – I know the owner, so I'm a bit biased. But, all I can say is that High Point is absolutely amazing. I have gone indoor rock climbing once before and loved it, but it was nothing like this. You don't even have to be an experienced climber to enjoy the facility. But, if you are experienced, you can get one of the certified climbers to take you out on real rock!
Climbing is a great activity you can do together as a family or couple. But, if it's not your thing and say, you're afraid of heights, there's also a gym and spin and yoga classes. They are very kid-friendly with their own Kids' Zone. But, perhaps one of the best activities is Parent's Night Out on Friday nights; they'll watch the kiddies while you have date night!
Tennessee Aquarium
One of the country's top rated aquariums, the Tennessee Aquarium will keep you occupied for hours. It is amazing with two buildings that house the River Journey and the Ocean Journey. You'll see everything from alligators to otters to lemurs to penguins. There's also a rooftop Butterfly Garden and with the kids, you can check out Ranger Rick's Backyard Safari.
To add to the adventure, there are several extras you can do. Take a really nice cruise on the River Gorge Explorer for a boat ride down to the Tennessee River Gorge or hit the IMAX 3D theater. But, if you really want to take it all in, check out the Backstage Pass that allows for a behind the scenes look at how the aquarium operates. The Aquarium is located right across from Ironman Village, so it's very convenient.
Lookout Mountain
If you have a car and a bit of free time, head out of town to Lookout Mountain and just take in the scenery. You'll be treated to Ruby Falls, a 145 foot waterfall and Rock City, with its walking trails through lush gardens and breathtaking views of the Chattanooga Valley. But, the star of the show is Lover's Leap.  Jutting out from the mountain, this stronghold of rock boasts an impressive view. You can also say you've just seen 7 states from one location.
To fully appreciate Ruby Falls, you'll take an elevator ride down 260 feet underground to see rocks of all shapes and sizes and mirrored pools. The winding path through the caverns leads to the beautiful 145-foot Ruby Falls, named after the wife of founder Leo Lambert. Then, you can get your adrenaline rush by doing a ZIPstream Adrial Adventure and soar high above the ground.
But, probably my favorite was the Incline Railway and that's because I love roller coasters. You'll climb a mile long track to Lookout Mountain and get to brag about riding the world's steepest passenger railway, plus see amazing views. While you're at the top, if you're so inclined, you can brush up can get a Civil War history by watching the Battles for Chattanooga show.
Gallery 1401
Visiting galleries that showcase local artists is a favorite activity wherever I travel. So, I was thrilled to stumble upon Gallery 1401. But, even more than just browsing, I love to bring home some memento that is more than a t-shirt. A full spectrum of contemporary art, impressionism, and classic styles in all mediums is offered at Gallery 1401. You'll find not only local gems, but also international artists. And, of course they'll ship anything home for you.
Other Options For Fun In Chattanooga
Here are several other recommend activities depending on what you like to do.
Painting With a Twist is a fun way to spend a few hours learning to paint while sipping your favorite beverage like wine! Enjoy step-by-step instruction with local artists on such topics as Eiffel Tower at Night and Summer in Chattanooga. You'll leave with a one-of-a-kind creation and a new found talent you might want to explore at home. If your kids are budding artists, you can even take them back during the day for a class, minus that favorite beverage!
Make sure you take a stroll across the Walnut Street Walking Bridge, one of the world's longest pedestrian bridges. Lit up at night, it's stunning. Once on the other side, stroll the Northshore historic district with a few boutiques, restaurants, and galleries. I actually got to watch the Ironman swim from above,  one of my favorite ways to spectate and get amazing photos.
The kids may love to take the Chattanooga Ducks tour. You'll go through downtown before plunging into the Tennessee River for a short cruise.
If you really feel the urge to shop, head to Warehouse Row. Boutique and chain shops fill these 2 old warehouses from the Civil War that's been revitalized with a modern, hip edge. Then, grab a bite at the Public House or Tupelo Honey Cafe.
For any railroad buffs out there, never fear…theres' the Tennessee Valley Railroad Museum to make you happy. But, it's not your typical museum. Relive the romance of the rails in this interactive, historical experience. The kids should be happy, too, since they get a chance to actually ride the rails. Choose from several adventures, like a dinner or scenic or steam ride. It is located out of town, so you need a car.
If you have kids with you, the Creative Discovery Museum is perfect. They will be entertained and educated for hours and so will you. There's a Rooftop Fun Factory or they can dig for dinosaur bones or make their own music. Whenever I walked by the museum, everyone, including the adults, looked like they were having tons of fun.
Chattanooga Hotels and Travel
If you're headed to the World Championships, chances are good you've already booked your hotel. But, if not, here are a few tips…
We stayed in the downtown area and because it's undergoing a big renaissance, it's filled with many new chain hotels. Think Hilton Garden Inn, Marriott Courtyard, and Hampton Inn, all with a more modern edge. If you prefer a bit more high-end in your hotels, you can choose from the Chattanooga Hotel, Marriott, Historic Read House, and Bluff View Inn. When I visit again, I will definitely try one of these.
We couldn't get a direct flight from NYC, so we flew through Atlanta. Actually, you could even drive from Atlanta as it's under a 3 hour drive. We did rent a car, but you could get by without if you're only staying downtown for several days. However, with some activities located outside of town, I'd recommend renting a car. Remember, if you have a bike with you to reserve an SUV. It's only about 15 minutes to the Chattanooga airport and the rental lot is right inside the terminal by baggage pickup.
For more details, be sure to check out Chattanooga Fun Best Town Ever.
What are favorite ways to have tons of fun in Chattanooga?

Sherry is one of the TriWivesClub and LifeDoneWell co-founders and contributes to multiple blogs. She is a former co-owner of the California Apparel News and had a career in the healthcare industry. Her passions include traveling, real food, the environment, and animal rescue/welfare. She lives a healthy lifestyle and has been a vegetarian since 1987. She and her husband are parents to two rescue pups and reside in Connecticut.