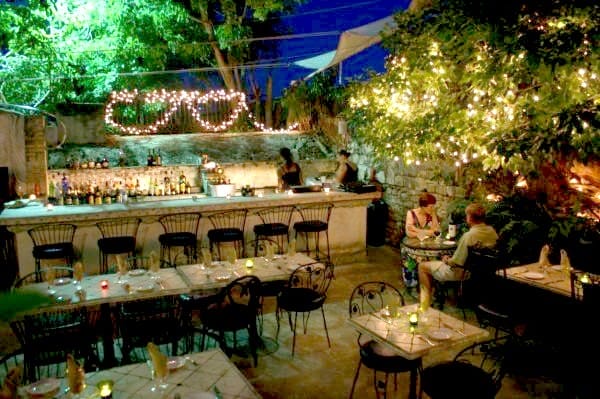 If you are coming to Ironman 70.3 St. Croix, we hope you have checked out our Food & Fun, Things to Do guide that gives you a whole list of great activities to do on the island. Now, we're back with equally great places to eat; from restaurants we've eaten at to places recommended by people who live and work on the island. Again, as the race is in Christiansted, that will be our focus.
We hope you like seafood as you are on an island and it should be pretty fresh. We would also recommend making reservations for dinner as many places are small and get quite busy. And, don't forget to check out the Street Shutdowns on Tuesday and Thursday nights for a lot of food and fun.
PLACES TO EAT
CHRISTIANSTED
Dinner
Savant – Jodi and I have eaten here several times and have never been disappointed. We sat outside in the courtyard, but they also have an air-conditioned dining room if you so choose. The menu is a mix of Thai, Mexican, and Caribbean cuisines with fresh fish and local produce. They do offer plenty of meat dishes if you're so inclined. Fresh, flavorful, and creative is what Savant is known for. The restaurant is located on Hospital Street in Christiansted close to the Fort.
The Waves at Cane Bay – This restaurant is located The Waves at Cane Bay Resort. It is a small, romantic, outdoor restaurant that sits right on the water. If hearing crashing waves while you dine is your ideal, this is the place for you. Great menu, especially if you like fresh lobster. Told it's a hidden treasure.
Salud Bistro – Looks can be deceiving at this Mediterranean bistro, perfect for tapas. They offer fresh, local ingredients on their menu, with a great wine list. They also have live music Tuesdays and Fridays should you feel the need to get some music in your life and listen to some local talent.
40 Strand Eatery – For a cute little place to eat with great food for lunch and dinner and craft cocktails, you can't go wrong here.
Tutto Bene – If you want Italian just because you like Italian or you have to carbo load, this should satisfy your craving. It's also a local favorite for traditional Italian cuisine.
Kendrick's – Located in an old carriage house, this is a great choice if you want a nice night out. Serving french-inspired cuisine from crab cakes to fresh seafood to rack of lamb. A favorite among the locals.
Breakfast/Lunch
The Bistro – Open for breakfast/lunch only with great sandwiches, salads, pastries, and coffee. They also over outdoor or indoor seating with take out available. Focus is on healthy options.
Cafe Christine – A very tiny, out-of-the-way french bistro only open for lunch Monday – Friday. But, most say well worth the effort. Make a reservation even for lunch.
Renuatum Spa – Smoothies anyone? These are delicious and made with FRESH coconut milk. They also have great freshly baked bagels.
Singh's Fast Food Restaurant – If you want to try where the locals frequent for a taste of West Indian, local cuisine, this is a great choice. Said to have the best roti, which is flat bread stuffed with a variety of fillings. Mostly for take-out, with a few tables.
The Avocado Pitt – This is a great option while exploring the shops, adjacent to the Fort. Open for breakfast and lunch, they will even box up a lunch for your beach picnic. Wide range, including omelets, pancakes, burgers, and plenty of vegetarian options.
FREDERIKSTED
Polly's at the Pier – If you find yourself in Frederiksted during the day, check out Polly's for lunch or breakfast. Noted to have the best coffee on the island, plus they have vegetarian options on the menu AND great views.
Teres Veho Cantina – Before or after you've done some SUP (stand up paddle-boarding), stop and have a little breakfast or lunch at Teres Veho. And, don't miss their Hawaiian Shave Ice.
Eat@Cane Bay – Known to be one of St. Croix's best beach bar & restaurant, you can immerse yourself in the relaxed north shore vibe AT Eat @Cane Bay. Enjoy friendly service, amazing food and drinks, soak in the sun or the sunset, sit back and people watch or dance to live reggae, it's all about you having fun. Enjoy lunch or dinner.
Armstrong's Homemade Ice Cream – This family run shop has been making ice cream since 1900 with local fruits and everyone says it's a must visit. And, who doesn't love ice cream??
So, you should definitely not go hungry as you have many options to choose from. Enjoy and soak up the local flavor of St. Croix…
DO YOU HAVE A FAVORITE PLACE TO EAT ON ST. CROIX?

Sherry is one of the TriWivesClub and LifeDoneWell co-founders and contributes to multiple blogs. She is a former co-owner of the California Apparel News and had a career in the healthcare industry. Her passions include traveling, real food, the environment, and animal rescue/welfare. She lives a healthy lifestyle and has been a vegetarian since 1987. She and her husband are parents to two rescue pups and reside in Connecticut.