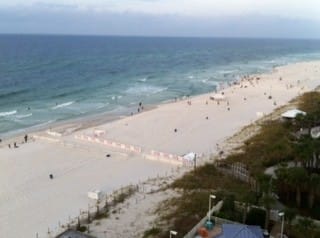 Well, we have our triwife and triathlete down at Ironman Florida and already the updates are flying in.  We told you we'd keep you updated, so we can't disappoint.  Here are some great pics and interesting new info from our triwife:
Started off the day on the beach – poor me.  The weather was perfect for a run in the sand while Guy was out for a practice swim.
Progressed to shopping for new shoes of course at the Expo.  Hit the Newton booth for pair #4.  Too many?????
We had lunch at Mellow Mushroom – pizza.  It's only 2 blocks from the race site and very good.  Someplace to think about on race day when you're looking for something to do during the bike ride……
Next, we drove the bike course.  We found the roads to be in great shape and everything was well marked with orange arrows.  Only issue we need to mention is that the course mile markers didn't match up with the miles published in the course map – something to note if this is important to your triathlete.
We attended a workshop by TP Therapy on trigger point therapy.  May sound boring, but it was actually very good and the Ultimate Kit could make a very good Xmas gift for that someone special.  Just saying…..
Back to the expo for Trick or Treating Ironman style.  Gotta love it……
Don't forget the United Health Care IRONKIDS Florida 1 mile Fun Run on Friday, Nov. 1, at 3:30 pm. You can register online or during Expo hours and the $15 entry fee goes to the Children's Tumor Foundation.
We are off to the Welcome Banquet tonight so will have more to tell you tomorrow. Having a great time. Wish you were here…
– JODI

Sherry is one of the TriWivesClub and LifeDoneWell co-founders and contributes to multiple blogs. She is a former co-owner of the California Apparel News and had a career in the healthcare industry. Her passions include traveling, real food, the environment, and animal rescue/welfare. She lives a healthy lifestyle and has been a vegetarian since 1987. She and her husband are parents to two rescue pups and reside in Connecticut.