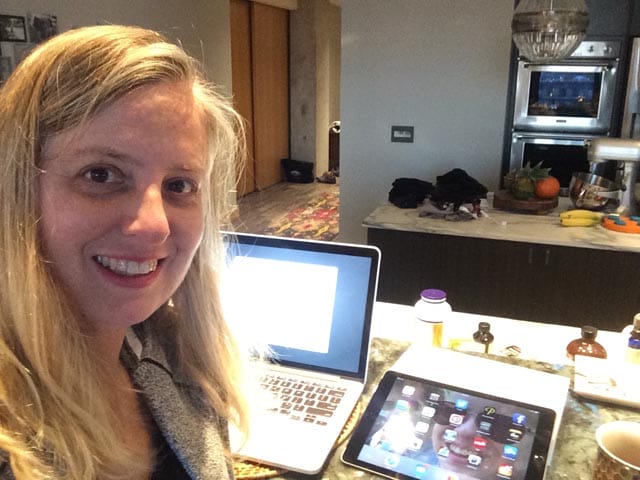 I MADE IT!
Who knew it was going to be so easy, I mean really it was.  Yes there were bumps in the road and tears but not as much as I or my husband expected.  As said by the twins and my husband over and over, "this is going to be so hard for mom", "Mom is going to be a wreck".  And you know what, I wasn't.  In fact I will tell you David teared up more than me from time to time.
The History
For many years and way before that David traveled a lot for work and worked long hours.  It was the twins and I alone a lot.  We had also moved 7 times making this our 8th and final home, so we spent a lot of time together as a family making us very close.  And we have the type of kids that like to be home and their friends liked to be at our house and we liked them there.  I always would say I was happiest when Sydney and her 4 BFFs were tucked in her big king size bed watching a movie on the computer.
They are both athletes so all through high school they had little time for much besides school, dance, workouts, practice, studying and eating.  That eating always took place at my kitchen counter and I made sure I was there!  I made sure I was always available when they were available on purpose, knowing each minute I could spend with them was invaluable, knowing soon they would be off to college.    I even made it easy for them and their friends to be at the house each day for lunch cooking for between 4 and 10 daily.  The weekends were sacred in our house.  David came home mid-day Fridays and the four of us spent as much time together as we could.  So you can see why everyone thought I would melt when I no longer had all this in my life.
The Reality
The twins were ready and that made me happy!  David and I have no idea what we did but we did it right and that made this whole twins leaving for college thing ok with me.  What sealed the deal was the day we dropped them each at college.  First was Sam at Brandeis and then Sydney as Skidmore.  Their colleges could not have felt anymore right for each of them.  We got each of them settled on move in day and we left.  Once Sydney was dropped off and David and I were off on a little mini vacation, we were silent in the car for a bit then looked at each other and each had a tear and then realized how good it felt that they were so happy, so ready. We held hands just about the rest of the 4 hour drive to Mystic.
At Home in the Empty Nest
I think we are getting our groove on as empty nesters.  This was a huge change for us, not only were we becoming empty nesters but we also were living together full time for the first time in years!  While we lived in Austin David commuted all week to work out of state.  It was a lot different for us the twins at college and David and I together all the time…Week nights are chill having dinner, reading, walking the dogs and sometimes watching a little TV.  Sad part is we seem to always hang out in the kitchen area, we never watch TV in the media room.  I think it is the whole will we might screw up the TV and the kids aren't home to fix it thing.  One the the weekends we enjoy our city.  We get out to  the zoo, plays, museums and art galleries not to mention the awesome restaurants! I think we have this whole thing down.
Winter Break
Bring it on!  We are so ready for the twins to come home.  Sam arrives Sunday and Sydney next Friday.  Their rooms are ready and I am baking and making sure I have fresh fruit and their favorites in the house.  I am so excited!
I am a home cook that does things my way. In my kitchen, I make breakfast, pack lunches, prepare snacks, and cook dinner. During the week, we eat real food that is homemade, organic, and local. On the weekends we do explore more of our local restaurants. I bake my own bread, juice fresh oranges every other day, and make my own kombucha and other weekly favorites.