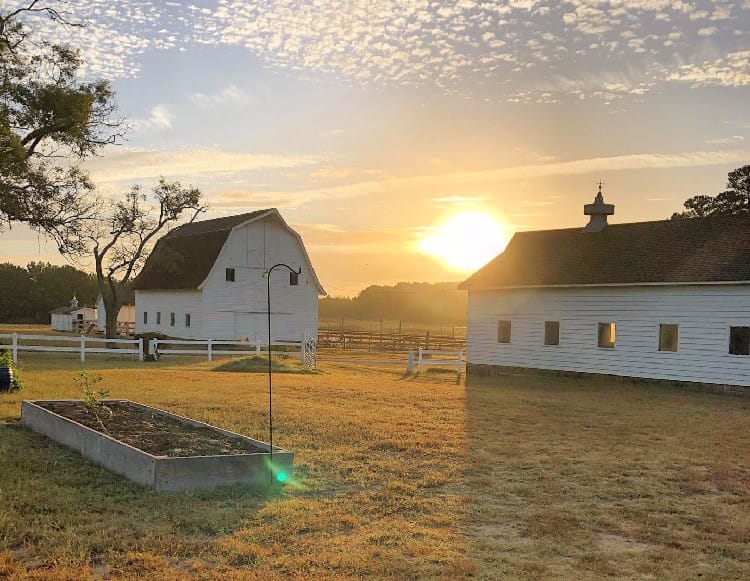 It is hard to believe that over a year ago I let you all know I had left city living and bought a farm. And what a year it has been. I realized it was about time to give you an update on what is happening here at Sugar Water Manor and my life on a farm. I do warn you this may be long, boring in parts, and if you follow my daily Instagram stories you will know how each day is exciting, scary, new, and full of lots to learn.
So, let's get started…
This city girl has now been on the farm for 18 months. We moved here in the dead of winter of 2019 and here we are in the summer of 2020. I have learned a lot about a lot of things, many of which I never wanted to know about…
Year one we said, "Let's have a small garden to get our hands dirty". "Maybe we should get a couple of goats and some chickens". "Let's just get used to it here before taking on too much". Well, that didn't last long. Here we are 18 months later with two additional dogs – 4 total, 3 kittens, 6 goats, and 11 ducks. I can no longer count the chickens and two are broody (a new word I learned for sitting on eggs basically) and 2 were really roosters – my bad. One of them does not like me and then there are countless guinea fowl I refuse to count.
Our gardens doubled in size and we have 12 raised beds, 2 cold frames, 9 fields, and decided to try fruit trees and bushes. Basically, we are nuts. Or shall I say, basically, we are always looking to learn and do more. No, in reality, we are just nuts. For example, David announced at dinner tonight he found sheep for us – not one, not two, but forty!
Anyway, needless-to-say, 18 months in and we are extremely busy…all in a good way. So, here is a short update on a my life on a farm.
Clifton
Clifton is the name of the historic home we live in. While we have been under construction since we moved in, you would not be able to tell. Everything we've done has been repairs or mechanical. The biggest change is we have air conditioning. Yeah! We invested in geo-thermal and so thrilled we did. The kitchen renovation has been put on hold, thank you Covid-19.
The house is amazing and really feels like home, but it will be nice when the holes in the walls are repaired and we have an oven and dishwasher. The most exciting thing about the house is learning its history, along with the land, garden, and farm. I have learned so much, but have a long way to go.
The River
Since we have moved, a bill passed to permanently protect the oyster sanctuaries. This is big for the area and the oyster fisheries in the long run. It will allow the restoration projects to continue and not allow dredging that would deplete the nursery beds. While we have yet to set our crab traps this year, the watermen have been hard at work. We have about 3 boats that crab regularly here and it is stunning to see them out there.
I think the other exciting news is the puppies love the river. We try to get them out to swim a couple of times a week. They are true water babies. David has also caught a few fish while in his kayak – so he is very happy.
The Rose Garden
The rose garden was overtaken and there were no rose bushes when we moved in. David took on the task of building what he calls an "Instagramable garden". It is beautiful and I look forward to next year and years to follow as the area matures.
The Garden House
What a difference a year makes. David spent a couple of weekends planning and building out the garden house for my seedlings.
We were both happy to have them out of the house this year. I am even more excited for this coming winter to get my seeds started sooner. We are also looking into a aquaponic garden for the garden house.
The Orchard
Well, it's not really an orchard yet, but one day…We had one pear tree here that we harvested delicious pears from last year. For Father's Day, the twins gave David 2 apple trees. Those were added and we are planning for many more fruit trees here at Sugar Water Manor.
The Apiary
FYI…An apiary is where bee hives are kept. We had two bee hives last year that someone else managed. Over the year, we watched, we learned, and we studied. After attending a local bee keepers' meeting, we bought all the supplies of a local keeper who was retiring, so our work is growing.
We created an area with 4 tables to each hold 2 hives and got busy. We ended up buying 4 nucs (bees and a queen) to start. Then, we needed to replace one of the queens and added a new one to the old hive. Now, we are up to 4 active hives and hoping to grow in the years to come.
The Lodge Houses
Covid-19 really put a crimp in our opening plans for the two lodges. Lodge 2 is almost complete and my daughter and her boyfriend moved in to get out of NYC during the quarantine. They are both working from here. Construction should be wrapped up soon and we will then start to decorate. There's still no open date, as we do not want to open while Covid-19 is still such a threat.
The Gardens
Well, since we had to reduce our crew to make sure everyone was safe here, of course I had to increase the garden size. Reduced number of people = grow your garden, said no one. But that is me.
I knew our community would need more food at the food pantry, so I had to plant more. We added 4 fields and 3 bean areas. I will update you on the gardens in its own article.
The Barn
Oh, the barn is busy. We have gone from Bear and Max to so much more. While these two still prefer the house over being outside, Bo and Zoe love to hang with me all day at the barn and gardens. They also have to get in their swim in the river.
We increased our little heard to 6 goats. Annabelle and Penelope are still with the ducks and chickens. We adopted a goat-a-corn who thinks he is a dog. Oscar and his friend, Willie, the fainting goat, came with him.
Then, a few months ago we added Ottis and Chester, brothers whose mother died the day after they were born. They were literally raised in my kitchen.
The small barn has been totally re-done to make a great work space. The small building in front is just about finished as my store (again not opening anytime soon thanks to Covid-19). I will write more on the barn in another article.
So, as you can tell the year has been busy and we expect to grow again this year. I look forward to sharing with you more in the coming weeks of all the goodness here at Sugar Water Manor. In the meantime, feel free to follow my stories on Instagram both as @momsgoodeats and @sugarwatermanor.
I am a home cook that does things my way. In my kitchen, I make breakfast, pack lunches, prepare snacks, and cook dinner. During the week, we eat real food that is homemade, organic, and local. On the weekends we do explore more of our local restaurants. I bake my own bread, juice fresh oranges every other day, and make my own kombucha and other weekly favorites.