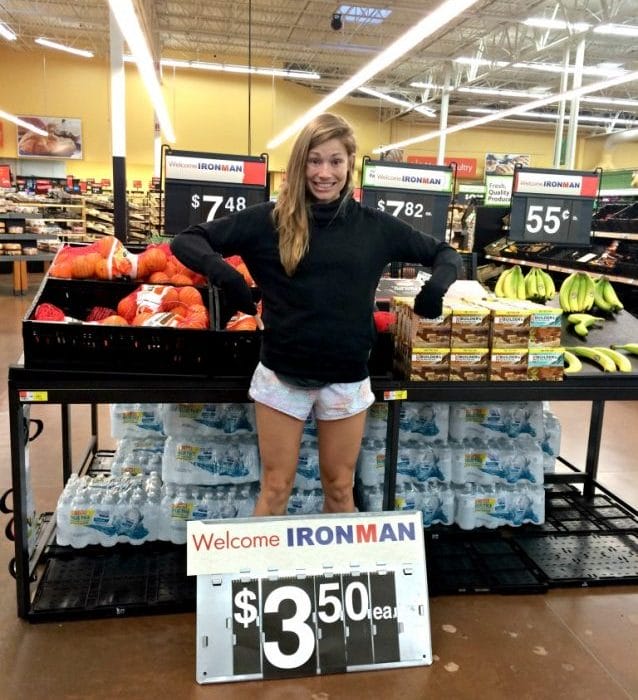 Lindsay is back again with the third installment in her series.  She's kept all of us entertained talking about Dating and Roommates, and this time she's tackling how to be a triathlete on a budget.  In part 1, she talks about budgeting, managing her finances, and relationships and money.  In part 2, she'll tell you how she makes it all work.  We know it's difficult just starting out in life after college, but when you add the expenses of competing in triathlons onto that….Well, we'll let her tell you all about it.
Living on a budget.  Isn't that the story of our lives at this age?  And let's face it, the main reason why so many younger people aren't involved in triathlons isn't because they're not interested, it's because they can't afford it!
There was a study done by Ironman surveying the average occupation and income of Ironman athletes.  Most were in professional occupations  and were making quite a pretty penny.  In fact, a recent report by USA Triathlon said the average income of their members was $126,000.  I wasn't surprised.  Races are $300 up, plus add in hotel, round trip airfare or gas, $150 each way to transport your bike, $3000 for a decent tri bike, $300 for a bike trainer, plus gym and pool memberships, tri suits, helmets, run and bike shoes, swim gear, nutritional supplements, maybe a coach, and don't forget all those bike accessories!!!
How can someone with a starting salary of zip mixed with student loans afford all that??  Well, it's not easy, but it is possible!!!!!!  It helps that my dad has been a triathlete for many years, so I came into the sport pre-loaded with some of this information.  But, it doesn't help me pay the bills…
BUDGETING
I personally do not have a "set budget" for my tri gear, but rather, buy as I need it.  I have a mantra during my internet shopping adventures: "You have enough, you don't NEED it" because I DO have enough.  All you need are the basics, honestly:  A tri kit. Swimsuit. Goggles. Bike. Bike shoes. Helmet. Trainer. Running shoes.  Beyond that, it's just luxury.
There are a lot of temptations out there for faster/more aero/newest techy gear!  It's hard to say no!  So, ask yourself "Do you NEED it to complete a triathlon?" and then acting accordingly.  If you WANT a luxury tri item (example: aero helmet or compression socks), then maybe budgeting for it and saving up is something you can work into your monthly expenses.  Remember, triathlon is a HOBBY.  It is not your job and should be fun.  It should NEVER keep you from going out to dinner or catching a movie with your hot date!
Along this same line, I personally don't really prioritize what I need for the year, either.  I guess when I first started out I did, because I had to get the basics.  First, was a swimsuit and a bike.  Then, was the tri kit and trainer.  I prioritized the basics to what was necessary first.  But, I am not a gear junkie…Being the more of a "It's about the ENGINE not the EQUIPMENT" kind of girl, it's rare that I feel the need to save for a big-ticket item.
You can spend all the money you want on a power meter, $4000 wheels, and the newest Newtons, but none of this "stuff" will win the race.  I've podiumed on a little Lemond 1998 road bike and tennis shoes in sprint tris.  Don't worry about the fancy stuff,  just get the basics.  Remember how Ironman got started?  It was not done on carbon bikes with heart rate monitors or in fancy trikits – try cutoffs!
MANAGING FINANCES
I don't actually do without in other areas of my life, so I can do triathlons, as much as you may think.  I really have carefully researched and through trial and error, have found ways to make triathlon affordable (coming up in Part 2), so I can still live my life.
Once you have all your main equipment – you just have to save for races.  I only choose one big race a year (typically IM Kansas and World Championships) that's going to be a big spender.  And, I just save all year for it.  I don't skimp on life.  I just might eat in an extra day and pack my lunch for work and those $$ add up.  If someone asks what you want for your birthday or Christmas, you've got a ready made answer…
Another thing, if you get good enough at the sport, sometimes groups want to sponsor you.  I've had a CrossFit box offer that if I train at their box and wear their kit, that they will pay for a few races.  If you search, the opportunities are there.
RELATIONSHIPS AND MONEY
I think people assume that relationships make affording triathlon easier.  I don't like this idea.  Triathlon is YOUR hobby, YOUR sport, why should your other half pay for that?  My BF and I are very strict "down the middle" with each other.  We don't want money to get in the way in any capacity in our relationship.  We help each other out in different ways.  He might cook me dinner or I might do his laundry when he's at work. These things are never expected of each other, but are ways we show each other that we care :). It's like a bonus.  If anything, though, his SUV is a godsend to me.  It has a bike rack!
So, I hope I've helped you a bit or at least you enjoyed the read.  Make sure to watch for the next part – tips from all my research and trial and error to make tri-ing work on a budget.  In the meantime, keep being young, wild, and free, you sexy, single, 20-something trident triathlete you. And, go PR on the course and in life.
 Xo – LINDSAY
DO YOU HAVE ANY TIPS FOR TRI-ING ON A BUDGET?

Sherry is one of the TriWivesClub and LifeDoneWell co-founders and contributes to multiple blogs. She is a former co-owner of the California Apparel News and had a career in the healthcare industry. Her passions include traveling, real food, the environment, and animal rescue/welfare. She lives a healthy lifestyle and has been a vegetarian since 1987. She and her husband are parents to two rescue pups and reside in Connecticut.