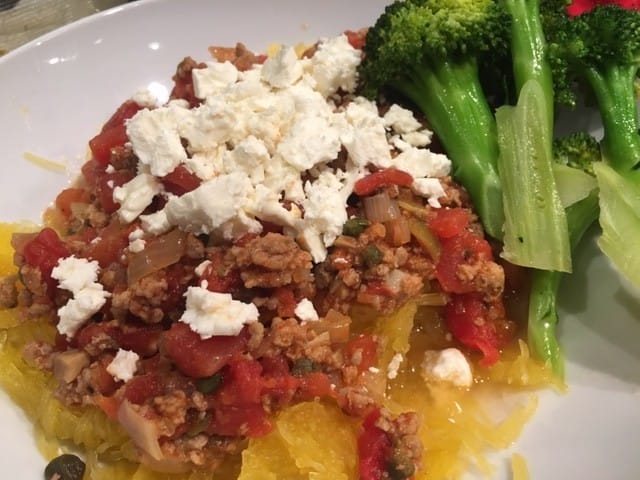 Some nights you just need a quick sauce full of flavor to serve over your favorite pasta. When this is how I'm feeling, I choose spaghetti squash and then make a quick, yummy sauce to go with it.
We love spaghetti squash, because it is full of nutrients like potassium, beta carotene, and vitamin A, yet only has about 60 calories in a cup and a half, which is a great serving for dinner. We like to serve it with broccoli tossed in lemon juice to play off the capers.
Spaghetti Squash Pasta With a Full of Flavor Sauce
INGREDIENTS
1 pound ground meat – You can use pork, turkey, beef, or even tempeh
1 leek, washed well and chopped
6-8 mushrooms, chopped
1 pepper, chopped – I like to use yellow or orange due to the sweet flavor
1 small onion, diced
3-4 cloves of garlic, diced
1 3.5 ounce jar of capers with juice
1 steamed spaghetti squash
1 16 oz can or 16 oz ball jar diced tomatoes
Olive oil
Salt and pepper
Crumbled feta for the top – I use goat feta

DIRECTIONS
First, you'll need to steam the spaghetti squash using your preferred method. I cut mine in half and steam it in the oven at 400, using a Pyrex pan and water covered with foil. It generally takes 30-45 minutes. Then, I use a fork to pull the squash out of the shell.
While the squash is steaming, you can prepare the sauce:
Heat 2 tbsp olive oil; add the leek and onion and sauté until just turning translucent.
Add the pepper and mushroom and mix together.
Push the vegetable mixture to the sides of the pan and add a little more olive oil.
Add the protein and season with salt and pepper.
Using a wooden spoon, work the protein to break it apart and brown while slowly mixing in the vegetables. This method will create a wonderful texture.
When the meat is fully browned, add the garlic, capers, including the juice, and the tomatoes and stir.
Once bubbling, simmer for 10-15 minutes. You may choose to add some pepper, but most likely the salt should be fine given the caper juice.
Serve over the spaghetti squash.
Crumble feta on top.
Easy, yummy, nutritious, and full of flavor. What more could you want in a dinner? Remember, you can always add any additional veggies or fresh herbs you have in the house, if you like. And, if you like a thinner sauce, just add some tomato paste.
Enjoy!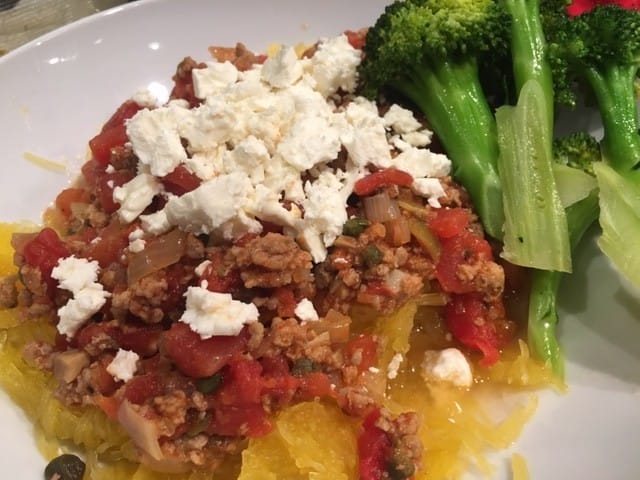 How do you fix spaghetti squash?
I am a home cook that does things my way. In my kitchen, I make breakfast, pack lunches, prepare snacks, and cook dinner. During the week, we eat real food that is homemade, organic, and local. On the weekends we do explore more of our local restaurants. I bake my own bread, juice fresh oranges every other day, and make my own kombucha and other weekly favorites.