We love Ironman 70.3 Puerto Rico and it's always at the top of our race list. I will say, though, there are a few things to pay attention to as a spectator.
It's not a super stroller-friendly race. Although there's only one transition area, the swim-in is a haul and getting back to swim-out can be difficult. And, if you are not a bit of a runner, you may not make it to bike-out unless your husband loves transition like Sherry's does. Sorry Carl.
Make sure you have snacks with you for bike spectating and run spectating. There is really nothing close by. The public beach does have a few choices, but it's limited.
BRING LOTS of Sunscreen. There isn't a lot of shade unless you get there early and set a spot at the hot spot.
Know your meet-up plan after the race and where you need to drop your bike for shipping or what not. Again, not far, but enough to make it difficult with kids in tow.
I highly suggest that you either stay at the race hotel or plan WAY ahead and purchase a day pass for the hotel, so you have a home base.
Hold on to everything and don't bring much with you. It will get hot and although the race site is safe, there is a public beach across the way as well as a not so great part of town across the street from the area. I had two female college freshmen with me the last time I was there and I let them wander some, but not a whole lot honestly, when we were in the hot spots waiting for our triathlete. In fact, there was actually a shooting last year and several triathletes were injured on the bike course. So, just be ware of your surroundings and act accordingly.
As always, we recommend you check the Ironman Athlete Guide for more specific details.
Swim
The swim starts at 6:50 when the pros go off, followed by age group waves starting at 7am. It takes place as a point-to-point and the swim-in area is a hike from transition. We got to transition early and after hubby got all set, we went back to the race hotel and hung out in the lobby until it was time to hike over to swim-in. There is a Starbucks that opened early, which was perfect! We arrived at swim-in with a few minutes to spare, so caught up with a few tri-freinds.
Once he was in the water, I high tailed it to the swim-out. People enjoy the view from the bridge, but I like to be at swim-out. I left the kiddos at the hotel and then sent them a text when I thought David would be coming out of the water. Swim-out is full of shoes since the athletes have a hike to transition and it is a tight area. Be sure to remember that the triathletes come first, so stay out of their way. Also, remember that if you hold your triathletes shoes and hand them to them and someone sees, it is a DQ. We actually saw it happen at this race. Once your triathlete is out and you see them, high tail it to the bike-out area, but not at transition. See Bike for more info.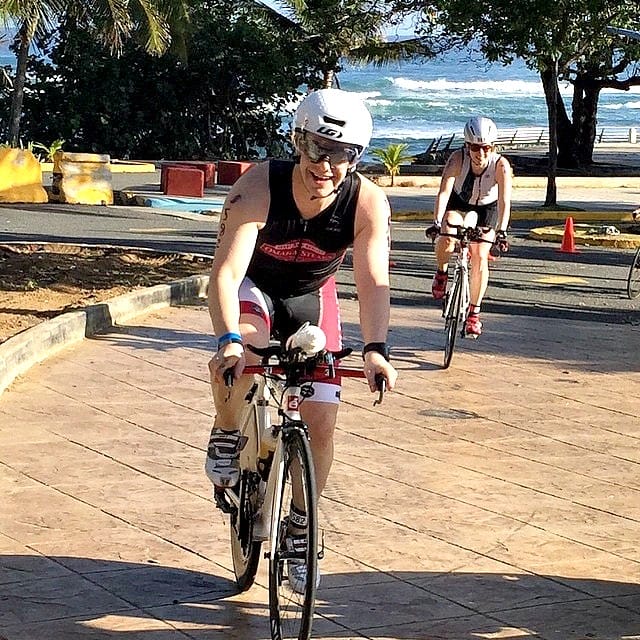 Bike
The bike is a 2 loop course, but the second loop starts out on the course. First, know your triathlete's time! With that in mind, to watch bike-out, stay on the swim-out to transition run area. DO NOT GET ON THE ATHLETES TRAIL. Stay on the sidewalks! When then turn off to go to the transition, stay straight and wait for your triathlete to come out on their bike at the corner of Cll San Agustin and PR-25. You will be able to see your triathlete coming up the little hill and turn the corner. It is a great photo opportunity with the water behind them! Then, wave good bye for the next few hours.
We head to the host hotel, The Caribe Hilton, for their buffet breakfast. Although we rent a home in Old San Juan for the week before and after the race, we stay at the hotel the night before or get day passes. After breakfast, we head to our rooms or out to the beach and pool area to chill.
I know I have about 2 hours to hang out until I need to get to bike-in. Bike finish is easy to get to at the Stadium.
Run
Now you are here for the long haul. It is a 2 loop course that brings the triathletes back to the "hot spot". Once he has made his way out, we book it over to the loop area and try to watch him head out for the first loop. You can't miss the run around right on the side of transition. Although there are a lot of people set up for the day in the loop area, we found it easy to find a spot to call home for the next hour and a half.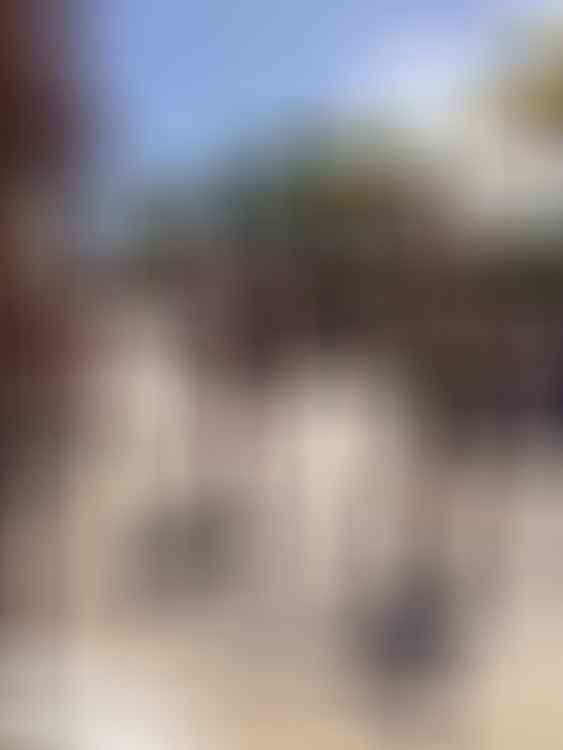 In reality, it's not that long and with some snacks in our bags, we are all good. I let the girls wander over to the beach area for 30 minutes and we repeated the same for the second loop. Once we watched him go out on the second loop, we headed to find our place at the finish line. RACE DONE!
Finish Line
The finish line is at Sixto Escobar Stadium. We love this area, not only because it's easy to get to your triathlete after the race, but the location is beautiful. The post-race area is full of energy and one we like to hang out in for a bit before we gather all the stuff and head back to home base.

Ceremony
The awards ceremony takes place at 6pm on Sunday at Salon San Cristobal. There will also be a post race celebration at 8pm at Caribar at the Caribe Hilton for anyone ready to PARTY! But, if you need some recommendations of places to eat, we have some ideas.
We wish both triathletes and spectators a great race day. Have tons of fun and use plenty of sunscreen!

Sherry is one of the TriWivesClub and LifeDoneWell co-founders and contributes to multiple blogs. She is a former co-owner of the California Apparel News and had a career in the healthcare industry. Her passions include traveling, real food, the environment, and animal rescue/welfare. She lives a healthy lifestyle and has been a vegetarian since 1987. She and her husband are parents to two rescue pups and reside in Connecticut.