David and I were in Puerto Rico last year for the Ironman 70.3 and had such a great time. Syd came down and brought one of her friends to hang out with. We rented an apartment in Old San Juan and had plenty of time to explore; and explore we did. We were lucky enough to spend the week before and after the race just enjoying Puerto Rico. No matter what age you are, if you are traveling with kids in tow or solo, make sure you take time to do the same…
Puerto Rico has so much to offer everyone, including families, from beach getaways to cultural experiences. You can see a rain forest, explore caves, visit forts and plazas in Old San Juan and Ponce, which has preserved its Spanish colonial architecture, and do my favorite, check out the local food scene. Puerto Rico can give you a relaxing beach vacation sprinkled with cultural and nature explorations; the best of both worlds.
So, here are my top picks for fun things to do in Puerto Rico…
Old San Juan
We've stayed in Old San Juan, so I'm really familiar with the area. This city's center is rife with beautiful Spanish architecture and history and has an old rustic, European appeal. You will see many beautiful 16th and 17th century Spanish colonial buildings. You can spend a lot of time just walking the cobblestone streets and absorbing the colors, the unique buildings, the plazas, like Plaza Colon, not to mention the people, who are very warm and welcoming.
I recommend to just start walking and explore. The streets are narrow and around every corner is something new. From the waterfront to the forts, each street has brightly colored homes, restaurants, shops, and galleries. The city is easy to get around and I have to say we felt safe, just us girls. There is also a free trolley if you tire of walking. As noted in our places to eat post, we hung out with the locals and not the tourists. It's also great fun to see how the atmosphere of Old San Juan changes from night to day, so if you can, stay to see both. If you are there at night, check out the lovely promenade, Paseo de la Princesa, which is along where the ships dock. It has food vendors, artisans, and music on the weekends.
Word of warning – watch for cruise ships in port and be aware that the streets fill up with tourists off the boats. We noticed this happens after 11am, so steered clear of touristy areas after that.
Forts
San Juan is full of forts. There are many to visit and they all have different features. We enjoyed Castillo San Felipe del Morro, known as El Morro, and La Fortaleza the most. These defensive forts are very much the same as when they were built; El Morro in the 1500's and Castillo San Cristóbal was completed in the 1700's. They were originally built as the city's defense against seaborne enemies and rise 140 feet plus above the sea.
When you go, come prepared with plenty of water and time to be able to explore all parts of the forts. The views of San Juan Bay from El Morro are spectacular and should be seen. Buy a kite and head to La Fortaleza for sunset. The great lawns of the fort is packed about an hour before the sunset and young and old are gathered to fly kites and watch the amazing sunset. It's also a great place just to relax or have a picnic.
Beaches
Okay, you are on an island so naturally, you will find gorgeous beaches. I recommend you spend a day at Ocean Park Beach. Honestly, this was our favorite beach. Nothing fancy and where the locals gather. The sand is gorgeous, it's not crowded, and the water is just beautiful. And the best part is the wonderful restaurants where you can grab lunch.
If you are looking for other beaches, popular ones are the Isla Verde beach in Carolina, about a 10 minute drive north of San Juan airport and Luquillo, a beach town on the east coast. You can also take a ferry from Fajardo/Ceiba or fly to Vieques or Culebra (Flamenco Beach), two islands belonging to Puerto Rico and known for pristine white sand beaches and crystal clear blue water. These would be day trips and if you have kids, I'd recommend that you get reservations in advance.
Watersports
If you are in the middle of this beautiful sea, you must spend a day out on the water. There are so many options, so be sure to get the one that is perfect for you. We prefer a private tour and booked a small boat that has all the equipment and we prepared lunch to go. Bu,t for just about $100 a person, you can book a day on line or with your hotel. Lunch is also included.
Museo de Arte de Puerto Rico
With both rotating exhibits and the permanent collection, the variety here is wonderful. We planned on spending about an hour and ended up being there for three. The best part was we asked about the local art scene and were handed a flyer for an art opening later that week in town. We went and had a blast. There was a a DJ, dancing, food, drinks, and an amazing new exhibit. Once again, chatting with the locals paid off…
El Yunque Rainforest
Travel a little further out and enjoy a day or night in the El Yunque Rain Forrest, as it is well worth the adventure. This is the only tropical rain forest in the United States and the hikes are spectacular. We hired a local guide who took us to the top of the road and then we hiked to the cloud or dwarf forest. From there, we enjoyed a picnic lunch and spent time hiking the trials near the rivers and waterfalls. I highly suggest hiring a guide or arranging a tour through your hotel. The visitor center is a great place to begin your tour with exhibits that introduce the indigenous flora and fauna.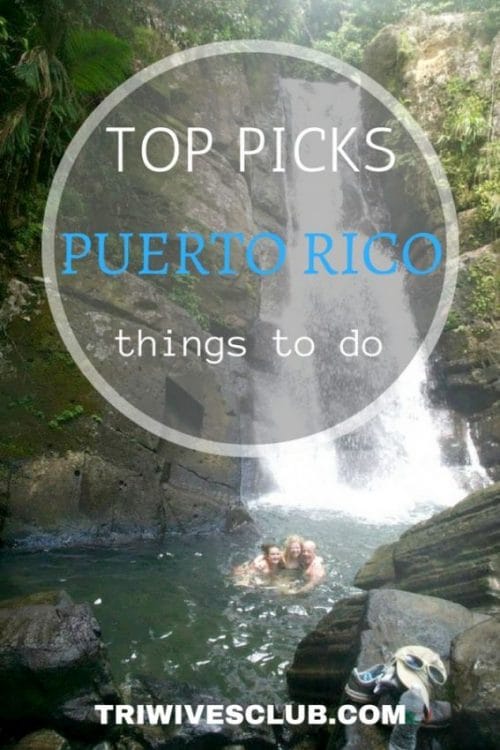 Bioluminescent Bay
This is an absolute not to be missed adventure! The wonderful bio bays are actually microscopic plankton that glow when they move or something moves around them. They are fragile and so, it is suggested that you treat the area with care! I would book this now and go with a tour that knows the bay and has a good eco reputation. We had a great outfit that we went with. The staff was incredibly knowledgable and fun! But, there are something like 15 tour groups, so you'll have your choice.
Local Food Scene
If you don't have much time before or after the race, take a walk and taste tour in Old San Juan. It is a great way to both see the area and taste the local goodness. Spoon Food Tour's local guides will take you from coffee shop to rum and pastry to local savory dishes to get a true feel of the past and present of Old San Juan.
I also recommend that you visit the Farmer's Market in Old San Juan. There are a variety of markets throughout the week. They are full of produce, local goods, great food, and music! Make sure you take time to visit at least one during your stay.
Several other recommendations from friends at TravelingMom include:
Camp Rico Ziplining
Rio Camuy Caves
Ponce
So, we hope you have not only a great race, but also a fantastic time exploring Puerto Rico! Let us know what great things to do you find…

Sherry is one of the TriWivesClub and LifeDoneWell co-founders and contributes to multiple blogs. She is a former co-owner of the California Apparel News and had a career in the healthcare industry. Her passions include traveling, real food, the environment, and animal rescue/welfare. She lives a healthy lifestyle and has been a vegetarian since 1987. She and her husband are parents to two rescue pups and reside in Connecticut.