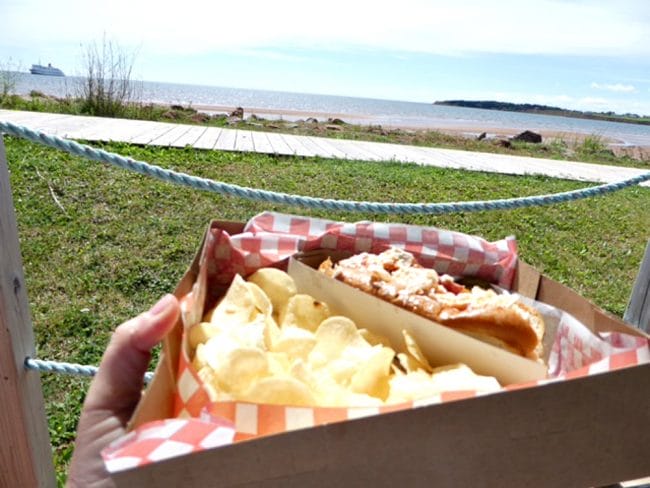 There are many places we read about, hear about, and then dream about, but never think we'll actually get there. It might be too far, out of the way, too small…But, these are often magical places that once we visit, we want to return again and again. One such magical place for me is Prince Edward Island (PEI).
We have all read about the magical land of Ann of Green Gables. The story tells us of a wonderful village on the island called Cavendish. We also see the name Prince Edward Island regularly in the market and on restaurant menus as Prince Edward Island mussels are among the most popular served. But, the island is about way more than Cavendish and mussels. This small island is a destination for travelers and tourists. Literally, people form around the world make the journey.
Our main goal when determining where to summer is a place where everyone will have something to do or nothing to do if that's their choice. But, we must have access to great food sources and places to explore. For years, my sister has kept urging us to try PEI. She finally wore us down…
Last summer, we rented a home on Prince Edward Island as our family summer getaway. We booked a rental home and put down our non-refundable deposit even before we looked at actually getting there. Thirteen of us from across the United States and Canada made the journey to summer on PEI. It was a long journey and our hope was to just be and enjoy the town of Souris where we rented a home. But, the island drew us in and we ventured around.
Getting There
Prince Edward Island is located off the mainland of Canada just north of Nova Scotia. It is made up of the main island and many smaller ones as well. Getting there from some places may be harder, but it is an adventure and well worth the trip. Being an island, we had to take a ferry, the bridge, and fly to get our group there.
Our east coasters made the drive, since the plane ride with connections takes about the same time and there's no chance of cancellation! They split the drive up in two days and took advantage of all the sites on the way up and back. Our Calgary family flew in a few days early to Nova Scotia and explored the area and then took the ferry over to PEI. Unless you are flying from Montreal or Toronto, be aware that flights are limited.
We flew into Prince Edward Island and rented a care there. Being from a city with a regional airport we ended up flying up to New York City an spending a night on each end to make the flights more doable. Flights from NYC are easy when you fly into Montreal and then you have options as to getting to PEI.
Where We Stayed
We opted for a rental home right on the tidal waters. We wanted a home where we could enjoy cooking all the local favorites and where the kids. young and old, could kayak, fly a kite, fish, relax, and explore the island.
We chose to stay in a home near Souris, one of the larger towns on PEI. The house was located on an acre on Howe Bay, which is tidal water and has amazing views. The tide went in and out twice daily, allowing for all types of exploring and water activities.
Exploring PEI
PEI is divided up into four sections, Points East Coastal Drive, Green Gables Shore, North Cape Coastal Drive, and Red Sands Shore. We would suggest once you arrive, you head East to Souris. It is a laid back area where time can be spent enjoying the beautiful beaches and tidal waters where eagles and seals play all day. From there, head to Green Gables Shore as Cavendish will always impress. You will need a couple of days to explore not just the land of Ann of Green Gables, but to hike the PEI National Park and its amazing red sandstone cliffs.
Leaving Cavendish, head even further north to North Cape Coastal Drive, where you can sleep in the lighthouse and explore the potato museum and the famous house made of glass bottles. Finally, end your stay on PEI at the Red Sand Shore. So different than the cliffs of sandstone, the cliffs here are as red as are the beaches. This is the perfect place to camp on the island among the rolling hills before you head back to Charlottetown if you are flying home.
We had a beautiful kitchen which was big enough for many of us to help with the cooking. We also had an outdoor grill and fire pit. We were able to enjoy the local bounty of PEI. We made one big grocery store run to get the basics and then made our "meal plan". In season had an abundance of produce, mussels, lobster, and fish. We also planned our day trips and then meals out. Once all this was organized, we picked the restaurants we didn't want to miss. Our favorites were:
The Fish Man –  Every day a truck pulled up in a town parking lot under a tree. We would stop by and see what was fresh. On our way out each day, we would also stop at the local dock to ask if there was any fish available and bought some shoe fish right off the boat.
The Lobster Shack – This was a frequent stop for us. We would sit outside and enjoy the lobster rolls and fresh oysters. The lobster rolls were amazing; toasted buns, lightly seasoned lobster, and served seaside. It doesn't get much better. We also would stop by to pick up seafood to take home. They supplied us with live lobsters, mussels, clams, and oysters.
21 Breakwater Restaurant – We saved 21 Breakwater Restaurant for a night we all felt like cleaning up and getting dressed. It was delicious and there was a wonderful assortment of local fish dishes as well as ribs, steaks, and other non-fish choices. The desserts were amazing and the view spectacular. They serve both lunch and dinner and we hear the roast beef sandwich is amazing.
When you venture to Cavendish, we suggest eating at the Blue Mussel Cafe. If you only order one dish, make it the fish charcuterie. The fish were all prepared in different ways and cured to perfection. We would venture back just for the charcuterie.
A trip to Clam Diggers Beach House and Restaurant should not be missed in the town of Georgetown. When we arrived, we were thinking we'd get something fried and enjoy the view. Well, we got that and a lot more. From the mussels, clams, and chowder we started with to a crab caesar, seafood sherpard's pie, and a traditional fried platter, it was all so so good!
We had a lot of time to explore the island, but chose to stay close. We ventured to Georgetown, Cavendish, and Charleston on our last day and to a couple of local beaches and National Parks.
Here is our top 5 adventures beyond our backyard:
Clam Digging – We tried and tried to be clam diggers. The kids watched YouTube videos and the adults pretended to know how to do it. Truth is, there is a real skill at being successful enough to actually have food for dinner. So, we booked a trip with a local guide. We asked the locals and they all recommended Paradise On The Sea Adventures. I, too, now give them a glowing review and can say we are all okay clam diggers. The clamming adventure was a hit for all.
Greenwich Dunes National Park – My sister said this was a must. We ventured out with her family and mine. The eight of us love being outdoors, including the kids (well, young adults – a teenager and a pre-teen). We started with a hike through the blooming fields and into the woods, where it opened to the floating walkways and sand dunes. Then, the ocean! Although a bit chilly, the kids all walked in the water and we all enjoyed a hike to over look the famous sand dunes. After our adventure, some of us, but not me, went to the visitor's center to learn more and loved it. Others of us, me included, went for ice cream.
The Beach – Although we had our own beach and lots a tidal beaches during low tide, venturing out to the local beaches was so much fun. We spent a day at Basin Head Provincial Park. It was so beautiful and the water perfect to play in. With the white sand beach, food, Fisheries Museum, and the jumping spot that says NO JUMPING, but everyone does while the life guards cheer you on. It is also home of the Singing Sands. A short walk down the beach and you walk on sand that literally squeaks as you walk on it.
Charlottetown – Charlottetown is the capital and cultural hub of Prince Edward Island. I highly suggest spending a day there exploring, shopping, and eating. There are all types of tours that may be perfect for your group. We enjoyed just walking around, exploring the historical spots, and eating and eating. We suggest also getting lost in the side streets and exploring the waterfront.
Cavendish – A trip to Cavendish is a must for Anne of Green Gables lovers. We highly suggest taking a tour to get all of it in. Cavendish is likely the most visited place on the Island. Tourists come from all over the world to see where exactly Anne of Green Gables was from. But, there is more to Cavendish than Green Gables. People flock there for the beaches, hiking, golf, and wonderful restaurants.
Top Tips
Be ready for anything.
Over pack for hiking and rain.
Be prepared for drastic temperature changes during the day, depending on where you are.
Be flexible. Remember, you are going to an island, so you might not be able to find exactly what you need at the market, especially in the smaller towns like Souris.
PEI is every environmentally progressive. Please follow all trash recycling rules carefully.
Take time to look around, keep an eye out, and just be… Seals, whales, and eagles are all around.
Bring your favorite bug repellent.
Now, we just have to think of where this multigeneration family is off to next…Time to book your trip to Prince Edward Island!
I am a home cook that does things my way. In my kitchen, I make breakfast, pack lunches, prepare snacks, and cook dinner. During the week, we eat real food that is homemade, organic, and local. On the weekends we do explore more of our local restaurants. I bake my own bread, juice fresh oranges every other day, and make my own kombucha and other weekly favorites.