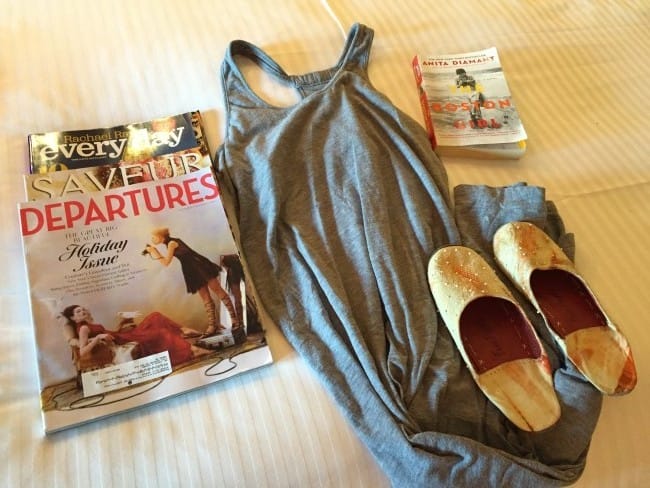 When I think of a short getaway I think 3-4 nights.  Just enough time to get there, settle in, relax, have some fun, drink a little wine, and do a little shopping.  Two nights is never enough and once you get to five nights, why not stay a week…
But, that said, going away for a quick 3-4 night getaway always brought up an issue for me.  Do I carry on only or do I check my bag?  Over time, I have figured it out and in reality, I almost always check a bag.  There are two main reasons for this.
First, I live in a city that I almost always have to fly to a bigger airport and get a connecting flight.  I really do not like wheeling a bag all over the airport, so I love to just check it and be hands free.  The other reason is I like to have some extra room for what I might want to buy and don't have to worry if it will fit or try and find a way to ship it home.  I mean really, when you visit other cities, I believe it is your duty to provide economic support for the local area.
Truth is, there are many 2-3 nighters that I throw all of what I need in my backpack and go.  But, those are specific types of trips and not a short getaway.  I am soon taking off for a 4 night getaway to Napa.  I will only be in a hotel 3 nights, but I'm taking the red-eye back on the 4th night, so that I can enjoy the day and evening, but be home on Saturday for sunrise.  But, and it's a big but, of why I will be overpacking with a purpose.  You see the weather will be between 40 and 75 degrees and we will be playing and shopping, as well as kayaking and bicycling.  So, I need a wide variety of not only types of clothes, but ones I can layer.
I'm sharing my clothes packing list this time and will follow it up with my accessories and make-up, which are a whole other story.  So, as I pack up for a short getaway to Napa with some girlfriends, here is what's in my bag:
BASICS
Count your underwear and socks; one per day plus one.  Pj's – I pack one for every 2 nights, so this trip I packed two.
Side note:  I use to travel these short trips with one strapless hand me up bra from my daughter, but I have added two wonderful items.  Some type of nipple covers for all the new cut out outfits and my new brand new bra that Bali sent me.
Over the summer while at Getting Gorgeous, Bali came and provided sizing (yes, at 47 years old it was a first for me).  Due to my, let's say petite size, the specialist recommended the Bali Comfort Revolution ComfortFlex Fit.  It is the most comfortable piece ever.  I will admit I love my sports bras, so this was the perfect addition to my drawer.  It has the feel of a sports bra, yet looks a little dressier and comes in wonderful colors.  I especially love how it is seamless and flexible.
One great wrap – With the changing weather and layering, this is all you really need.  I love Dana at our local Anthropolgie in Omaha.  When I tell her what I am dealing with, she has great ideas and this was one of them.  The shape is interesting, it is beautiful, and the color goes with everything.
Why, yes, yes I do pack them; one outfit per day and yes, they get used.  I know people who re-wear their workout clothes while away, but it's just something I can't do.  I always include layers and often will re-wear my running jacket, so this trip I only brought two.
This, I always pick first, because travel day outfits are important to me.  I want to look nice, but be comfy.  I typically wear a long dress with leggings or my favorite jeans with a great top.  I also always pack in layers to fly, as you never know the temperature on the plane.  This trip, being the red eye, I actually packed an outfit to change into for my flight, as I am not into wearing the same clothes for over 24 hours…
OUTFITS
For this trip I'm packing 8 outfits. Yes, 4 nights, one being a redeye, means 8 outfits.  All of my outfits are layered and fun.  You can follow along on Instagram  to see the daily outfits, but here is what I packed:
1 and 2.  These start with a great pair of jeans.  I love an interesting jean and the Hyphens fit me great.  With the 30 degree change in temperature, I choose a pair with a big cuff.  These will be worn in two different ways.  The first is with a 3/4 sleeve lace top with a leather jacket.  The second is a print shirt with a grey vest.
3.  During the day we will be biking, so I packed a fun pair of half print and half solid dressy leggings; not yoga pants.  I'll pair them with a long mock turtle neck and side slit tan sweater.  This will give me a cute layered look that is easy to move in.
4.  A waffle dress with leggings and a faux fur short vest.
5.  My favorite green pants and layered white tops for kayaking.  I think I may switch to yoga pants and a layered jacket and vest depending on the weather.
6.  Jumpsuit – This is an easy piece to pack and can be worn with my leather jacket for an evening look.
7.  A fun top to layer and wear with the jeans I flew here in; fun for day if needed.
8.  Leather leggings and layered tops for an evening.  This is always an extra thing I pack as the pieces can be mixed and matched with other pieces.
Well, that's it for this trip.   Although it may seem like a lot for a short trip, given what I am doing, it will be perfect and I still have room in my bag for a bit of shopping.  Don't forget I'll soon be discussing what accessories and make-up I pack…
I am a home cook that does things my way. In my kitchen, I make breakfast, pack lunches, prepare snacks, and cook dinner. During the week, we eat real food that is homemade, organic, and local. On the weekends we do explore more of our local restaurants. I bake my own bread, juice fresh oranges every other day, and make my own kombucha and other weekly favorites.