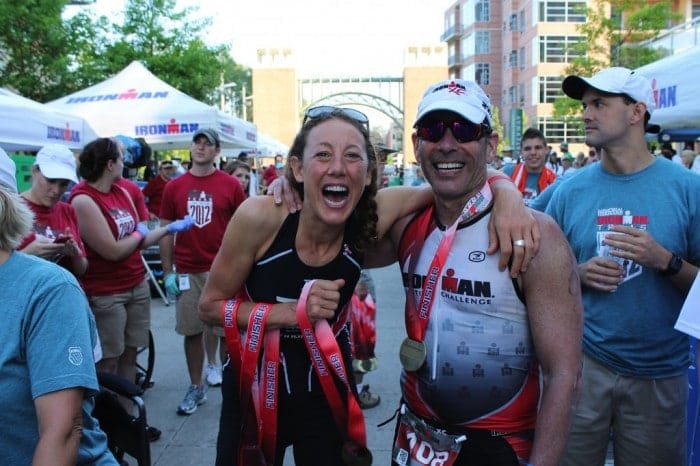 I never thought this would happen in our household – my triathlete husband literally stopped training. There are no more 4am workouts in the basement; no more swims after work; no more 7-hour bricks on the weekends. We now actually go out to dinner at 8pm, since he's not getting up early. I've seen movies on Saturday afternoons AND nights. He goes grocery shopping with me on Sunday mornings. In fact, he is now with me most of the time when he's not at work. There are both positive and negative aspects to this as you can well imagine.
I'm not sure of the moment this happened. This year's races were all planned out last year and he seemed as avid as ever about the sport. It was also off-season so training was not at a peak. But then, he started actually missing workouts, which he had NEVER done before, even if he didn't feel well. I thought it would just be one or two, but it started becoming the norm. Spring was here before we knew it and I thought that would bring him outside, but nothing changed. Then, the unheard of happened: he cancelled his first scheduled race!!! He explained with: "I've just been too busy at work." "I think my body needs to rest." "I haven't really trained, so what's the point of racing."
He then decided to switch from the full Ironman Mont Tremblant race to the 70.3 and did do this in June. While the heart, fire, and competitive nature were just not there this time, he actually seemed fine that this was his "for fun" race. This will be the first year he has not done a full Ironman – generally it's two – since he started doing triathlons in 2003. He has completed 15 full Ironman races and multiple 70.3's and shorter distances. Oh, and he's been to Kona twice.
He actually thought about doing a late race, like Florida or Arizona, but dismissed that idea also – not to mention that they're sold out.
To occupy his new-found free time, he followed me to the golf course and started playing again. We now do this together most weekends, outside of his lessons. Golf was actually the only other hobby he's ever had, but he gave this up when he entered the world of triathlons, as this was all-consuming. As an aside, he did say the nicest thing to me about golf when I suggested he play with some of his friends – that he was playing with me because this was OUR time together and he didn't want to lose that. Seriously, you can aaaahh here…..
I have chosen to handle this whole change in our lifestyle by mostly listening, agreeing with the reasoning, playing golf with him, and by writing about it. I certainly can't pressure him into doing what his heart is not into. When this happens to your triathlete, and I say when, because I believe it has to happen to them all at some point – no one can keep up the intensity of managing work, a family, a personal life, and training without something having to give – you need to have the discussion about if this is the time to say enough. We did, because I had to let him know it was okay. I'm sure he's just not there yet. I guess, logically, this pause simply has to run it's course and HE has to make the decision, when and if, to jump back in and I'll have to be okay with his choice.
But, I've seriously thought about how drastically our lives would change AGAIN if he stopped racing and questioned if I am truly ready for his retirement. I have to admit I like the tri lifestyle and we've met so many great new friends. This year has been easier to accept, because it was always thought of as a pause, but when it's not it will be a huge adjustment for us both.
He IS starting to think about next year and planning what races he'd like to do and how he can get back to Kona. I think me writing this blog has been a contributing factor, as I'm the one now constantly talking about triathlons. He took two bike rides with friends recently, got the bike tuned up, and went for a run as he's starting to "feel heavy" – this may be where the true incentive lies. That said, there are no races on the books yet…….
Oh, on a practical note: We're still paying for memberships at two local gyms, one for the pool and the other because it's close and opens early. Had I known the inactivity would last this long, I would have considered putting them on hold. It has been a huge waste of money. Just something to consider. But, this cost has been offset by the laundry savings and him not buying any new gear!!!!
I have to say, my once obsessed triathlete has actually seemed content this summer not training AND not talking about it, but getting very good at golf. ( I seriously have to wonder, though, what would have happened had it rained every weekend). I have not witnessed him going through the stages of grief, so perhaps this pause has been a good thing and will rejuvenate his triathlete spirit – time will tell. But, while I'm seriously enjoying the refound time with my husband, I do encourage a lot of golf lessons……
I have to give a big shout out of appreciation to my triathlete for letting me lay his life out like this for his friends, family, and strangers to read about. I know it stung a bit…..
– SHERRY

Sherry is one of the TriWivesClub and LifeDoneWell co-founders and contributes to multiple blogs. She is a former co-owner of the California Apparel News and had a career in the healthcare industry. Her passions include traveling, real food, the environment, and animal rescue/welfare. She lives a healthy lifestyle and has been a vegetarian since 1987. She and her husband are parents to two rescue pups and reside in Connecticut.