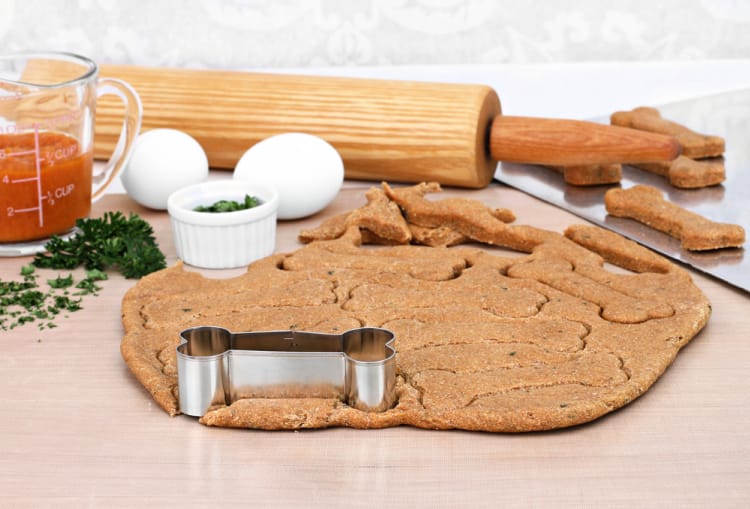 We are sharing 20 homemade dog treat recipes that your pets will love. Made with simple ingredients from your kitchen, these recipes are an easy and healthy treat for your four-legged friends.
I've been making homemade food for our dogs for years now. It started before there were so many healthier prepared dog foods on the market. These days, you can even buy fresh, homemade food delivered to your house.
But when you have two big dogs, that gets to be a bit expensive. So, these days, I opt for a combination. But I am very selective about the prepared food I buy, looking for human grade and organic ingredients.
While making your own dog food might not be for everyone, did you know that making your own homemade dog treats are just as easy as making a snack for yourself? Made with ingredients you will find right in your pantry, I am sharing 20 of the best homemade dog treat recipes you can make for your furry four legged pals.
You'll find some fun pupcakes (these would be great to make for your pup's birthday), some frozen dog treats to help cool them off in the summer, and treats perfect for training and rewards. I even love to package these up and share with our dog friends, give to a new pet owner, or even bring some dog treats to the local shelter!
These treats use ingredients like peanut butter, broth, vegetables and fruits, bacon, and chicken. Of course, be sure the ingredients you are using are safe for dogs. There are many foods to be avoided that can be toxic like xylitol in peanut butter, chocolate, raisins, and even nuts. And if your dog has any health concerns, confer with your vet before you make homemade dog treats.
20 of the Best Homemade Dog Treat Recipes
We are sharing 20 of the best homemade dog treats recipes that your pet will love. Made with simple ingredients from your kitchen, these recipes are easy and dogs love them! Check them out!
I am a home cook that does things my way. In my kitchen, I make breakfast, pack lunches, prepare snacks, and cook dinner. During the week, we eat real food that is homemade, organic, and local. On the weekends we do explore more of our local restaurants. I bake my own bread, juice fresh oranges every other day, and make my own kombucha and other weekly favorites.