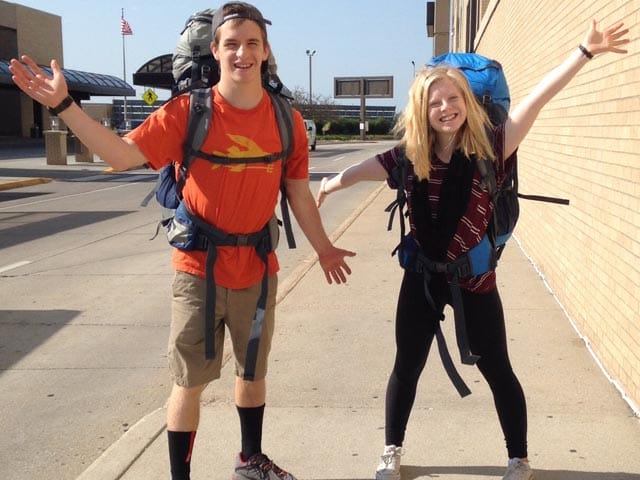 People often think we are crazy because we have moved so many times and travel so much. I say we are smart, giving our children the opportunity to meet so many people, being more grounded and the ability appreciate the greater world. It has taught them to be patient and go with the flow.
Today the twins set out of a trip of a life time, and not because of the places they are going but because they are doing it together. As parents of twins, especially being our only children, we always have tried to make sure they have a close relationship. This trip will most likely be one of the last opportunities they will have the time to adventure together creating a lifetime of memories. And because mom booked the major transportation and hostels and the rest is up to them. This leaves them a little nervous, a little on edge and needing to rely of one another.
The planning began with a plan for 7 week starting in Oslo and ending in Japan, but the world changed. Every time we picked a country for them to trek in there would be a bit of unrest making us a bit uncomfortable. A trek was very important to the twins so I called one of the owners, Jeff,  of Putney Student Travel.
My Sydney spent last summer with them in Ghana and is what I consider the best program around. After a short conversation Jeff had the perfect solution, National Geographic Student Expeditions trip to India which includes a 15,000 foot trek in the Himalayas. Given Putney runs this programs we were sold. The new plan, the twins could have 3 weeks together in Europe and then would meet up with the NGSE group in Delhi.
We left the first 3 weeks up to them and being that they wanted to not be exhausted when they reached India they decided to stick to 2 Countries, France (between the two of them they have had 9 years of French) and Italy.
So follow us on Facebook, Twitter, Instagram and Pinterest on Momsgoodeats and using #ztwinstravel.
Where are they now? London airport! But not for long they sweet talked a British Airways representative to allow them to get their luggage and let them take an earlier flight. They will land in Paris 4 hours earlier. I can see them now, Sydney working with the BA representative to take care of flights and Sam rearranging train and metro since they will fly into a different airport
I am a home cook that does things my way. In my kitchen, I make breakfast, pack lunches, prepare snacks, and cook dinner. During the week, we eat real food that is homemade, organic, and local. On the weekends we do explore more of our local restaurants. I bake my own bread, juice fresh oranges every other day, and make my own kombucha and other weekly favorites.