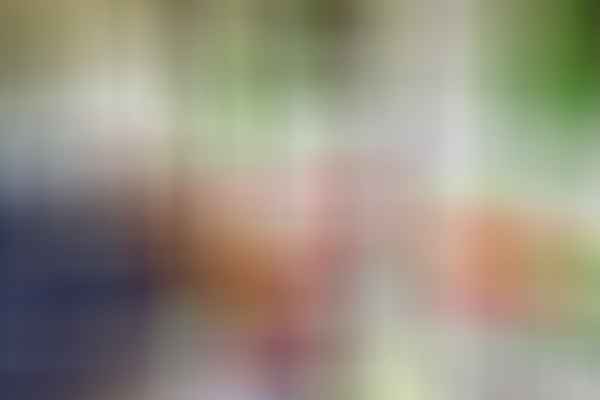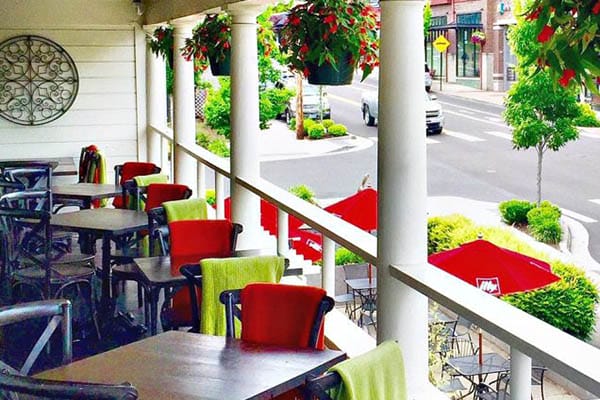 The beautiful city of Lake Oswego, Oregon sits about 10 miles south and a bit east of downtown Portland. It is centered around a lake of the same name and is bordered by the Willamette River. Oswego is an Indian word meaning "pouring out place" and the views from most anywhere in the area include water and the beautiful fir trees of the Pacific Northwest.
Lake Oswego is also one of the most affluent suburbs of Portland. The people care a great deal about being responsible stewards of the land. A number of the local eateries carry that value system into the food they prepare. Baird's on B Bar & Grill is no exception. They prepare locally grown seasonal produce and incorporated reclaimed Douglas fir planks for the bar, reclaimed walnut for bar tables, and recycled other woods for their outdoor signs.
Being home with my family for New Year's week, my sister-in-law once again hit the jackpot when she took my husband and me to Baird's on B. To look at it from the street you would think it was just an older 2 story house. In fact, the main floor was the very first house in the area. When the 2nd floor was added, it was Lake Oswego's first city hall.
Baird's owners, Baird Bulmore and Cindy Oyama, took over the 2nd floor and the remodeling began. Their goal was to make the restaurant a neighborhood place. They envisioned locals and visitors would come, relax, visit with friends, and enjoy amazing contemporary northwest fare.
Baird's on B Bar and Grill
The space has several separate and cozy dining areas that can accommodate small or large groups. There is also a more private dining room perfect for a family gathering or a business meeting. The covered terrace looks out over the beautiful treed area. It would be a relaxing place to hang in the summer.
Most noteworthy, while the ambiance and friendly staff are big assets for this restaurant, the food and wine list are second to none. Some of their small plate offerings include Crab Cakes (Dungeness, of course), Fish & Chips using locally caught Pacific Cod, and a Hummus plate. We shared several dishes.
First, we chose the Crab Cakes, which were lightly breaded with lots of big chunks of crab meat. Then we opted for Chicken Wings with the Asian sauce. Although I don't typically eat chicken wings, these were nicely done. The sauce was not too sweet and the meat fell off the bones. The third dish was probably the one we all thought was above and beyond – a plate of brussel sprouts. Grilled to perfection so they were a little crunchy, but it was the balsamic glaze that took this plate over the top.
We were told they are well-known for the Baird's Warm Spinach Salad, created by their executive chef Salvator Campagna. The warm bacon vinaigrette is wonderful. And guess what? We will be posting the recipe later this week!
Although we did not stay to enjoy one of their dinner entrees, I did peruse the menu. It has a wide variety of choices to please any palate and the prices are moderate. Fresh grilled Pacific King salmon, roasted half chicken, and pan seared duck breast, to name a few. Their wine list includes offerings from Washington, Oregon, and California and their beers are from local breweries.
Whether you live in the Portland area or will be traveling there to see friends or on business, Lake Oswego is a wonderful area to experience. From the miles and miles of bike/walking trails to amazing boutiques and wonderful restaurants like the gem we discovered in Baird's on B Bar & Grill, it will be a treat to your palate and a perfect place to unwind and visit. They have succeeded in making it a great family and neighborhood gathering place.
Kathy was a business owner for many years. Specializing in the field of orthopedic joint replacement, her time was spent in the operating room and conducting training programs throughout the United States. Since moving to the midwest with her corporate husband, she divides her time between caring for Brandy, their 4-legged family member, cooking from scratch, and searching out exceptional undiscovered restaurants both at home and wherever their travels take them. She also creates greeting cards that are sold around the world. Kathy discovered her love of writing while in college and has begun using it as a way to share her travel experiences and the restaurants she seeks out along the way.
Kathy, her husband, and Brandy currently live in Nebraska.