Get your home feeling fresh, tidy and clean with these 20 spring cleaning hacks. Practical and easy, they will quickly become a part of your annual spring cleaning routine!
As we dig out from the cold winter and get ready for the warmer, spring weather, there is nothing better than giving everything a good spring cleaning.
After months of practically being hermits indoors with snow and cold, not to mention staying inside a lot with the pandemic, a good cleaning feels fresh and invigorating.
Of course, getting your cleaning started is always tedious. I would much rather be cooking or enjoying time out on the farm. But with these spring cleaning hacks, I think you will find your chores get done much faster and dare I say, much more enjoyable.
I will have you organized and with the right products in hand to get started! There's seriously a hack to clean just about every part of your home!
But first…
Why do we call it spring cleaning? Here's a little history…
Dating back to the 1800's, spring cleaning had one primary purpose…to clean the soot from all the winter fires heating the house.
Others believe it originated with Iranian Nowruz, the Persian New Year. They cleaned their homes right before or during the week of Great Lent and called it Clean Week.
In more current times, it just became a practical need. Our homes are generally closed off in winter due to the weather. No matter how hard we try, dust particles settle and our house needs a good airing. All those winter germs have not had a chance to escape through the open windows and we need fresh air.
Advantages to spring cleaning…
Many believe that spring cleaning is a great mood booster. It's a signal of hope and renewal for what's to come. I'm definitely in that camp.
In addition, spring cleaning is a great time to get to the things you never clean, like the ceiling! You would be amazed at the dust that accumulates on the ceiling.
Your garbage disposal may be fine, but a little cleaning would make it even better. And way under the bed, how often do you really get the whole floor under your bed. And your washing machine. Yes, it actually needs to be cleaned.
Plants and spring cleaning…
One of the most frequently missed items in all cleaning is our plants. Spring is the perfect time to take your inside plants outside for a good cleaning and pruning.
Cut off all those dead leaves. Check the potting and see if you need to pot up and gently clean the leaves. The leaves need to be cleaned just like any other surface that would accumulate dust all winter.
If you do not have plants, get some. They are a great way help with air purifying in your home. We love to add plants for decor as well. Here are a few great plants to add:
Snake Plant
Pothos
Bird's Nest Fern
Spider Plant
Aloe Vera
We also like to add Eucalyptus to our home both cut and planted. You can find it in most flower shops and often even Trader Joe's. It has a menthol fragrance and is very good as a cold remedy and aromatherapy
Another dried plant we add at this time of year is lavender. We pace a fresh bundle of lavender we dried in the fall to the bedside of each bed. We simply put it in a vase.
They say the smell helps increase slow-wave sleep and many people who have lavender in their bedroom say they wake up with more energy.
I prefer it for its beauty, but people love to make little sachets and put it under their pillows or in their drawers, especially the underwear drawer.
As you can see, there are a multitude of reasons why spring cleaning is so beneficial and why you need to get started. Using the tips below, you'll get it done with ease!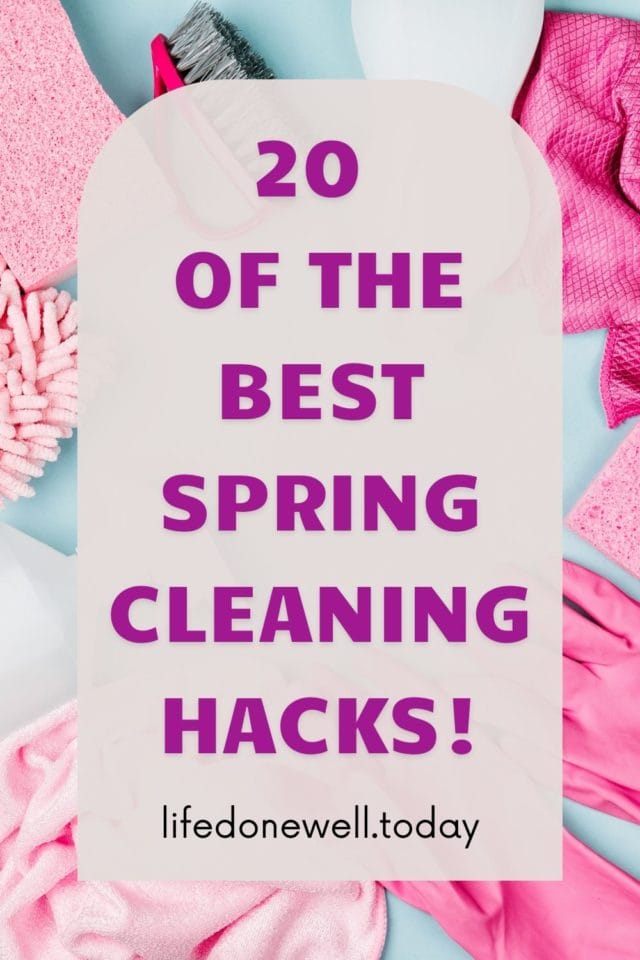 20 of the Best Spring Cleaning Hacks
Get your home feeling fresh, tidy and clean with these 20 spring cleaning hacks we have put together for you! These hacks are practical and easy, giving them a chance to become apart of your annual spring cleaning routine! 
I am a home cook that does things my way. In my kitchen, I make breakfast, pack lunches, prepare snacks, and cook dinner. During the week, we eat real food that is homemade, organic, and local. On the weekends we do explore more of our local restaurants. I bake my own bread, juice fresh oranges every other day, and make my own kombucha and other weekly favorites.