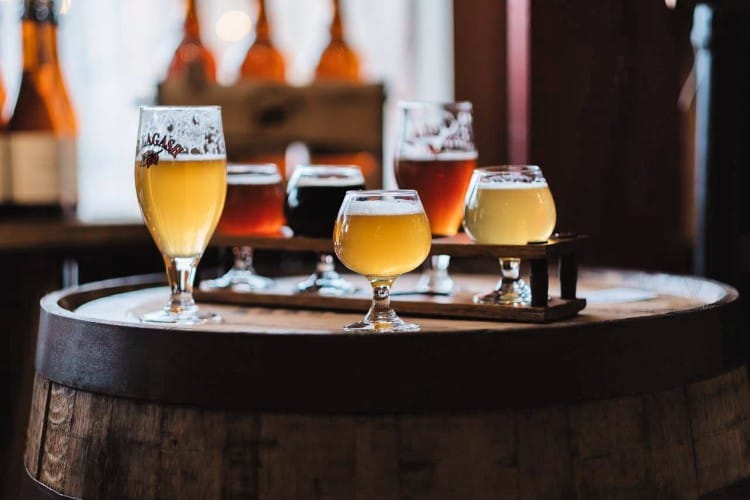 Planning a trip to Portland, Maine? From a classic dive bar to an award-winning distillery to a craft beer pioneer to a chic winery. Here are some of the best bars.
Portland, Maine should be on every traveler's radar as a must visit foodie destination. After all, it was Bon Apetit magazine's Restaurant City of the Year for 2018. But this historic area shines in more ways than one. It also offers a vibrant beverage scene to complement its famous culinary creativity. There's a nice variety of spots for every type of visitor, from a classic dive bar to an award-winning distillery to a craft beer pioneer to a chic winery with an unexpected twist.
Read on for the 6 of the best bars in Portland Maine.
Best Bars in Portland, Maine
Mathew's
Mathew's (with one "t") claims to be Portland's oldest bar and resides in the popular Old Port neighborhood. This dive, founded in 1872, is full of friendly locals and had the cheapest prices I saw in the whole city. A local tour guide suggested I stop by for something affectionately called a "Fat A** in a Glass". Made primarily from Allen's Coffee Brandy, this drink is served in a pint glass and also includes some milk and ice.
Allen's has been called "Maine Champagne" because locals drink so much of it that it's always the top selling liqueur in the state. In fact, due to the three sizes of bottles Allen's comes in, this caffeinated beverage occupies three of the top ten spots on the booze best sellers list. It's a must try (one time) type of drink.
Hardshore Distilling Company
My next favorite is the Hardshore Distillery. Just voted one of the best craft distilleries in the nation by USA Today, this up-and-coming spot deserves that accolade. Their star is the original gin made in house with "grain grown on the founder's family farm". It stands out as unusual since rosemary and mint dominate the flavor profile rather than the typical juniper-forward sip.
Check out this unbelievable spirit by visiting their tasting room in Portland's East End. It's generally open Wednesday- Friday. Hardshore also earns bonus points for sustainability, as they use roughly 30% less water than similar facilities.
Allagash Brewing Company
No discussion of the craft beer scene in Portland could ever leave out Allagash Brewing Company. This Belgian-style brewery is actually one of the 30th biggest craft producers in the United States. Pop by for a tour any day of the week for just $5, and learn more about their approach, values, and process.
I most enjoyed their flagship Allagash White, which constitutes roughly 85% of Allagash sales nationwide. But the most innovative brew was the Barrel & Bean, which is aged in old Jim Beam barrels and contains locally sourced, cold-brewed coffee. Pro tip: stay for a meal at the lobster food truck usually parked outside. It offers one of Portland's best lobster rolls.
eighteen twenty wines
This next addition to my list of boozy favorites in Portland is a bit surprising as usually I can't stand wine mixed with other fruits. It's too sweet and not my usual cup of tea (or alcohol). Enter the delightful rhubarb wine at eighteen twenty wines. Named for the year Maine separated from Massachusetts to become its own state, this winery is a must visit in Portland.
Not only is the female owner, Amanda, super engaging and matter-of-fact, but the rhubarb wines are actually good. Sample the Victoria for some rosé vibes or try the happy accident Dottie Mae that features wild fermented rhubarb. Besides the wine tasting room, these products are available in restaurants and shops up and down Maine's coast.
The Independent Ice Co.
My next fave has great whiskey and an even better naming inspiration. The Independent Ice Co. pays homage to the ice found in the nearby Kennebec River. This used to be the premiere source for icebox ice in the world. In fact, it was a signal of wealth if families had ice from that specific river.
Be sure to try their bourbon sangria, Manhattan, or Maine maple cider mule. If weather allows, relax outdoors. The patio abuts a pedestrian-only brick street decorated with beautiful florals for maximum charm.
Bubba's Sulky Lounge
For pure bizarre ambiance with cheap drink prices, be sure to visit Bubba's Sulky Lounge. It was described to me as "where disco meets taxidermy" and I couldn't sum it up any better myself. This dive is the ultimate in kitsch heaven with a bumping DJ and glowing dance floor to boot. It's always full of locals and the occasional adventurous visitor, gyrating in one giant mass to classic 90's jams.
For best drink results, visit the back bar as it boasts a sweet and friendly barmaid. This is a direct contrast to the woman that captains the the front area, accurately described in a Facebook review as the "crusty old sea hag running the bar". During my short but eventful visit, she refused to give any of my friends or I water and didn't mix or chill any of our drinks. Needless-to-say, customer service is not the reason one visits Bubba's. But regardless of that issue, it simply has to be on any list of best boozy establishments in Portland.
Overall, Maine's biggest city boasts some amazing bars, distilleries, breweries, lounges, and wineries. On your next visit to Portland, make sure to drink your way through some (or all) of my favorites. Cheers!

A Minnesota native, Katy is a freelance travel, food, and lifestyle writer currently based in Omaha, Nebraska. Besides contributing to the LifeDoneWell brand, Katy is a contributing writer and content creator for a variety of other print and digital outlets including Travel Awaits, The Reader, google's Touring Bird, Matador Network, and Modern Mississauga. She was also a popular Bridal Blogger for Wedding Essentials Magazine, an Omaha World Herald publication.
Be sure to connect with Katy on her personal instagram @ksprats, and her health food focused insta @healthkickmidwest.