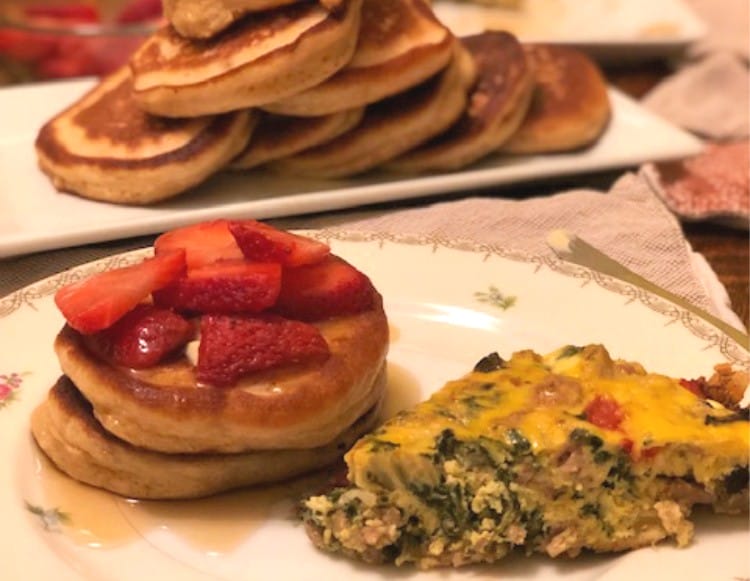 Guess what we had for dinner last night? Pancakes! Let's admit it…a lot of us make breakfast for dinner, because breakfast is the perfect meal any time of day. We use the excuse that it's easy and quick. BUT c'mon, the truth is we make breakfast for dinner just to have pancakes for another meal. In fact, it really is all about the pancakes, because they are truly the perfect food. Diverse, fun and delicious, pancakes just make us happy.
When we talk about ease that means I am not talking about having to make pancakes from scratch; that takes up way too much precious time in our overly hectic lives. Dinner has to be fast and satisfying. So, last night, I made a quick frittata and pulled out my favorite pancake mix. You all know I keep very few products in my pantry, but the Krusteaz is always in there.
Recently, Kuesteaz sent me their new Buttermilk Protein Pancake Mix and honestly, I am in love. It was the easiest to make and being a purist when it comes to my pancakes, I was thrilled with the mix. Hubby, an Ironman Triathlete, had just gotten done with a long training ride after work, and I had worked out on the farm all day seeding. So, dinner needed to be fast, delicious, high in protein, and satisfying. Success!
Thank you to Krusteaz for sponsoring this article and providing us with the delicious Buttermilk Protein Pancake Mix. As always, all opinions and thoughts are our own.
Protein-Filled Krusteaz Pancakes
There are three ways to make the Krusteaz's new Buttermilk Protein Pancake Mix. You can mix it with just water for 15G of protein, use milk and get 17G, or do what we did, mix with milk and an egg and get 20G. Given the kind of day we had, we needed to replenish proteins and opted for the 20 Grams. I also made them the next day for breakfast with the water only and added blueberries. The pancakes were just as delicious.
In addition to the protein, which is so important in our home of athletes and days working on the farm, the mix provides 4 grams of fiber. Even more important, for anything to be brought into my kitchen, it has to contain 100% whole grain flour and have no artificial flavors, colors, or preservatives. With all of the goodness, the great taste, being light and fluffy, and having the texture of my Mom's famous Inn pancakes, these are a keeper in our kitchen.
If you want to have a little something in addition to the pancakes, why not do what I did and add a frittata; another easy and great breakfast for dinner dish. What could be simpler than a one pan frittata and a one bowl Krusteaz's new Buttermilk Protein Pancake Mix? Dinner was done in no time. While the frittata baked, we made the pancakes and all was done for dinner time.
Breakfast for Dinner Frittata
I actually chose to make a frittata, because it is our go to when there is nothing left in the house for dinner. First, we always have eggs on hand and I bet you do, too. Second, you can literally pull out whatever bits and pieces of vegetables you have around. No real measuring is needed.
Since our pancakes were filled with protein, for this frittata we opted to add just a little chicken sausage for the flavor in addition to our veggies. Remember, you can choose whatever veggies you want. I also love asparagus, artichoke, and spinach. Here are several other ideas…Veggie Frittata and Your Way Frittata
Ingredients
10-12 eggs for a 10-12 inch cast iron skillet
Onion
Red Pepper
Mushroom
Arugula
Plain yogurt or a little milk
Butter
Seasonings to taste (be sure to add to the mixture). I use salt and pepper and herbs. Fresh herbs are always best, but dry work, too.
Directions
Saute all of the above except the arugula.
Add the chicken sausage to brown.
Once the chicken in cooked, add the arugula, a little butter, and stir to wilt the arugula.
Combine eggs, a little yogurt, and seasonings, whisk, then pour over veggies.
Place in the oven at 375 for about 40 minutes.
While the frittata bakes, make your pancakes. It's that easy. They come pour perfect and fluffy. You can serve the pancakes any way you choose. We happen to like ours with strawberries and syrup.
So, there you have it…Dinner done, delicious and nutritious with protein-filled Krusteaz pancakes!
Do you do breakfast for dinner?
I am a home cook that does things my way. In my kitchen, I make breakfast, pack lunches, prepare snacks, and cook dinner. During the week, we eat real food that is homemade, organic, and local. On the weekends we do explore more of our local restaurants. I bake my own bread, juice fresh oranges every other day, and make my own kombucha and other weekly favorites.