I do have a few online shopping sites for splurges that I am super excited about. By splurges, I'm not referring to over-the-top, expensive items. Splurges are brands we love, but only order from infrequently when we feel the need to treat ourselves. We just happen to be ordering a little more during quarantine. For instance, we are not eating out like we usually do, so to have our food splurges has been a special treat.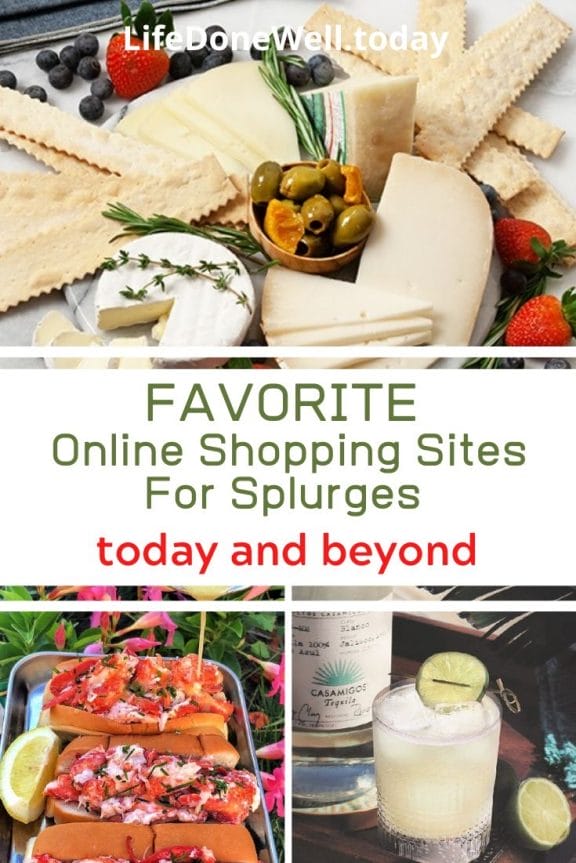 Splurges make us smile and give us something to look forward to beyond the basics. And who doesn't need that these days…
Disclosure: This article is not sponsored, but does include both refer a friend codes and affiliate links.
Favorite Online Shopping Sites for Splurges
Katz Delicatessen
Long before David and I knew each other, Katz Delicatessen was a favorite of each of ours. Our daughter's apartment is literally blocks from Katz's. When she talked about moving to Brooklyn this past winter, David and I did all we could to stop her because of Katz's.
We now order from Katz and call it a "dinner out". A few of our favorites are the hotdogs, pickles, corned beef, pastrami, knishes, and egg salad.
Zabars
Zabars is a classic both David and I grew up on. This is another that David had delivered for the Sunday Brunch for my 50th birthday celebration weekend. We love to order a whole white fish, lox, new pickles, and bagels to make it feel like a true New York moment. And we never forget the black and white cookies and babka!
Now that we are sheltering in place, we also have been ordering some of the meals and sides like cabbage rolls and chicken dishes. Zabars is also another one that we often send for gifts.
wine.com
We say this is a splurge, but is is a regular around here. David orders the best wine and bubbly for us from wine.com. Most recently, David ordered me a case of rose and a case of Prosecco. I am so excited to chill the little Prosecco splits with a straw at the barn at sunset like I saw on Real Housewives – that is genius. But they are so much more than wine…I'm always up for some tequila and Margaritas!
We use wine.com for our everyday wine and for our special bottles. Their selection is huge. You can use this link and the code NEW2020 until the end of May to get $20 off your first order.
igourmet
I often consider igourmet a necessity where we live. But, it is not a must, so I have to include it in our splurges. igourmet is my go-to for all speciality items that I cannot find anywhere else. Yes, you can use butter from your local market, but to get your hands on Beurre D'Isigny or St Helen's Farm Goat Butter is certainly a special treat.
We also like to splurge and have a charcuterie dinner or party with friends and order cheeses that we would only be able to find by making a trip to NYC. But with igourmet, it gets delivered right to our door step. igourmet has "Of the Month" Clubs that are well worth joining.
Maine Lobster Now
A couple of weeks after the twins sheltered in place with us, it was their birthday (24 years old – unbelievable). We wanted to have a special dinner as it was the first birthday in a few years where we were all together. David decided we should do a clam bake. So, Maine Lobster Now to the rescue.
This is not the first time we have used them. Our enjoyment started for the twins' 18th Birthday when they requested a Clam Bake. Every single product that we have ordered from them has been in perfect shape. For the celebration this year we ordered something new – the Lobster Mac & Cheese. It was amazing! And here is a secret – We always order extra lobster so we have leftovers for lobster salad and lobster rolls…
What are your favorite online shopping sites for splurges?
I am a home cook that does things my way. In my kitchen, I make breakfast, pack lunches, prepare snacks, and cook dinner. During the week, we eat real food that is homemade, organic, and local. On the weekends we do explore more of our local restaurants. I bake my own bread, juice fresh oranges every other day, and make my own kombucha and other weekly favorites.