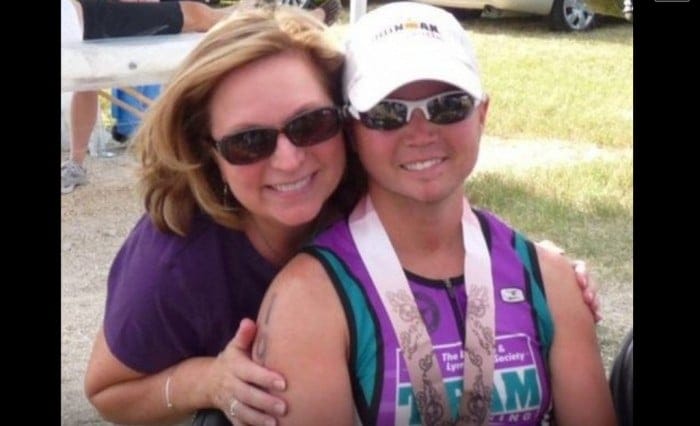 As we told you earlier in the week, we are thrilled to welcome Mike Thompson to the TriWivesClub. If you didn't see our introduction, please read about his amazing story, Mike Thompson: A True Ironman Inspiration, We are just in awe of this young man. He inspires us to make ourselves and the world a better place. We can't wait to see what amazing feats he accomplishes next. Enjoy Mike's take on being a spectator and the importance spectators have played in his life….
I know it sounds weird. How can one person chasing down a finish line be considered a "team" sport? For me, it all starts with the people who have helped me believe that anything is possible.
My whole life I've been surrounded by the support of others. Whether it was battling cancer, overcoming chronic pain, or running down Ali'i drive towards the finish line of the Ironman World Championship, I've used the love and support others have given me to fuel my passion for life.
I am always amazed by what the human spirit can accomplish, but oftentimes we are so consumed with the daily obstacles we encounter that we forget to appreciate each of them. In the past, I had always used my cancer as an excuse for why I couldn't do something. I was looking for a reason as to why I was still alive when others had lost their lives to the same disease that tried to take my own.
It wasn't until I discovered triathlons that my outlook on life was changed and every "burden" became a reminder that I was still alive. "If the doctors warned me I wouldn't be able to run again and I've just completed an Ironman triathlon… What else can I do?" I thought. I realized the obvious notion that I was not the only one who faced doubt and that I could use my story to help others overcome their own challenges. Triathlon is the perfect metaphor for this new goal I had set.
Picture hundreds of athletes chasing down their dream of crossing the finish line. It is a magical and inspiring sight. The streets are lined with family and friends, supporters ranging from live bands to four-legged pals with one goal in mind – to cheer you on through the finish.
It is one of the most positive and uplifting events one can experience. It's an invisible energy that only an athlete can feel when they have reached the depths of exhaustion, searching for every bit of fuel to propel them towards their dream.
It may sound cliche, but I believe if you could take the unconditional support and energy of a triathlon spectator and carry it with you throughout the day, you would also believe anything is possible. There may be a number of athletes who maintain their training plans in a subtle way, keeping their passion for endurance sport close to their heart. There may be a number of athletes who compete simply to stay in shape or keep life interesting. But I can tell you with a certain conviction that the majority of us who pursue our own finish line because of what it represents in our own lives would not reach our goal if it weren't for the support of our families and friends. It is my driving force now. I am so very thankful for the constant love I have received, both on and off of the race course.
Triathlon may not be a "team" sport, but I wouldn't be where I am today without my teammates. My team is comprised of my family, my friends, coworkers, fellow athletes, mentors, and anyone who has pursued their passion.
My advice? Find something you love to do and be the best you can at it. Surround yourself with positive people, push your body to its limits, try as many things as you can, and always find the good in life. It is the greatest gift we will ever know. And if you haven't signed up for a race yet, you should "tri" it. Your life will be forever changed. 🙂
– MIKE

Sherry is one of the TriWivesClub and LifeDoneWell co-founders and contributes to multiple blogs. She is a former co-owner of the California Apparel News and had a career in the healthcare industry. Her passions include traveling, real food, the environment, and animal rescue/welfare. She lives a healthy lifestyle and has been a vegetarian since 1987. She and her husband are parents to two rescue pups and reside in Connecticut.