As the new year begins, let's reflect on the state of our culinary health citywide in the Omaha restaurant scene. It has been a strong year for new concepts, old favorites moving to different spots, and additional locations for locally-owned gems. But there were also, sadly, a handful of closures. Read on for my thoughts on Omaha restaurants 2018's changes. I encourage you to get out there and support all of these establishments.
New Establishments
Acadian Grille Scratch Kitchen is located in a nondescript strip mall near 114th and Dodge. But, don't let that dissuade you from sampling this new embrace of Cajun cuisine. Standouts include the shrimp po boy sandwich and classic selection of Southern sides like cornbread, red beans and rice, and collard greens. A lighter favorite is the yummy crab cake salad. Check out the full menu here.
Amateur Coffee Parlor in the Joslyn Castle neighborhood is next on our list. There's a reason PETA named Omaha a top ten city for vegan eats for the first time this year, and this speciality shop is part of that magic. An all-vegan coffee spot featuring plant-based pastries from neighbor Sweet Mag's, Amateur Coffee Parlor is a must visit. Be sure to try an oat milk latte; you won't regret it!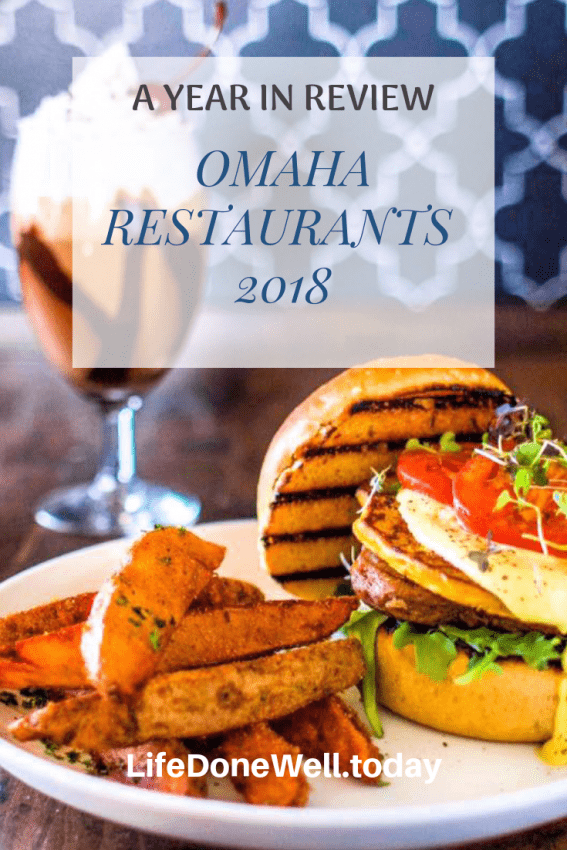 Ansel's Pastrami & Bagels is new to Omaha's hopping Blackstone District. The brother restaurant to popular Noli's Pizzeria, this eatery boasts a water filtration system that delivers the mineral content of NYC water. It will make you feel like you're visiting a deli in the Big Apple. Plus, the pastrami is cured in-house using Piedmontese beef for a crave-worthy end result.
Butterfish Omaha, from the team who brought us Stirnella, is also new to the Blackstone neighborhood. This restaurant offers inventive twists and classic Asian dishes in their sleek new space. Notable specialties include peanut butter pork cheek, oxtail dumplings, and braised sweet potatoes. Check out their full sushi menu too, as well as a daring cocktail program.
Craft Sliders + Beer occupies the former Beansmith Coffee space on Harney in the Old Market area. It's the first dining effort from the owners of Harney Street Tavern which is located below the new concept. Craft has sliders in the name but is actually home to my favorite onion rings in the whole city; they're extra crispy and delicious. Other winners include the mac & cheese slider and vegan slider featuring BBQ jackfruit. It's also notable that Craft recently began Sunday brunch service featuring $15 bottomless mimosas and a chicken waffle biscuit slider.
Farine + Four in midtown is Nebraska's only organic bakery and is owned and operated by Lincoln native Ellie Pegler. Their signature chocolate bon bons (the food so nice they named it twice) cannot be missed; my favorite is the vanilla bean espresso flavor. Also check out their fresh baked bread, savory breakfast sammies, and tea from local purveyor Artemis.
Jinya Ramen is now open near 72nd and Dodge. This new-to-the-Midwest chain specializes in "slurpable" ramen with homemade noodles and broth. The Spicy Tonkatsu is a winner, and you should consider ending your meal with some of their whimsical dessert offerings as well. For even more information, check out my article here (Link to my Jinya article).
Kathmandu MoMo Station is next on our list of notable openings. You may have sampled these exquisite Nepalese dumplings at Himalayan Java downtown or the Dandelion pop-up series. If you haven't, fear not, for I'm pumped to share that MoMo's are available periodically at Scriptown Brewery in the Blackstone area. Check them out during Tuesday trivia and on the weekends!
Mayne Street Market is new to the Benson area. This spot specializes in lunch fare like sandwiches, bagels, and soups. The meats are cured in house and there's a delightful focus on gourmet local ingredients. I recommend the matzo ball soup and spicy Lox on a bagel (with schmear of course).
Mode de Vie is a French-inspired Champagne bar located in the Regency area. You'll be pleased with the Croque Monsieur sandie and the sprawling yet approachable wine list. Plus, it's my new favorite happy hour place with $3 off appetizers, beer, and wine from 3-6pm on weekdays. Cheers!
Myrtle & Cypress is here to caffeinate and energize the charming Gifford Park neighborhood just north of Midtown Crossing and west of Creighton University. This coffee shop has a bit of a retro bohemian vibe with macrame plant hangers and funky mismatched furniture. Be sure to try the house-made almond and cashew milk in your coffee beverage of choice.
Rally Coffee Co. is the new concept from former Beansmith director of coffee Ian Wiese. The North Downtown area really needed a coffee place after Blue Line closed, and Rally is excellent filling that void. Their green bowl with delicate ribbons of cucumber, creamy avocado, and peppery arugula is one of my favorite healthy lunch options anywhere in town. And of course, the coffee is out of this world. Rally produces the finest vanilla latte in town, in my humble opinion.
Stokin' Goat is a rare non-chain West Omaha eatery to open this year. Located near 156th and Maple, this place has a great happy hour with an expansive yet affordable wine list and killer shared plates. Don't miss the French onion dip, fried brie, or trifecta of delicious salads featuring goat cheese. Stokin' Goat truly lives up to its name!
Taco Co. is Benson's newest neighborhood eatery. They certainly know their way around their namesake, as this is a family offshoot of the legendary Maria's restaurants. This spot also boasts one of the best patios in town, with a deck "margarita garden" that's beyond charming. Check out their fun piñata drinks to share, as well as aforementioned handmade tacos.
The Hunger Block replaced Little Espana in Rockbrook Village. It offers fun takes on traditional Latin street food like empanadas and arepitas. I recommend enjoying the appetizer sampler so you can try a bunch of their yummy finger foods. The Cuban avocado salad is another winner, with black beans, avo, tomatoes, and house-made citrus dressing. But THB is perhaps best known for its ever-changing desserts, giant layered milkshakes.
Additional Locations
Archetype Coffee, which was an early anchor in the Blackstone District, has expanded its local footprint with a new location in an up and coming area, Little Bohemia. This new center for redevelopment uses 13th street as its spine and will be home to numerous new tenants in the coming months. Archetype continues its mantra of "Fastidious Roasts. Punctilious Brews. Ridiculous People" with their second space. Check out the house-made vanilla syrup in a latte or their famous chai tea to warm up your winter.
Culprit Cafe is next up for their second location in the old Delice spot at Midtown Crossing. This breakfast and lunch favorite, originally located near 16th and Farnam, has an expanded menu and hours at the new eatery. For the first time, Culprit is serving dinner as well as cocktails. Standouts include the chicken pot pie and literally everything on the drinks menu. Get there ASAP-it's that good; a great addition to Omaha restaurants.
Lighthouse Pizza, home of the famous 9 inch slice and inventive fry toppings, is now open in the Capitol District. Its original location, with convenient drive through window, is still open near 74th and Pacific. Try the Food Network famous "The Sparky" pie for an indulgent treat with secret sauce invented by a local firefighter.
Salween Thai now has three Omaha area locations, NW Radial, 65th & Ames, and the newest at 74th & Pacific ten blocks east of Westside High School. Since their full menu is quite expansive, I'd like to recommend the creamy Massaman curry and crispy pad thai as my two favorite entrees. Remember when you're ordering that Thai spicy levels are far different than Western spicy levels; this restaurant offers a scale from 1-10 so try testing the waters at a 3 or 4 for best results.
Moved to New Locations
Modern Love has new digs in Midtown Crossing which tripled their old space for three times the "swanky vegan comfort food" fun. The menu still offers some longtime favorites like mac & shews but has recently been updated for the winter season. Try the fried mozzarella appetizer and chick'n pot pie entree for stick-to-your-ribs goodness you won't believe is vegan.
Mouth of the South is back after a devastating fire in the spring of 2017. This Florence favorite has reopened a bit further west near 72nd and Ames in the old LoLo's Chicken & Waffles building. Their Southern grub selections are just as tasty as ever, with stars like shrimp and grits, boudin balls, and exceptional chicken wings. It's clear that this north Omaha eatery is a must visit.
Noteworthy Closings
I'm always sad to see establishments close, but this year was especially tough with two of the best brunch spots in town closing their doors, Dixie Quicks and Lot 2. I'lll never stop dreaming of their chilequiles and croque madames. RIP to these lovely eateries.
Crave
Dixie Quicks
Fair Deal Cafe
Little Espana
Lot 2
Mother India
Suji's Korean Grill
What memorable Omaha dining moment did you have in 2018?

A Minnesota native, Katy is a freelance travel, food, and lifestyle writer currently based in Omaha, Nebraska. Besides contributing to the LifeDoneWell brand, Katy is a contributing writer and content creator for a variety of other print and digital outlets including Travel Awaits, The Reader, google's Touring Bird, Matador Network, and Modern Mississauga. She was also a popular Bridal Blogger for Wedding Essentials Magazine, an Omaha World Herald publication.
Be sure to connect with Katy on her personal instagram @ksprats, and her health food focused insta @healthkickmidwest.