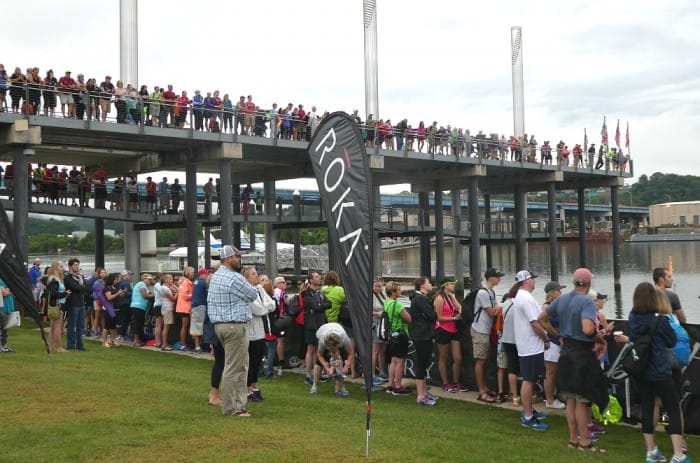 Updated 2018.
My husband did Ironman 70.3 Chattanooga, so I'm quite familiar with the course. It makes it easy for me to offer tips for the sport of spectating Ironman 70.3 Chattanooga. I have to say from a supporter's point of view, it wasn't the easiest race to spectate or to see your racer multiple times.
For our race, they wouldn't let people get close to the athletes, they stopped letting spectators on the shuttle buses, and when I started walking over, everyone was coming back because they got turned away. Then, the race got started late and I had no idea when my husband started. However, we did get an overhead view of the swim from the bridge which is always an amazing spectating vantage point. I'm including a few other issues I encountered under the TIPS.
Sport of Spectating Ironman 70.3 Chattanooga
GENERAL INFORMATION
IRONKIDS Fun Run takes place on Saturday at 9am at Ross's Landing, where the Ironman Village is located. You can register at the Village.
The Awards Ceremony and Rolldown will take place on Sunday at  pm at Ross's Landing.
There is only one transition area at Ross's Landing.
You can take a shuttle bus to the swim start, but I would recommend standing on one of the bridges like Walnut Street Bridge and then heading to the finish instead of worrying about shuttles.
TIPS
Be sure to check out our things to do and places to eat in Chattanooga before and during the race. Our tips are based on personal experience and friends' recommendations who have lived there for years.
With the one huge transition area, make sure you know where their bike is racked before the race.
Make sure you know the course ahead of time, so you're not having to ask other people or miss your triathlete all together like I did.
Share Coach Matt Dixon's tips for the race with your triathlete. He coaches one of our husbands and many of the pros, including Tim Reed. Seriously, these are amazing tips they won't find elsewhere. Now, the swim course has changed, but the bike and run are the same.
They do offer VIP Packages with costs from $75 for kids to $125 and $250 (medal opportunity) for adults. You really need to look at what you're getting and keep in mind it's a half ironman, so your day is much shorter. Having the lounge is always nice and at my race they had lovely portable restrooms, but…
SWIM
The point to point swim has a rolling start at 6:50 am.  The swim caps are different colors for the age groups, so check what color your athlete is wearing. The swim starts across the river and finishes at Ross's Landing on the south side of the Tennessee River.
I watched the swim from the Walnut Street Bridge and despite the trouble with the start, it was a wonderful experience that I shared with tons of spectators. You should be able to do that, too, even after you see them enter the water and get back for the swim exit.
BIKE
The one-loop bike course takes place mostly out of town, so once they head out, you're free to do whatever! They both head out and return on Riverfront Parkway, so you can position yourself along here or do as I did. I only saw my husband come back from the bike because I knew where his bike was racked and went there to catch him coming in.
RUN
The run course is 2.25 loops. I saw my husband go out on the run and could never find him again, despite a really good effort. I eventually just gave up and headed to the finish line, where I did see him come in.
So you don't repeat my mistake, I might recommend heading over to the Aquarium Way/Walnut Street area where they make both loops before heading to the finish line. That way, you shouldn't miss them and can follow them down to the finish line. Or, after you see the first loop, head on over to the finish line and get a prime spot.
FINISH LINE
The finish line is on Riverfront Parkway before the transition area.
Have a great race everyone.  You'll love Chattanooga!

Sherry is one of the TriWivesClub and LifeDoneWell co-founders and contributes to multiple blogs. She is a former co-owner of the California Apparel News and had a career in the healthcare industry. Her passions include traveling, real food, the environment, and animal rescue/welfare. She lives a healthy lifestyle and has been a vegetarian since 1987. She and her husband are parents to two rescue pups and reside in Connecticut.