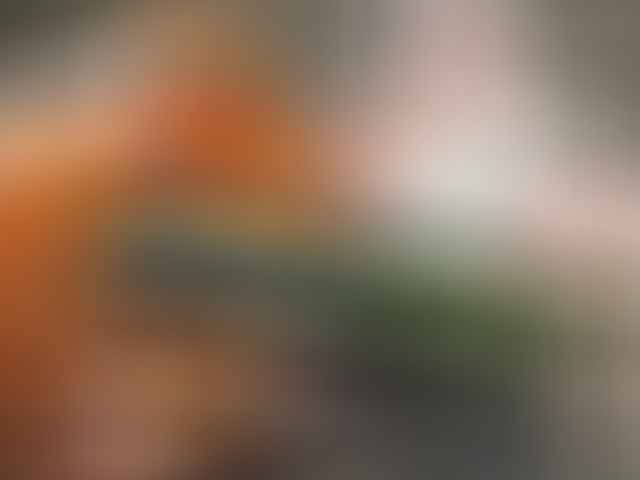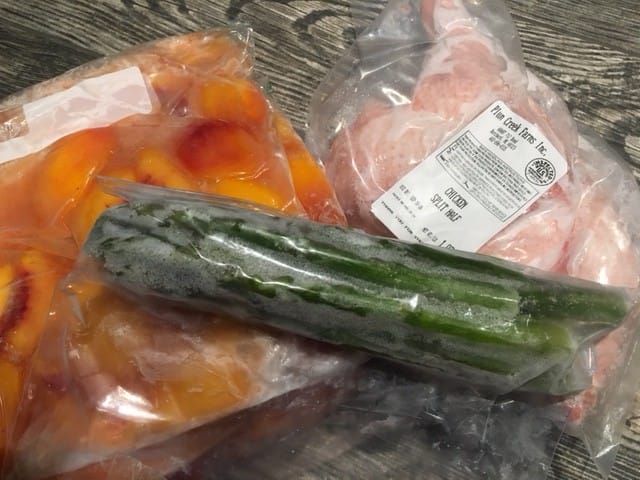 My freezer is a special place in our whole food life. It is used for several different purposes; from making the perfect dessert to preserving fruits and veggies at the peak of season. In the early fall, my extra freezer is jam packed, but when late winter comes, it starts to look a bit empty.
My main freezer in the kitchen is used for much of our proteins. We spend a great deal of our time in the middle of the country where sourcing fresh fish is a bit difficult. Coupled with living downtown, pretty far from main stores with fresh seafood, we order on-line and stock up when we venture to the stores.
I also order chicken and pork from my local farmers through Farm Table Deliveries, while my meats come from my husband's company line of their grass fed and private reserve meats.
The main freezer is broken into two sections, so the temperature can be controlled for frozen desserts, chilling, and extra frig space. Basically, this freezer is used for day-to-day use. The second freezer in our pantry is used for storage of fruits and vegetables I have processed for the winter; meals I make to have leftovers; and larger cuts of meats for events.
Notes
Fruits – I order in bulk and preserve fruits during the peak of ripeness. Most is rinsed, patted dry with a towel, and then flash frozen on a cookie tray, and bagged once frozen. This prevents the fruits from getting mushy and makes it easy to separate.
Freezer jams – I make small batch freezer jams and freeze in small Ball containers to easily store on the door of the freezer.
Vegetables- Most vegetables are blanched and frozen once cooled.
I tend to only buy what I need for a month, unless something like fresh wild salmon is on sale.
I store all leftovers for the freezer in Ball jars
I do keep leftover bread in the freezer, until I have enough to make bread crumbs.
Due to the size of the freezer I have in this home, I do use plastic freezer bags for storage. They are not my first choice, but works best for stacking and storage.
Main Freezer/Right Side
The top is where I keep by breads. I bake a few loaves often and keep here. I also store a box of pastry dough for last minute guests.
The top drawer is my meat drawer, which is usually stocked with fillets and burgers.
The bottom drawer is for fish. I stock with Gulf Shrimp, wild salmon, scallops, and cod.
Main Freezer/Left Side
The top shelf is left open for flash freezing, desserts, or other special things I am working on, like a bowl to make whip cream in.
The top drawer is a catch-all place for small leftovers and fruits I may be using.
The bottom drawer is for chicken.
Second Freezer
This freezer is half empty half of the year and jam packed the other half. Right now, I have peaches, tomatoes, asparagus, rhubarb, jams,berries, and more getting ready to store for off season.
By using my freezers for everyday cooking, it makes my trips to the store fewer and assures we have a wide variety of choices for our meals to keep us a whole food family. But, the big plus is being able to pull farm fresh goodness out of the freezer in the middle of winter when you stock your freezer in season. Peaches, asparagus and chicken for dinner…
What's in your freezer?

Sherry is one of the TriWivesClub and LifeDoneWell co-founders and contributes to multiple blogs. She is a former co-owner of the California Apparel News and had a career in the healthcare industry. Her passions include traveling, real food, the environment, and animal rescue/welfare. She lives a healthy lifestyle and has been a vegetarian since 1987. She and her husband are parents to two rescue pups and reside in Connecticut.