There are some nights we just want something light, fast, and yummy and this Sweet Potato and Black Bean Nachos checks all those boxes.  Plus, this dish is perfect for football watching; think upcoming Super Bowl, especially if you are looking for something that won't leave you feeling- UGH!  It is fresh, clean, and packed with goodness.
Servings:  One cookie sheet is enough for dinner for 6 people and enough for a snack for 8-10 people.
Ingredients
Nachos
Blue Chips (enough to line a cookie sheet)
Sweet Potato and Black Bean Mixture
1 small onion, diced
1 large sweet potato, peeled and cubed
1 1/2-2 cups black beans (This is about 1 can or if you are like me and soak your beans over night, start with about 1 1/4 to 1 1/2 cup dry beans).
2 cloves garlic, diced
1 teaspoon cumin
1 teaspoon oregano
1 teaspoon paprika
1 tablespoon chili powder
1/2 teaspoon salt
Pinch of pepper
Olive oil for sauteing
1/2 cup water
4 ounces of goat cheddar cheese (to grate over the black bean mixture)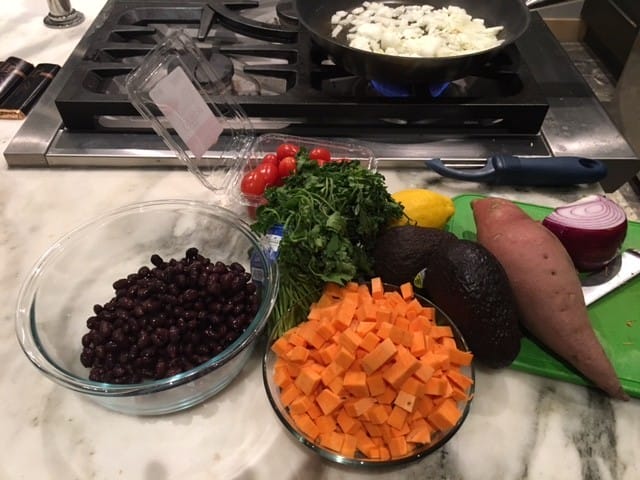 Avocado Salsa
2 avocados, diced
16-20 cherry tomatoes, quartered
1/4 red onion, diced
Juice from 2 lemons
2 garlic cloves, diced
Handful of cilantro, chopped
Salt and pepper to taste
Directions
Line a cookie sheet with foil and cover with a layer of blue chips.
Preheat oven to 400 degrees.
Sweet Potato and Black Beans
In a large pan, warm olive oil over a medium heat.
Add the diced onions until translucent.
Add the sweet potato and garlic and saute until the sweet potatoes are soft; about 10-12 minutes.
Add all remaining ingredients and lower heat to simmer until the water is gone.
Place the mixture over the chips and grate the cheese on top.
Place the cookie sheet on the top shelf in the oven (these will cook in about 10-12 minutes).
While the Nachos are in the oven make the salsa.
Avocado Salsa
When the cheese is melted, remove the chips from the oven.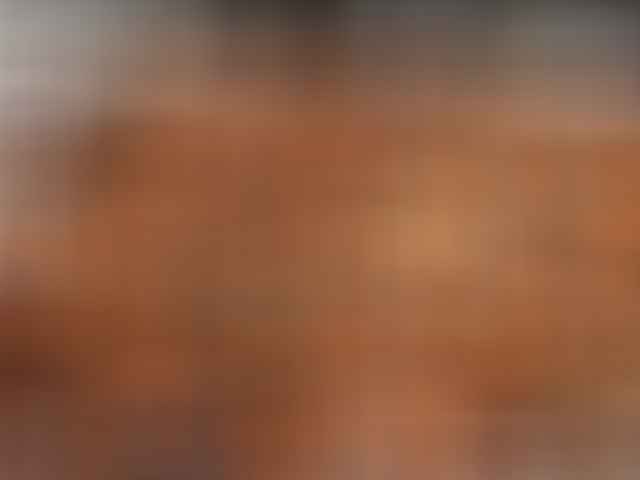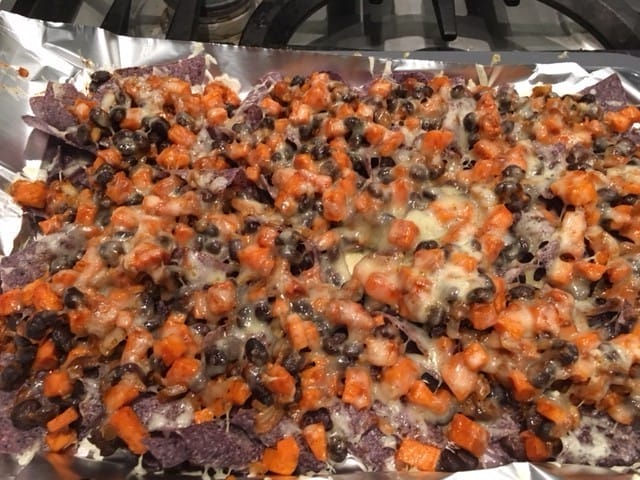 Serve with Greek Yogurt and enjoy!
I am a home cook that does things my way. In my kitchen, I make breakfast, pack lunches, prepare snacks, and cook dinner. During the week, we eat real food that is homemade, organic, and local. On the weekends we do explore more of our local restaurants. I bake my own bread, juice fresh oranges every other day, and make my own kombucha and other weekly favorites.