Pizza is an almost universally loved dish and has become an increasingly common item on menus everywhere. Since we are families of triathletes, we're all too familiar with eating pizza. But, we're not talking post-race pizza here. We're talking restaurant style, yummy, gooey pizza topped with all our favorite ingredients. It's just always been a bit difficult to replicate that taste when making pizza at home.
Well, lucky for us, we happen to have a good friend from New York who followed his dream and opened a pizza place called Paulie Gee's Miami. And since we were in Miami for Ironman70.3Miami, we caught up with Jason at Paulie Gee's and tried his pizza. Well, it was delicious and just how I like my pizza; thin crust, crispy, with gooey cheese. It made for a great carb loading dinner, too!
Because I'm vegetarian, what I loved almost as much was that 1/3 of the menu is vegan. This included the best sausage I have ever had; house made and vegan. It was unbelievable. Even my carnivore husband scarfed it up.
So, I originally asked Jason for a recipe for an article, but he said, "How about some do's and don'ts for making pizza at home? That's much more interesting, right?" I agreed and here you go…
DO'S AND DON'T  FOR MAKING PIZZA AT HOME
Pre-heat Oven
DO:  Put a pizza stone in a pre-heated oven for a minimum of 2 hours with maximum temperature.
DON'T:  Do not open the oven during this time. You want to get the stone as hot as possible.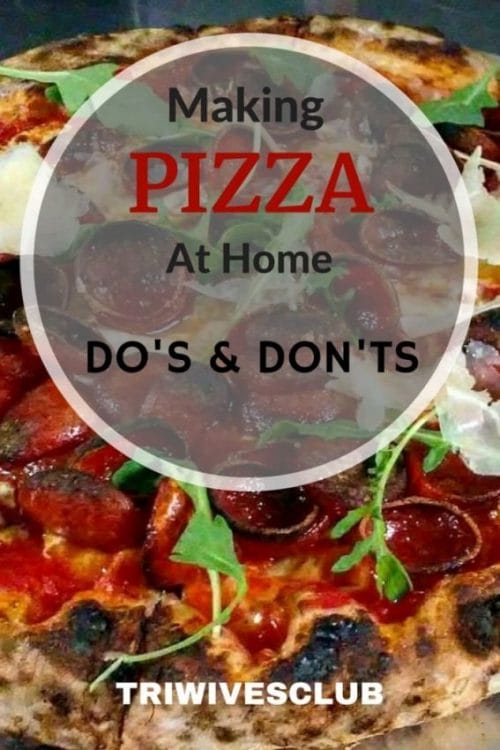 Toppings
DO:  Go ahead and prepare the toppings while you're pre-heating the oven.
DON'T:  The only real limitation here is that toppings ideally shouldn't be moisture rich, like fresh bell peppers. But, if you choose to use them, dice them.
Dough
DO:  You can use store bought or make your own dough. Just remember if making dough, it takes a bit of trial and error. Jason recommends using 00 flour, which be bought online or at more upscale baking or supermarket stores. Dough balls for pizza should weigh about 1/2 pound.
Sauce
DO:  You can use either canned pizza sauce or make your own. If making your own, be sure to mill the tomatoes to remove the seeds and peels. If milling, remember when making the sauce that it's important to note the salt content of the ingredients you are using, because it will effect the taste of your sauce.
DON'T:  You don't need a lot of salt in your sauce if you're using Romano cheese and prosciutto on your pizza. That's just an example.
DON'T:  The sauce should not be cooked, just milled. Here's what you need to do…Cook fresh tomatoes – you can use plum tomatoes halved – in boiling water, covered for 10 minutes. Remove from the stove and process through a food mill to remove the seeds and skin and puree. Season to taste and that's it. The amount of tomatoes you need to use depends on how much sauce you want to make. 4-6 pounds should be a good place to start.
Preparation
DO:  Once you open (stretch) your dough, place it on a wooden home pizza peel that is dusted with either corn meal, flour, or fine semolina. Caputo brand semolina is the best, because it toasts versus burns and is ultra fine and clean as opposed to corn meal.
DO:  Put sauce on the pizza and then top with whatever you want.
DO:  Open the oven as quickly as possible and place the pizza on the stone with one quick motion and close. How the pizzaa looks when you remove the peel is not a big deal. You will get better with peel removing motion with practice.
DO:  Cooking time is approximately 10 min. Give a look around 8 min to make sure the pizza is not burning. Good indicators are the melting cheese or the top of crust for browning.
DON'T:  Once the pizza is in the oven, DO NOT open to see how it's doing, especially if there is a window. Resist the temptation, because heat is the key. There's no need to rotate the pizza like at a pizzeria. Most home ovens are small enough and the heat and pizza stone will have equal temps throughout.
Finish
DO:  Just have fun and be creative with toppings after your pizza is done. It all depends on the tastes of you and your family. Some ideas included fresh basil, baby arugula, shaved parmigiano reggiano, and fresh ricotta dollops.
DON'T:  While you may want to pile it on, keep in mind thought that the dough/crust will only hold so much. So, don't overdo it.
DO:  Finally, when the pizza is done, take notes so that you can remember your own personal do's and don'ts for the next homemade pizza making night.
MUST HAVE SPECIALTY ITEMS FOR MAKING PIZZA AT HOME
pizza stone
00 flour, fine semolina, or corn meal
sharp pizza cutting tool
ability to have fun and laugh at oneself from the onset
Final DONT'S…
Don't despair, because it took Jason a year and half to learn the art of Neapolitan pizza making. From making the dough to cooking 6 at a time in a 1000 degree wood burning oven, he did it with no prior cooking experience. Well, beyond picking up a phone and ordering food for delivery or from a menu at the restaurant. Making pizza at home is a lot easier then you think, so don't be scared to try. Since it can be a great family event with great results, it's worth the effort.
Finally, if buying fresh mozzarella, do not, I repeat DO NOT slice or rip chunks or place diced cubes on the pizza. Shred it. Otherwise, it will melt as you want it to and won't all come off when you take your first bite.
Do You Make Pizza at Home? Feel Free to Share Your Tips.

Sherry is one of the TriWivesClub and LifeDoneWell co-founders and contributes to multiple blogs. She is a former co-owner of the California Apparel News and had a career in the healthcare industry. Her passions include traveling, real food, the environment, and animal rescue/welfare. She lives a healthy lifestyle and has been a vegetarian since 1987. She and her husband are parents to two rescue pups and reside in Connecticut.