Meal planning blogs can save your sanity. Busy moms (and dads) can use real food ingredients and make tasty dishes without the constant question of what to cook for dinner. If you like lists and plans, these meal planning bloggers are your (and my) kind of people.
I use to be a great meal planner when the kids were home. I worked full time and David traveled most of the week. So, I needed to have it all together or at least, pretend I did.
Then, when the kids were juniors in high school, I retired. But, believe it or not, my work load actually increased! With the kids coming home everyday for lunch with friends – like 8 friends – I was a cook by day and night, feeding many. Even so, I just couldn't relax and enjoy a nice retirement, I had to open my own businesses…This REALLY meant I needed to do some meal planning for lunches for the crowd and meal prep for family dinners.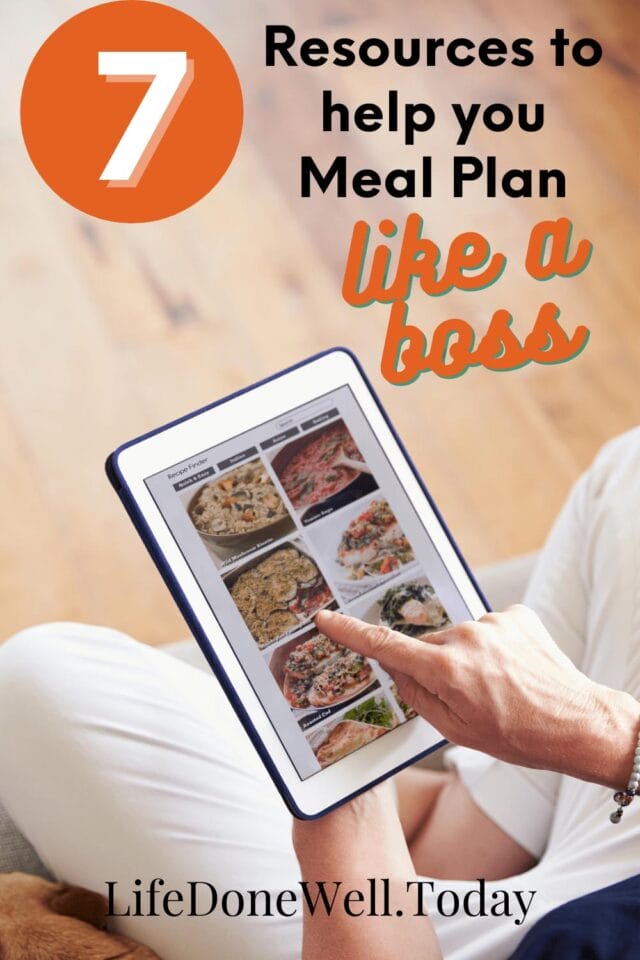 Now, times are different and I don't do much meal planning, but I am still a meal prepper. I like to be prepared for the week and have the real food ingredients I want to use at my fingertips. Therefore, I needed to find some meal planning and prepping blogs to help me. And I found some awesome ones!
I will fill you in in another article about how I meal prep for the week, but for now, I want to give you 7 great resources.
Meal Planning and Prepping Blogs
Meat and Fish Meal Plans
1. Weed' Em and Reap
First come on – she is a farmer! Hello new BFF DaNelle! But let me tell you why I like her article on meal planning. Basically, it is a how-to. It is a meal prep 101 that even inspired me to get better. It is easy to follow and you do it your own way. But if you want to check out some great recipes with real food DaNelle, Weed' Em and Reap has those, too. Plus, she is so funny and has cute goats and you know how I feel about goats.
2. A Couple Cooks
Sonja and Alex have been a favorite of mine since I found their cookbook Pretty Simple Cooking. I discovered it when I saw it on the Epicurious' best vegetarian cookbook list. Sonja and Alex have a 28 Day Healthy Meal Plan at A Couple Cooks which has wonderful and easy recipes, and is easy to switch up the weeks. If you are not vegetarian, I would suggest adding a few of these recipes into your meal plan to add more veggie forward meals to your week.
Family-Friendly Meal Plans
3. Family Fresh Meals
Every week Corey publishes a new Weekly Meal Plan that is family-friendly. She uses real food and is chicken, fish and veggie forward. One of the best advantages for families is that most recipes do not take long to make at all! Corey offers a free printable for you to plan and offers suggestions for breakfast and has great lunch ideas. Check out Family Fresh Meals.
4. MOMables
I am very biased on this one and proud to say it. Laura is a dear friend and we share many of the same views when it comes to food. We also both love to share. One of my favorite things about Laura, besides her cute dog, is that she spends a lot of time learning about the ingredients she uses.
Laura focuses on helping you eliminate processed foods and reducing sugars in your home with easy and delicious meals. And above all, Laura's Meal Plans at MOMables are so simple! She does all the work for you, like making your shopping lists. In addition, she has a meal plan for everyone. If you are not following her on Instagram you need to be.
5. Dinners, Dishes and Desserts
Erin stole my heart at cocktails and dessert. I mean, let's get real, it is not just about "what's for dinner". Erin's meals are filled with goodness and color which you know I love. She has simple to follow meal planning options that are truly family friendly at Dinners, Dishes, and Desserts.
Vegan/ Vegetarian Meal Plans
6. Well Vegan
You all know I love a good vegan or vegetarian cookbook. This is how I discovered Katie and Kate…through their cookbook Frugal Vegan. They have recipes that I use in my home in a regular rotation. I truly believe we should all be adding more veggie forward meals into our meal plan, so this blog is really for everyone. However, for my veggie and vegan friends, Well Vegan, will be an especially great option for you.
7. Jessica in the Kitchen
I discovered Jessica a few years back when I was cooking tons of veggie dishes. I loved her view of a balanced lifestyle. At the time, she was vegetarian and is now vegan. It doesn't matter because her recipes are delicious. What I have really enjoyed are her Meal Prep articles like 17 Meal Prep Salads. For me, being prepared is so important. The guides at Jessica in the Kitchen also offer amazing inspiration for meal planning.
I hope you find some inspiration in these meal planning websites. I know I did.
Which meal planning blog will you visit first?
I am a home cook that does things my way. In my kitchen, I make breakfast, pack lunches, prepare snacks, and cook dinner. During the week, we eat real food that is homemade, organic, and local. On the weekends we do explore more of our local restaurants. I bake my own bread, juice fresh oranges every other day, and make my own kombucha and other weekly favorites.