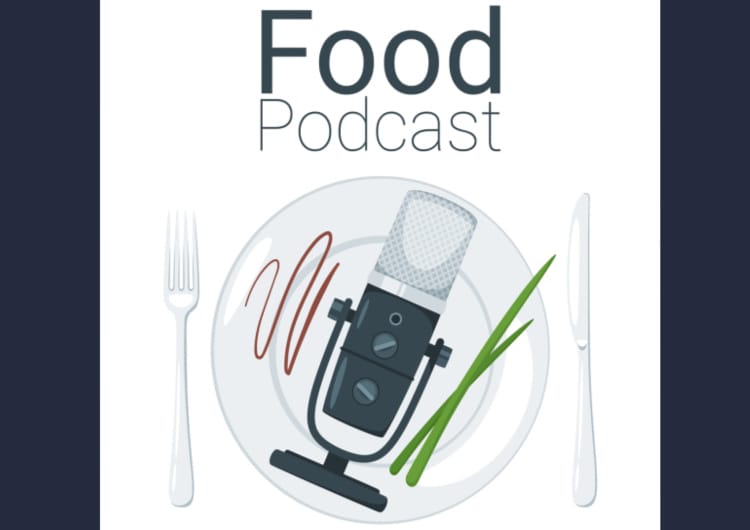 Podcasts for foodies have exploded. What was once a niche market, now offers insights into all aspects of the food world. Whether you want to hone your cooking skills, delve into the workings of the food industry, learn about the history behind your favorite foods, be entertained by a comedian, or dive deep into a particular culture, there's a perfect food-based podcast for you.
Whether you're new to podcasts or already a devotee, we're sharing some of our favorites that will keep you informed and entertained in the kitchen. They'll teach you a few things, plus whet your appetite and even make you laugh.
Most of these podcasts can be found on their websites and venues such as Spotify, iTunes, Stitcher, Google, PlayerFM, Acast, and Podchaser.
9 Favorite Podcasts for Foodies
The Sporkful
The James Beard award-winning, The Sporkful, prides itself on being "not for foodies, but for eaters," which is undoubtedly part of its appeal. The host, Dan Pashman, tackles food culture with curiosity and passion, aiming to learn about people through what and how they eat, believing there is so much more to food than simply what's happening on the plate.
This podcast covers everything from eating your emotions to is cereal a soup to how a food emoji gets made to how ketchup got its name. Most episodes are quick, irreverent, fun, and approachable, but the host will tackle heavier subjects.
Placing focus on the people behind beloved food and beverages, each episode features different celebrity guests from chef Jamie Oliver to comedian Nicole Byer to Bill Nye the Science Guy, who will explore the science behind the perfect crackers and why seltzers sparkle.
Salt + Spine
You know we love our cookbooks at LifeDoneWell. So, naturally we love Salt + Spine. Each episode brings a cookbook to life by featuring a behind-the-scenes look. The foodcast focuses on telling the stories behind cookbooks through in-depth, in-person interviews with compelling authors.
Host Brian Stewart has interviewed guests including Nigella Lawson, Molly Steven's, Alison Roman, and Amy Chaplin. Episodes air every Tuesday and a most recent episode featured a virtual dinner party with Anna Francese Gass and Pie Week with Lauren Ko.
Radio Cherry Bomb
Each week on the Radio Cherry Bombe podcast, host Kerry Diamond chats with noteworthy, interesting women in the world of food. Guests have included the Great British Bake Off winner Nadiya Hussain, Ina Garten, and a diverse array of equally-engaging chefs, bakers, food writers, and more.
Co-founder and editorial director of the indie magazine Cherry Bombe, Kerry's cookbook and magazine are beloved for their sumptuous recipes and celebration of women in the food world.
Weeknight Kitchen with Melissa Clark
Cookbook author and New York Times food writer Melissa Clark tackles one of the biggest dilemmas of busy people…what are we going to eat?
In each episode, you join Melissa in her own home kitchen, working through one of her favorite recipes and offering helpful advice for both beginners and seasoned cooks. It's a practical guide for weeknight eating, from the makers of The Splendid Table. You'll find episodes such as Dueling Sheet Pans and Instant Pot Mommy Food.
Desert Island Dishes
I love the concept of this podcast. It is so unique. Each week, chef Margie Nomura talks to a special guest about the dishes that have shaped their lives. You'll find conversations with a whole range of different people discussing their 7 Desert Island Dishes.
Find out about their favorite childhood dishes, the dishes they eat the most often, and the dishes that mean the most to them. And, of course, you will also discover what their last dish would be before being cast off to the desert island.
Gastropod
Dying to know the history of white versus wheat bread, then Gastropod is for you! This compelling podcast covers cooking and food through the lens of science and history. Led by journalists/hosts Cynthia Graber and Nicola Twilley, the two have been reporting on food, science, and technology for years.
So, no surprise that Gastropod uncovers the history of how foods like apples, potatoes, and pizza became American staples, and offers fascinating answers to questions like how tiki bars become a thing. Their deep-dives combine deep research with a lighthearted delivery and include interviews with experts and even tours of lab facilities.
The Kitchen Counter
This show is dedicated to helping aspiring home cooks grow their skills and confidence in the kitchen. Whether you want to eat healthier, learn to cook, make a better mac and cheese, or just need some simple food inspiration, you'll find recipes, kitchen tools, and interviews with experts to help you on your home cooking journey.
The The Kitchen Counter Podcast is a place where home cooks of all skill levels can find tips, inspiration, and interesting conversations with other cooks and food lovers alike.
The Splendid Table
If you're looking for one food podcast that ticks all the boxes, The Splendid Table may be what you're looking for.
Currently hosted by the esteemed food writer/personality Francis Lam, this program "feels like listening to the audio version of the best newspaper food section". Hundreds of previous episodes are available online dating back to 2000 as it started out as a radio institution.
There are interviews with movers and shakers in the food world, along with Hollywood stars and musicians. Plus, you'll hear short stories, history lessons, opinion pieces, recipes, cooking tips, and an audience Q&A. All aspects of the food industry are addressed, like the ins and outs of fine dining, food myths, and interesting ingredients. Episodes run about an hour long.
You'll be treated to practical topics along with thought-provoking topics such as sustainability, ethical eating, and multicultural cuisines.
I'll Drink to That
Of course, we couldn't leave off that oh-so-important food-adjacent topic…WINE! Hosted by former NYC sommelier Levi Dalton, the show's interviewees are a veritable who's who of the industry.
From sommeliers and importers to legendary winemakers themselves, each episode of I'll Drink To That features wide-ranging conversations that will give you insight into the industry, but also some really good stories.
And just in case you're interested…If you thought about taking some cooking classes, The Daily Meal has compiled a great list of online cooking classes with celebrity chefs and more. Be sure to check it out.

Sherry is one of the TriWivesClub and LifeDoneWell co-founders and contributes to multiple blogs. She is a former co-owner of the California Apparel News and had a career in the healthcare industry. Her passions include traveling, real food, the environment, and animal rescue/welfare. She lives a healthy lifestyle and has been a vegetarian since 1987. She and her husband are parents to two rescue pups and reside in Connecticut.