Keep it simple and real with game day menu that's more than chips and dip! Be adventurous this year with these great recipes!
Just because game day parties are usually loaded with snacks and munchies does not mean that they need to be filled with processed, unhealthy foods, AND the boring chips and dip. Game Day Sunday should be a day that everyone enjoys, so keep it easy and delicious with this great menu. We have compiled our favorites for you, so you can get it all prepared and then kick back and enjoy the game.
Drinks
Okay, beer is probably the go to drink for Super Bowl Sunday or maybe shots of tequila. But, we'd like to give you a few other options that might be a bit more memorable. We love this Tritini for a "twist" on the Martini and a Sangria is always a great go to that everyone loves. But, my personal favorite happens to be the French 75.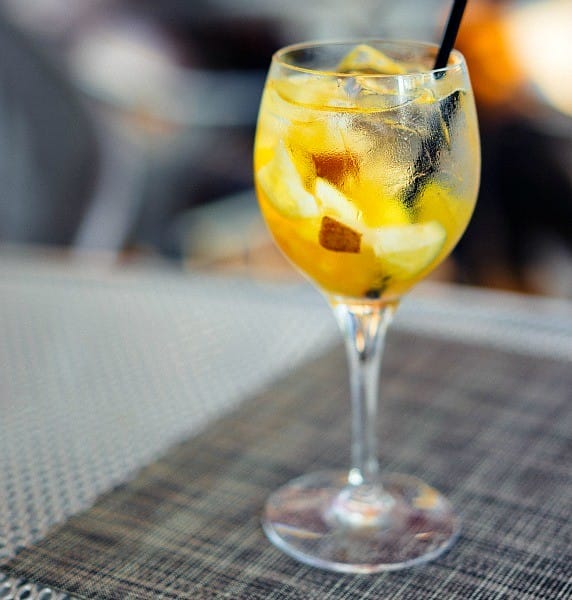 My word's of wisdom are very simple…learn to make a French 75.
1 oz. Gin
1/2 oz. Lemon Juice – fresh squeezed
1/2 oz. Simple Syrup or 1 tsp. fine sugar
2 oz. Champagne
Combine first 3 ingredients in a cocktail shaker filled with ice. Shake, make sure chilled, and strain into a glass. Add champagne. Serve very cold with a twist of lemon in a flute or martini glass. Heaven…
Starters
Set out a Mediterranean Platter that is easy to put together and has something for everyone and it will be a huge hit. We love this dish because with simple changes, you can serve it over and over to the same crowd and they will never get bored. Besides, seriously, this dish is so much tastier and healthier than a cheese and cracker platter and so much more attractive, too.
Our Sweet Potato and Black Bean Nachos from MomsGoodEats are filled with healthy ingredients and taste so good. You can serve these on a giant platter and let everyone grab a serving full for their plates.

Main Course
Keep it simple with a giant pot of chili. We like Cincinnati Chili, as it is not too spicy, but if there are guests who like it hotter, just set out some hot sauce and they can spice it up themselves. Cincinnati Chili is also great, because it can be served on a bed of spaghetti, which by the way, is perfect the night before a long workout.

Desserts
Wrap up the party with sweets that everyone can eat and not feel too guilty about. We love all of these fun desserts and picking one of two for the crowd is perfect. For the big game, we would suggest a pan of the granola bars and Peaches and Cream Cups to make it easy for serving or you can never go wrong with a crisp. This Strawberry Rhubarb is a great choice.
Keep Game Day simple and fun with these great recipes, so that you can enjoy the game, too! We also have some party tips for you just in case you need a few suggestions that can be adapted to any party.

Sherry is one of the TriWivesClub and LifeDoneWell co-founders and contributes to multiple blogs. She is a former co-owner of the California Apparel News and had a career in the healthcare industry. Her passions include traveling, real food, the environment, and animal rescue/welfare. She lives a healthy lifestyle and has been a vegetarian since 1987. She and her husband are parents to two rescue pups and reside in Connecticut.