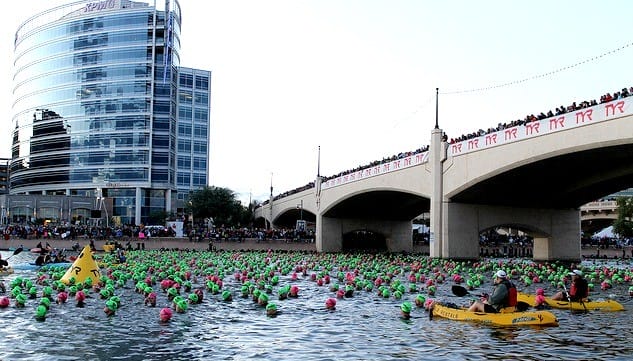 Updated 2018:  All events and spectating are current for 2018.
I actually lived in Phoenix for quite a few years, so enjoy going back to see how the area has changed, not to mention catching up with old friends. We did our Food, Fun, and Spectating pieces last year, so I'm just giving you some updates and a few new things to do and see. Of note, many of these ideas, especially the restaurants, came from locals, who live and actually eat there…
If you like Farmer's Markets, don't miss the Open Air Market in downtown Phoenix Saturday morning. It has some of the most gorgeous fruits and vegetables, especially peppers and lots of arts and crafts, lots of food trucks, and it's next door to the Public Market Cafe, which is really cool.
We love the Arizona Science Center for both adults and kids. There is just so much to do and explore. They have Lasers and Liquors for the adults after hours. They also have Extreme Weather at their IMAX Theater and a Grand Tour of the Solar System Planetarium.
 You can visit the Art Fest of Scottsdale 11/17 & 18. It's one of the most popular holiday traditions in Phoenix.
Two restaurants that made Open Table's Top 100 Fit for Foodies were Crudo, which has seafood, pasta, and wood-grilled fare and Nobuo at Teeter House for Japanese.
Phoenix New Times has lists of best restaurants should you be looking for more, including the 5 Best Healthy Restaurants in Metro Phoenix.
Several restaurants we ate at last year in Tempe and really enjoyed were House of Tricks, Caffe Boa, and Witch Which sandwiches. House of Tricks had the most awesome veggie burger I have ever eaten..
The IronKids Fun Run is Saturday at 10 am. It's always a great event if you have little runs and gets them in the spirit of the race. You can register before the race at the Expo.
They have not had a Spectator's Guide for several years now, but I don't think there are really any changes for 2018. Always be sure to check the Ironman website for any changes to the course.
The swim takes place in Tempe Town Lake with a rolling start. The pros go off at 6:40 am and age groupers start at 6:50.
The bike is 3 loops and the turn around is at the corner of Mill Avenue and Rio Salado.
Just an FYI on the run – if you're NOT looking to see them up to 7 times – after they first head out and you see them again at Mill and Rio Salado (about 4 miles), you have a bit more time as they head out of town – should be about 8 miles and then they repeat.TA great spectating spot for the run is past the Expo right by the water, close to the bridge. You'll get to see them come by multiple times
The Opening Ceremony is Friday from 5 – 7 pm with live music. The post race celebration breakfast is Monday at 9 am, the Awards Ceremony is at 9:30, and slot allocation at 11. All events take place at Tempe Beach Park.
Make sure you choose which side you want to spectate on, because crosswalks became almost impossible to cross last year when the race was in full swing. I literally waited at least an hour to get across when the bike segment was going on and a fight ensued, because people were getting very frustrated and starting yelling at the volunteers.
Parking – If you aren't staying in town, one of the best lots is at the US Airways Building on Ash between 3rd and Rio Salado. But, there are many others to choose from in the Mill Avenue District.
To all those racing Ironman Arizona – have an absolutely awesome day and most of all, have fun. To all the trisupporters out there – well, you have an awesome, fun day, too, and be sure to take care of each other out there…
DO YOU HAVE ANY RECOMMENDATIONS FOR FOOD AND FUN IN THE PHOENIX AREA?

Sherry is one of the TriWivesClub and LifeDoneWell co-founders and contributes to multiple blogs. She is a former co-owner of the California Apparel News and had a career in the healthcare industry. Her passions include traveling, real food, the environment, and animal rescue/welfare. She lives a healthy lifestyle and has been a vegetarian since 1987. She and her husband are parents to two rescue pups and reside in Connecticut.