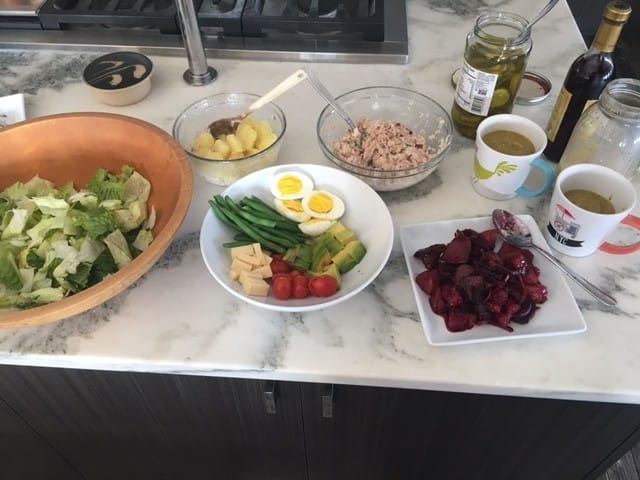 Spring is here and our favorite weekend meal is a great big fresh salad and a cup of soup. There is no reason to make it hard to do either. Keep it simple using our Easy Broccoli Soup recipe while you prep your salad. I also use leftovers from the week to help build my salad. Use what you have!
This is also a great salad if you are having company to set up in buffet form, so everyone can build their own salad. If you want to make the salad fancy, you can always sear a piece of tuna to top the salad, instead of using the canned tuna fish. Oh, by the way, this also makes a great salad on a Wednesday night and my triathlete loves it after his workout!
Here is how I build our weekend salad…
INGREDIENTS
How much of each ingredient to use depends on how many people you are serving.
Big bowl of greens of your choosing – romaine or butter lettuce work really well
Cubed cheese – this week we had a local goat cheese
Grape tomatoes, sliced in half
Diced avocado
Hard boiled eggs, sliced in half
Blanched and trimmed green beans – we had leftover from dinner
Boiled potatoes – traditionally served just boiled with salt and pepper, but I used left over potato salad in this salad
Cooked beets – again I had leftover beets from the week
Pickles – we like crisp bread and butter
Tuna Salad – see below
Dressings – see below

DIRECTIONS
Green Beans
Boil a small pot of water with a teaspoon of salt.
Once you have a rapid boil, add trimmed green beans for 2 minutes or less, until bright green.
Drain and either rinse in cold water or drop into an ice bath to stop the cooking.
Potatoes
I like to mix boiled potatoes with a little salt, pepper, whole milk yogurt, diced red onion, and a little red wine vinegar or tossed with my cole slaw dressing.
Beets
Serve as is or toss with orange slices, red onion slices, a little honey, and balsamic vinegar.
Tuna Salad
Break up all white tuna with a fork.
Add mayo, red wine vinegar, diced celery, and diced red onion
Dressings
You can choose whatever dressing your family likes. I set out a bottle of red wine vinegar and my Celery Seed Dressing.
Celery Deed Dressing
In a bowl, whisk together:
1/2 cup sugar
3/4 cup apple cider vinegar
2 tablespoons celery seeds
Cracked black pepper to taste
Heaping tablespoon honey
1/4 cup mayo
We like to just put out everything on the counter and let everyone build their own salad.
Enjoy! Tell us what you add to your salad…
I am a home cook that does things my way. In my kitchen, I make breakfast, pack lunches, prepare snacks, and cook dinner. During the week, we eat real food that is homemade, organic, and local. On the weekends we do explore more of our local restaurants. I bake my own bread, juice fresh oranges every other day, and make my own kombucha and other weekly favorites.