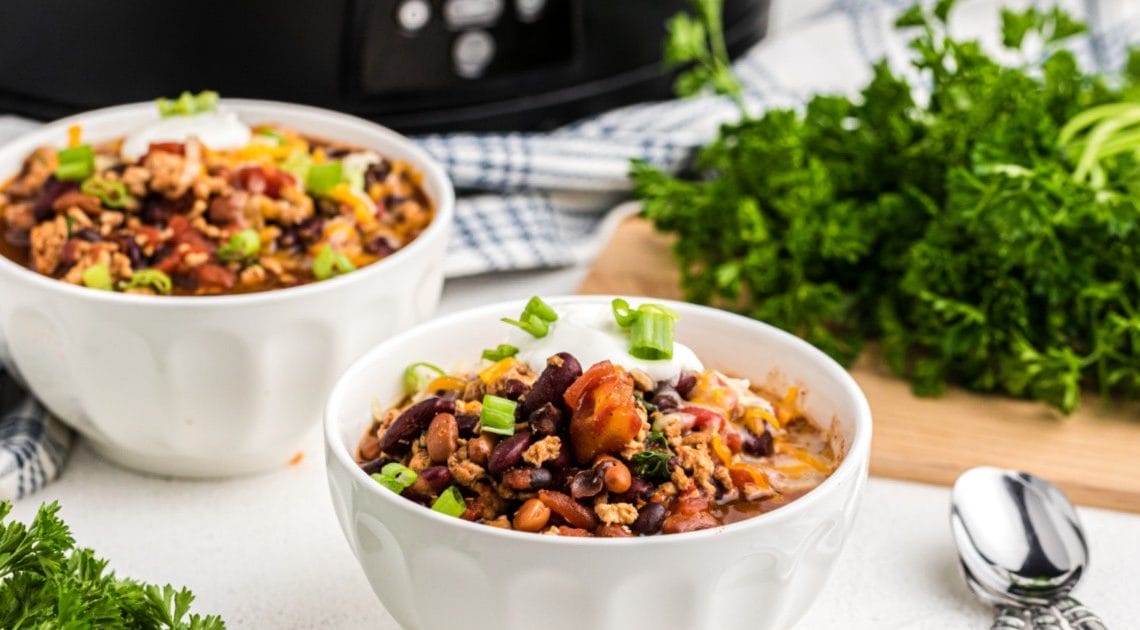 For a delicious, cozy meal we love these 20 Versatile Chili Recipes! They're perfect for meat eaters and vegans alike. Just add a salad and cornbread and dinner is served.
A good chili recipe is the perfect meal to make when you really don't know what else to make. It's hearty, the ultimate in comfort food, and you can make a ton! We love having chili leftovers all week long and to freeze for later enjoyment.
Think outside of the box when it comes to making chili, because it doesn't have to be just beef! There are so many great chili recipes out there that use turkey, chicken, and even pork. You can make your chili vegan or vegetarian and use an array of different types of vegetables or beans. No one will certainly miss the meat in this One Pot Vegetarian Chili.
We love serving our chili with either a nice salad or loaf of bread, but cornbread makes the top of our list. As with casseroles, chili can be quite heavy, so you'll want a light accompaniment.
We have pulled together chili recipes that are sure to please. There is something for everyone. I am sure you'll find more than one new recipe to try. But with the ingredients in chili so diverse and offering so many different flavors, you need to try them all. Seriously, a basic all around beef and bean chili is always good, but have you ever tried a vegan chili?
What is the difference between vegan and vegetarian?
There are so different ways in which people eat and the vegetarian spectrum is no exception. But there is one thing that separates a vegan and a vegetarian – a vegan eats no animal or animal bi-products. So, no eggs or dairy products and no honey, because a bee makes honey.
A vegetarian diet, on the other hand, can vary. A basic vegetarian diet includes both dairy and eggs. Those that favor a lacto-ovo vegetarian diet eat dairy and eggs. A lacto-vegetarian diet includes dairy, but no eggs. While an ovo-vegetarian eats eggs, but no dairy. So, vegetarians will in general eat vegan recipes, but not always vice versa.
What is the best type of bean to use in chili?
Kidney beans are the best type of bean to use in chili for one reason – they hold their firmness in heat very well. Holding their firmness means they also retain their flavor and do not get all mushy when cooked.
In general, you want to be sure to use the bean the recipe calls for, but kidney beans will hold up best. That said, I also will use black beans for a change and if I'm making a chili with chicken or turkey, I tend to use white beans, like in this White Chicken Chili.
In terms of using dry beans in chili, it is always best to hydrate beans before using. I prefer to keep dry beans simply because they are easy to store and cheaper than canned beans. Since buying organic is already more expensive, it is nice to find ways to cut back more, like using dry beans.
Hydrating them is really easy. If you can plan ahead, I prefer to just let them soak in water overnight. I simply rinse them and then soak them in water that is about 4 inches over their top. But, if you do not have enough time, the best thing to do is to bring them to a soft boil and let me go for about 1.5-2 hours.
What can be substituted for ground beef in chili?
You can use any ground protein you feel will bring out the flavor. Depending on the protein, you may need to add some additional fats, like an oil. If using turkey or chicken, I always use half dark ground and half breast ground.
If you are going vegan or vegetarian, you can use tofu or tempeh if you are concerned about protein amounts. When using tempeh, just be sure to use extra firm and let it sit on a dish towel to pull out the water.
20 Versatile Chili Recipes for Meat Eaters to Vegans
For a delicious, cozy meal, we love these 20 Versatile Chili Recipes! They're perfect for cold nights and can be made with a variety of ingredients. Just add a salad and cornbread and dinner is served!
I am a home cook that does things my way. In my kitchen, I make breakfast, pack lunches, prepare snacks, and cook dinner. During the week, we eat real food that is homemade, organic, and local. On the weekends we do explore more of our local restaurants. I bake my own bread, juice fresh oranges every other day, and make my own kombucha and other weekly favorites.