A Sunday well spent brings a week of content…so I just love to spend my weekends brunching. It's truly my favorite meal. Plus, exploring the cuisine of any new city is such an amazing way to get to know the local culture + flavor. On a recent trip to Houston, Texas, I obviously had to try out some breakfast hot spots.
Here are my 3 can't miss picks for a weekend of brunching in Houston.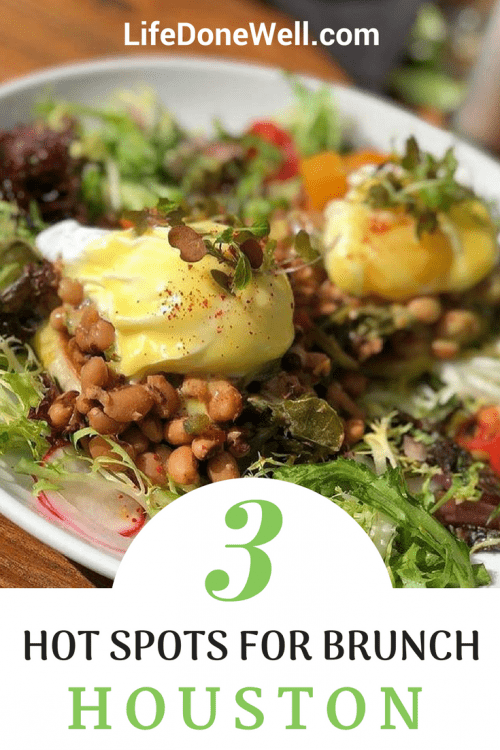 Lucille's (Museum District)
Brunch Saturday + Sunday 10am-3pm
We stayed at the lovely and historic Hotel ZaZa in Houston's Museum District. What a beautiful, walkable neighborhood located southwest of downtown. It houses more than 19 museums. Our helpful concierge recommended a close option, Lucille's, which specializes in elevated Southern comfort food.
According to local legend, Lucille's Chili Biscuits were a favorite of Eleanor Roosevelt! We tried those and can understand why they are so well known. They creatively straddled the line between savory and spicy without going overboard in either direction.
My hubby loved his shrimp & grits, a classic dish that simply always tastes better in the south. And, I devoured Lucille's refined take on fried green tomatoes with a touch of whipped goat cheese for tang, cornmeal for depth of flavor, and micro greens for a pop of freshness. A house made garlic aioli offered just enough creaminess without being too rich.
Check out their full menu. As you can see, there are plenty of awesome dishes to get your brunch on successfully.
The Grove (Downtown)
Sunday Brunch from 10am-3pm
As we all know, brunch without booze is just a sad late breakfast. The Grove's $15 unlimited mimosa option each Sunday made it a must try and their food was delicious, too. At around $20 for three courses, it's easy to see why The Grove made it onto our favorites' list.
For my first course, I tried the Roasted Corn & Tomato Salad, a great start to a great meal. Next, I particularly enjoyed the BBQ Eggs Benedict main dish, because when in Texas, barbecue is a clear winner. My dining partner raved about the Biscuit Eggs Benny, too. For the third course, I tried the delectable brown sugar pound cake.
The pretty outdoor dining was a final great touch with lovely views of urban park Discovery Green. A hometown friend who now lives in Houston pointed me in the direction of The Grove and I'm so glad she did!
Jus' Mac (2 locations, Montrose + The Heights)
Open Saturday + Sunday at 7am
You might consider it strange to have a restaurant specializing in Mac and Cheese on a best brunch list. But after a recent merger with legendary Biskit Junkie, it makes so much sense. Truly, they offered the best Chicken & Waffle I have ever tasted with a delectable side of creamy Mac.
The breading on the chicken was crunchy and delicious, the syrup was sweet but not too sweet, and the classic macaroni made this a can't miss trifecta of greatness. Bonus: I loved the cool midtown Montrose neighborhood location of Houston. Jus' Mac + Biskit Junkie…I must say, I love your partnership a "waffle" lot.
What are your favorite Houston brunch eateries? Have you tried any of my top 3?

A Minnesota native, Katy is a freelance travel, food, and lifestyle writer currently based in Omaha, Nebraska. Besides contributing to the LifeDoneWell brand, Katy is a contributing writer and content creator for a variety of other print and digital outlets including Travel Awaits, The Reader, google's Touring Bird, Matador Network, and Modern Mississauga. She was also a popular Bridal Blogger for Wedding Essentials Magazine, an Omaha World Herald publication.
Be sure to connect with Katy on her personal instagram @ksprats, and her health food focused insta @healthkickmidwest.