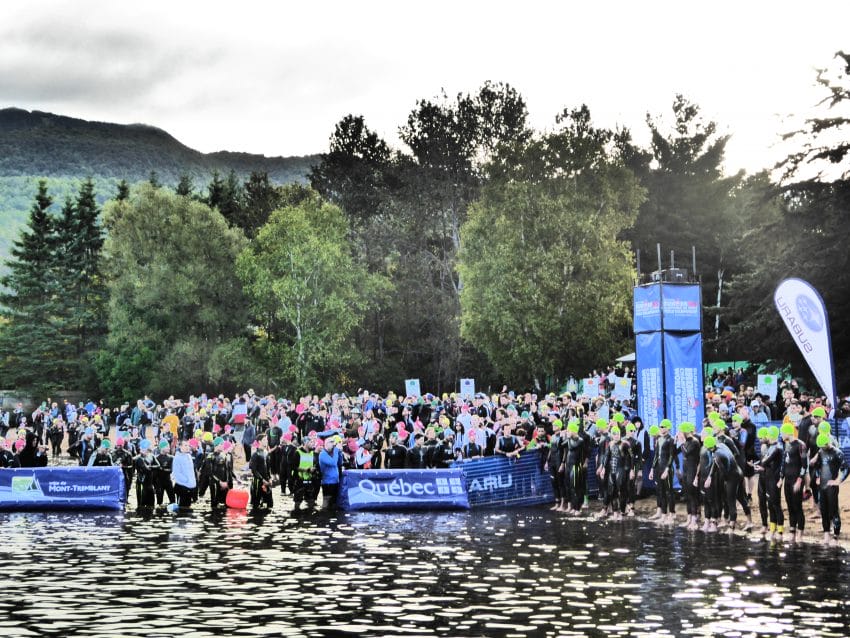 We advise working as a team, triathlete and tripartner, when choosing a favorite triathlon venue for the family. Not only do you have to consider if it's a good race for the triathlete, but also if it's good for the family and/or your spectators. With extremely long days for full-distance races, the locations have to offer activities to keep everyone happy and occupied and places to eat close-by.
Overall experience, especially at that first race, is so important to make it not only a success, but to ensure that the sport becomes part of your family's lifestyle. Factors we considered when picking our favorite family friendly triathlons included:
The degree of difficulty of the course, as it should not be overwhelming for the triathlete.
The race site should be compact and easy to get around.
There should be plenty of activities for the support team to do at the venue during the race.
The location should be easy to get to.
The date of the race needs to be considered, as kids may be in school and not on break.
There is an ease of sourcing good food and/or good restaurants.
The entry fee and race venue should be budget-friendly for a variety of budgets.
We looked at all of the races we have attended and have heard others speak about and came up with the following triathlons by region that met, or even exceeded, our family-friendly race test:
CHALLENGE CEDAR POINT – MIDWEST
Challenge Family/Rev3 has made their reputation on hosting family friendly races and Cedar Point is a favorite of ours. They make sure there is something for the whole family to do as they want your family to be active and happy. Your kids will never get bored in the Kids' Zone. Here they can run through the inflatable obstacle course; get creative at the Arts & Crafts table and make a poster for their participating triathlete; or let loose with the bubble machine or in the activity center, which is equipped with hula hoops, jump ropes, and games like corn hole and ring toss. The host hotel is the Hotel Breakers, which is right on the water and within walking distance to the amusement park.
Speaking of which, best of all, the race takes place at Cedar Point amusement park, which makes for an awesome, affordable family get away. This truly is amusement park heaven on scenic Lake Erie. We were there this past year for a blogging conference and had so much fun. The roller coasters are unparalleled if that's your thing…
IRONMAN MONT TREMBLANT – NORTH
We have been to Ironman Mont Tremblant multiple times, including the 2014 70.3 World Championships, and the area is also a family home to Dana. So, without a doubt, this race is an all-time favorite for many reasons. You have the option here of either a full or 70.3 distance. While the course is not the easiest as there some good climbs on the bike and one nice long hill on the run, these are far outweighed by the beauty, friendliness, and overall feel of Mont Tremblant.
Race director Dominique and his crew know how to do it right with multiple loops offering plenty of opportunities to see your triathlete. Plus, the town is filled with a wealth of activities and places to eat to keep the kids occupied and happy. As a plus, MTB is perfect for a romantic race get away OR family vacation; we have done both. The size of the village is not overwhelming, but big enough to keep you from getting bored. There are also many hotels located right around the race site, so you have a place to go if somebody needs a nap! Don't forget to visit the old village for some of the best dining around!
IRONMAN ARIZONA – WEST
Ironman Arizona is another race we have been to multiple times, including 2014. It holds a special spot for the Zucker's, as it was David's first full distance race. IMAZ is a relatively flat, fast course and late in the season, allowing for ample training time, so good for the triathlete. It is located right on the lake in Tempe and everything is within walking distance of the race site, including hotels and great restaurants.
What we love most is that you can see your athlete so many times on the course. As a bonus, there is so much to do in the area before or after the race that Arizona makes a great vacation spot on its own.
IRONMAN 70.3 GALVESTON – SOUTH
Down south, Ironman Galveston 70.3 makes for a wonderful family getaway. Having lived it Texas for many years, it has always been one of Dana's favorite family vacation destinations. Once you get to the race site, there is no reason to leave. The race is headquartered on the grounds of Moody Gardens, which can keep your family occupied for hours, if not a few days. The attractions include the Aquarium and Rainforest Pyramids, a Discovery Museum with visiting exhibitions, and a variety of theatre experiences. Right across the parking lot of Moody Gardens is Schlitterbahn Indoor WaterPark and don't forget the Pleasure Pier and the beaches. There is something for everyone in Galveston and great family fun.
ORLANDO – EAST
There are many races in the Orlando area on the east coast, including Ironman 70.3 Haines City, which is about 30 minutes away and HITS Triathlon Series Ocala. Races in and around Orlando allow for flat rides, fast races, and lots of quality time with the support team. And of course, Orlando offers something for every budget with all the amusement parks, including Disney World and Universal Studios.
We hope this gives you a starting point to help pick that family friendly triathlon. We know you will have a great time wherever you choose!
WHAT IS YOUR FAVORITE FAMILY-FRIENDLY RACE?

Sherry is one of the TriWivesClub and LifeDoneWell co-founders and contributes to multiple blogs. She is a former co-owner of the California Apparel News and had a career in the healthcare industry. Her passions include traveling, real food, the environment, and animal rescue/welfare. She lives a healthy lifestyle and has been a vegetarian since 1987. She and her husband are parents to two rescue pups and reside in Connecticut.